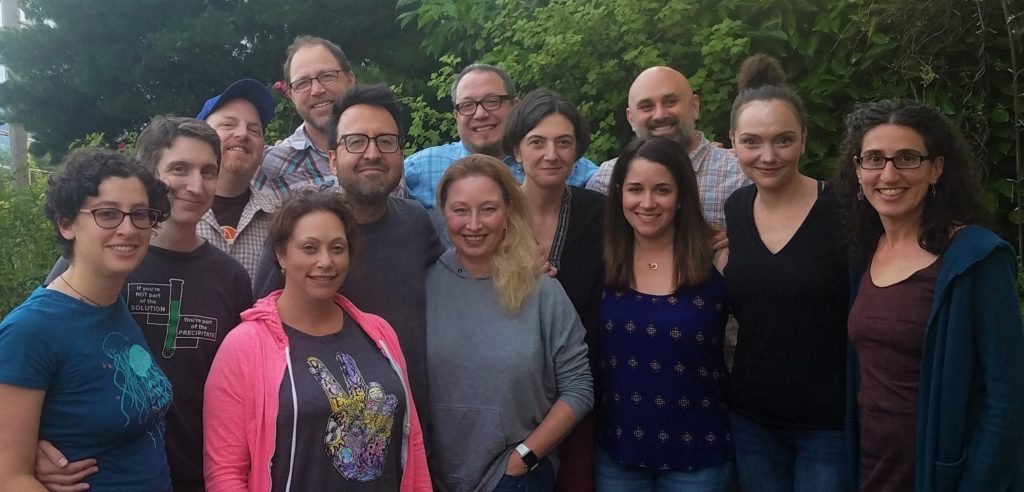 By Saul Korin
The Portland Jewish Academy Family Giving Circle expanded in 2017-18 and had more funds to disperse for this school year thanks to a generous match. At its June meeting, the PJA Family Giving Circle reviewed requests and made funding decisions. Chaired for the second year by Rob La Forte and Carol Richmond, nine families each donated $360 to fund projects. Matched by PJA grandparent Jay Zidell, the families had $7,200 for projects not within the PJA budget. The group met three times over the course of the year to build community, participate in a Jewish conversation and discuss the proposals.
Ten projects were considered, and the following four were funded:
$4,000 for Redesigning Recess: building on the work in recent years to establish the PJA Garden; purchasing a greenhouse; and creating spaces for students to explore, create, imagine, learn and exercise their brains in different ways.
$2,000 for planning and creating a natural habitat: students will plant native plants, provide nesting sites for birds and create insect habitats. The native habitat will also be a resource for teaching and learning about the Willamette Valley ecosystem.
$770 for a functional, eco-friendly playground for the infants and toddlers in the Early Care facility. This garden will provide an invitation to touch, smell, taste and explore.
$440 to build on relationships formed by PJA's first partnership with the Muslim Education Trust. Middle school students will meet for a Sukkot activity at PJA, staff a volunteer shift at the Oregon Food Bank in the fall and participate in a Pesach-related visit in the spring. PJA students will visit MET twice to interact with students and learn more about Islam.
Other projects that still need funding are: Chai Baby, $1,000; Early Childhood Playground Inclusion, $3,500-$6,000; flat files for posters, $1,000; Maker Tool Library, $1,000; and Middle School Makerspace, $1,000.
Another project not funded by the Giving Circle was a laser cutter/engraver called a Glowforge.  A donor who saw unfunded projects in PJA's summer newsletter donated funds to purchase one for PJA's Maker Space.
For more information about any of these projects, contact Saul Korin at 503-452-3427 or skorin@pjaproud.org.