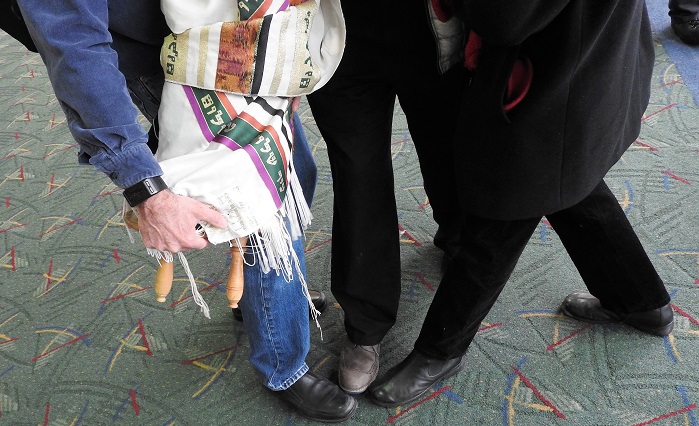 This Shavuot, P'nai Or once again can celebrate the giving of the Torah in a very concrete way.
"The most interesting part was how bashert it all was," says Bruce Morris, Congregation P'nai Or's spiritual leader.
Like a perfect storm, events lined up. Bruce was off to a rabbinical conference with a strained voice and post-surgery hand. His guitar would stay home, leaving space in the first-class overhead bin. P'nai Or's Torah badly needed repair, and the Sofer SeTaM was coming, too. How lucky is that?
"Rabbi Kevin Hale lives in Massachusetts and doesn't come every year," Bruce says about his friend, who writes and repairs Torahs. They met years before at a class called The Barefoot Scribe. Rabbi Hale planned to repair P'nai Or's Torah at his booth in the shuk, but curious onlookers kept interrupting, so they finished it in Bruce's hotel room.
It wasn't the first time fortune smiled on this Torah and congregation.
"Council Bluffs, Iowa, was a thriving Jewish community when I was growing up," says Sari Telpner, a former P'nai Or member. She went by the name Shekinah Slater when she procured the congregation's first Torah in 1997.
"At that time, we could barely afford a rabbi and certainly not a Torah," Sari says. But her sister's mother-in-law, Dodo Rosenthal, was president of the Sioux City Jewish Federation. During a visit to Council Bluffs, Sari and her then-husband, Asha Slater, met Dodo and lay Rabbi Jim Sherman in Sioux City. Jim's congregation had recently merged with another and had several Torahs. When Sari and Asha told them about P'nai Or, they offered to donate one.
"They took us to their beautiful synagogue," Sari says, remembering stained glass from the early Reform movement in Germany and an ark carved by Jim's great-grandfather in 1907. "Jim took out the Torah they used on Rosh Chodesh and said it would be wonderful for our community," Sari says. "We arranged a Torah exchange ceremony for September."
Everyone remembers the celebration at Portland's airport when Sari and Asha brought the new Torah home. "Asha wore a bright embroidered kippah and wrapped the Torah in his tallit when we walked off the plane," Sari says. "At that time, security wasn't tight so the congregation met us at the gate. Reb Aryeh (Hirshfield, z"l) was there, and a TV film crew came, too. Everyone took turns dancing with the Torah. One member, Aki Fleschler, had already built an ark."
Fast forward to 2018. The lovely Torah had normal signs of wear and tear. Despite a guard, sliding parchment made things worse, and letters were rubbing off.
"If any part of the Torah is not clearly visible, the whole thing is pasul, invalid for ritual use," Bruce says.
The 2018 Annual OHALAH Conference for rabbis and cantors in Boulder, CO, came at just the right time. OHALAH is the Association of Rabbis for Jewish Renewal, which includes more than 200 rabbis including Rabbi Hale. The rabbi worked his magic, and soon Bruce was flying home with a group from P'nai Or waiting to meet him at PDX.
So at a different time, but at the same place and with the same Torah, history repeated itself. This time, P'nai Or congregants gathered outside the security gate. They danced and sang as curious passengers looked on, and the words P'nai Or Founder Rabbi Aryeh sent to Congregation Beth Shalom all those years ago came to mind:
"As you have helped strengthen the chain of transmission of Torah in our community, may you be blessed to see your children and your children's children engaging in the study of Torah and the practice of good deeds. As you have brought great joy to our community, may you be filled with joy. As you have generously bestowed this Sefer Torah, this book of the Torah upon us, may you be inscribed for the coming year, and for many years to come in the Sefer ha-chayim, the Book of Life."