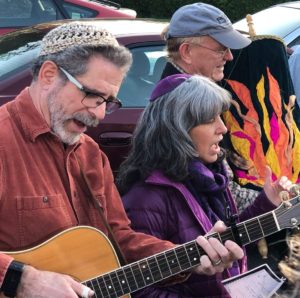 PHOTOS: Above, the formal installation of P'nai Or Rabbi Hannah Laner featured symbols and metaphors from the marriage ceremony. At right: From left, P'nai Or of Portland Hazzan Bruce Morris, Rabbi Hannah Laner and President Alan Hanawalt bring the congregation's Torah to its new home May 2.
During her first interview with P'nai Or of Portland, Rabbi Hannah Laner knew it was beshert, a match made in heaven.
Rabbi Laner loved the congregation's deep and heartfelt services and sense of community. "It's such a musical congregation," she says, adding she also was attracted by the congregation's commitment to social justice and the environment.
P'nai Or saw a woman who was a cantorial soloist, ordained Maggidah (storyteller) and lay leader in the Jewish Renewal community for decades before becoming a rabbi in 2013. She is a certified Hakomi psychotherapist whose mind-body-spirit orientation is a great fit for the congregation founded by more than 20 years ago by Rabbi Aryeh Hirschfield, z"l, with whom Rabbi Laner was friends. Ashland Renewal Rabbi David Zaslow – Laner studied to become a maggid with the rabbi and his wife, Deborah – recommended she apply to lead P'nai Or.
The congregation hired her, and she and husband, Jeffrey Laner, a life coach, moved from Boulder, CO, to Portland last August. Her daughter, Tzuria, 27, a certified herbalist, remained in the family home in Nederland, in the mountains above Boulder.
The beshert "couple" enjoyed a nine-month joyous "engagement" before formalizing the union on April 7 with an official installation using metaphors and symbols from the wedding ceremony. Seven congregants gave her seven blessings under the chuppah.
Like many new families, P'nai Or moved to a new home shortly after the wedding. After 15 years, P'nai Or needed to find a new home when its host, St. Mark's Presbyterian Church, closed. In May, the Renewal congregation began to share space with the Hillsdale Community Church, United Church of Christ at 6948 SW Capitol Hwy.
The congregation invites Jews of all backgrounds, interfaith couples and LGBTQ  individuals and families to meet their new rabbi in their new home.
"I love teaching Torah and about our holidays and traditions, and making it meaningful and relevant to today," says Rabbi Laner.
"We have a lot offer," she adds. "Jewish Renewal is really special, and I think a lot of people aren't aware of it. I feel a lot of people could really find their home here."
Some summer Shabbat services will be held in parks around town.
"I love taking Judaism outdoors," says Rabbi Laner. "Torah says a lot about how to take care of our environment."
pnaiorpdx.org