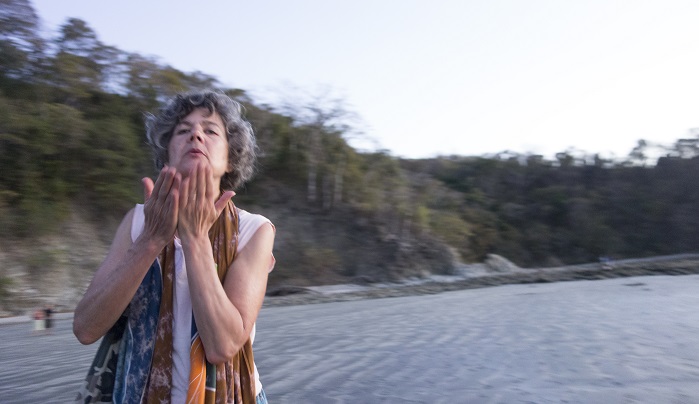 PHOTO: Filmmaker Cathy Zheutlin
"This film chose me," says filmmaker Cathy Zheutlin of her surprisingly uplifting 45-minute documentary "Living While Dying."
When the film premiered last November, she handed out a questionnaire and asked people to share three words that came to mind about the film. The words repeated most often were beautiful, honest, loving, moving, inspiring and poignant.
"The film is more about living than dying," says Cathy.
The film grew out of a short 3-minute film she produced in 2012 about a music thanatologist, who plays his harp for patients near the end of life to provide musical comfort. Shortly after that, she and her husband, Edis, went to Australia, where she met an aboriginal "deathwalker" named Zenith, whom she refers to as a death midwife.
Just as people create a "birth plan" that lays out when and if they want drugs or other methods to ease the pain of labor, people should also create a "death plan," says Cathy.
"We have choices in death," she says. "Especially since scientific achievements can keep our bodies going. We need to think about how much medical intervention we want. There's no right or wrong, but it's important to think about it."
Cathy's parents, both 92 and long divorced, have diametrically opposite approaches to death. Her father, Dr. Norman Zheutlin, likes access to whatever modern medicine has to provide. He has filled out an advance directive, but he does not want to talk about death. On the other hand, her mother, Jonnie Zheutlin, "is so comfortable, she discusses death as if planning a picnic."
"She is ready to die," says Cathy. Though her mom still works out, takes yoga classes and has an active social life at the retirement community where she lives in Ashland, she has filled out paperwork and is prepared emotionally for death.
"When people plan for the end of life, the outcomes are so much better for the person who is dying and for family and friends left behind," says Cathy. "There are so many decisions that come up, and if you haven't thought about it before a crisis it is too overwhelming. If you have time to think about your preferences at the end of life, you are more likely to have your preferences honored, and the people around you have more ease knowing they are honoring your wishes."
When her mother's partner, Clair Killen, was diagnosed with a terminal illness, Cathy asked if she could bring a video camera along when she visited him in hospice. "Clair liked being the center of attention, and he was happy to have a project," says Cathy. "There is a very beautiful scene (in the film) of Clair in the barbershop," which she says arose out of Clair's quest to "find something interesting to film."
In addition to Clair, her mother and the deathwalker, the film also follows three of Cathy's friends as they deal with terminal illnesses at about age 60:
"The people in my film have community support; not everybody has that," says Cathy. AvYitz, aka Alan Rosenberg, relied on his Jewish community as he faced death.
Don Offil, whom Cathy knew from tango dancing, told her dying doesn't have to be sad before taking medication available under Oregon's Death with Dignity law.
Azul shares his very spiritual approach to dying.
The 45-minute length is perfect for post-film discussions, says Cathy, and she feels those discussions are important.
Though people call her film humorous, hopeful and comforting, Cathy says she has learned the importance of "holding space for silence" as the film ends. "My film reminds people of experiences with death that are very close and personal, and sometimes is a reminder of that grief."
SCREENINGS: "LIVING WHILE DYING"
Death is a big mystery, and yet the outcome is 100% certain. How do you plan for the unknown? Filmmaker Cathy Zheutlin tells the stories of four friends with terminal illness who chose to live out their final days at home with creativity, humor and courage.
livingwhiledying.org
MARCH 13
Wondering Jews, Tea for Two presents a screening of "Living While Dying."
2-3 pm at Congregation Neveh Shalom, Stampfer Chapel, 2900 SW Peaceful Lane, Portland.
Free.
programs@nevehshalom.org | nevehshalom.org
MARCH 18
March Movie Night, "Living While Dying"
7-9 pm at Havurah Shalom, 825 NW 18th Ave., Portland.
Havurah's Ma'avar (Transition) Committee will show "Living While Dying," followed by a panel discussion featuring Rabbi Benjamin Barnett, oncologist Charles Blanke, palliative care physician Karen Erde and Susan Hedlund, who worked on the original task force to legalize death with dignity.
Suggested donation: $10
503-248-4662
RSVP: havurahshalom.org/event/living-while-dying
APRIL 4
"Living While Dying," Encore Presentation
7 pm at Clinton Street Theater, 2522 SE Clinton St., Portland
The film's premiere at Clinton Street Theater on Nov. 28 sold out and people were turned away.
503-238‑5588 | cstpdx.com