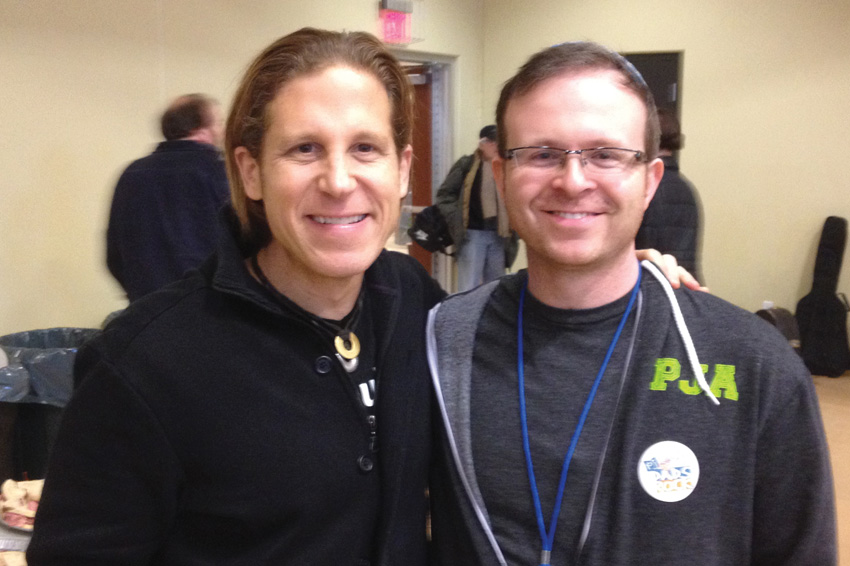 Portlander Justin Jude Carroll was among 180 song leaders, musicians, storytellers, Jewish educators, rabbis and program professionals who attended the sixth annual Song Leader Boot Camp in St. Louis, MO. Justin, who performs as Justin Jude, participated in the conference's first PJ Library track, which enabled participants to learn more about PJ Library and how to connect to families in their home communities.
PJ Library supports families raising Jewish children through the gift of high-quality Jewish children's books and music, along with resources, events and programs.
Justin is the early childhood music teacher at PJA, music teacher at Little Garden preschool and music director at Congregation Kol Shalom. He has performed at several Jewish community events, including healing services at the Robison home and holiday concerts at Congregation Neveh Shalom. Partnering with PJ Library on music events to build Jewish community is the next item on his agenda, and he expects the boot camp experience to enhance that.
"Song Leader Boot Camp sent me home with both deep inspiration and practical tools to inspire audiences," says Justin. "Jewish song leading isn't only about leading singing, it's about building lasting Jewish community. A skilled song leader brings ruach into a room and helps students, adults or families connect with each other through song. I've brought home a commitment to perform this service in Portland, and I'm actively reaching out to Jewish organizations in Portland to see how we can work together."
In addition to learning practical tools, such as how body language and clapping can enhance the audience's musical experience, Justin says he expanded his repertoire, learning new songs from top Jewish artists including Rick Recht, Ellen Allard, Sheldon Low, Joanie Leeds and Craig Parks.
Justin calls the experience totally transformative. "It wasn't just about being a song leader, but about being a Jewish person living Jewish values, reflecting on what it means to be Jewish today – how our values plug into the modern world. I left with a renewed faith in the power of music to move us deeply, and to connect us to each other. I'm excited to share that faith here at home."
Pjlibrary.org | jewishportland.org/pjlibrary