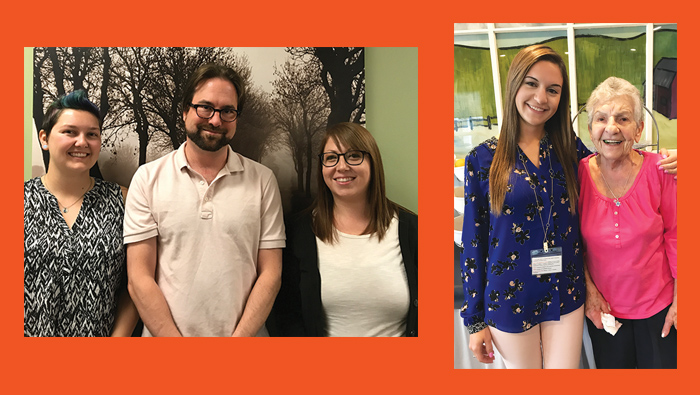 When Polina Munblit takes potential residents on tours through the newly refurbished Rose Schnitzer Manor, Cedar Sinai Park's assisted living facility in Portland, she explains their options and answers their questions. She later welcomes the new residents as they move in, helps them get settled and introduces them around. She is not, however, a social worker; her job title is senior living advisor.
People seldom move to assisted living because they want to, Polina explains. Maybe they have lost a spouse or their health is failing. Or they had to give up their car. Some people, she says, are being pushed by their children.
"The decision, the moving process, losing independence … there are a lot of changes," says Polina. "People may be resentful or sarcastic or sad. And now people are moving in older than before, so they may be even more resistant to change."
A lot of residents, in short, need help coping.
"Everyone here cares deeply about our residents, so I, all the staff, do try to help with the transition. But there's only so much I can do. I don't have the qualifications to sit with them and work through their grief and adjustment."
Enter Jewish Family and Child Service and PEARLS.
The "Program to Encourage Active and Rewarding Lives for Seniors" is an evidence-based counseling protocol developed at the University of Washington about 15 years ago to help older adults and adults with epilepsy deal with depression. It comprises eight counseling sessions in 19 weeks and is unique in several ways:
All sessions are conducted in the client's home.
It coordinates with local programs and resources to extend the reach of the counseling.
It models itself after chronic care and collaborative care models, wherein the therapist and client work together to identify feelings, issues, barriers, and possible tools and solutions.
When Multnomah County decided to try it, JFCS submitted a proposal. It would be an expansion of the social work and counseling they already provided, and it would enable JFCS to help people throughout the tri-county area, says JFCS Clinical Director Doug Ruth, LCSW. They were jazzed when JFCS and a few other agencies received grants in September 2014, and "We hit the ground running," says Doug. Within a month of getting the contract, Doug and program manager Sarah Hollingsworth were seeing clients. Later, when one of the other agencies decided they could not provide the services after all, the county offered their contract to JFCS. This past July they brought on behavioral health social worker Missy Frye half time to help deal with the caseload.
"We get good results," explains Sarah.
All three agree that being in the client's home is an innovation that works.
"It's one thing to talk about their issues, to problem-solve when they come to you," says Sarah.
"But with PEARLS, we are in their space. It allows me as a provider to see the barriers that keep them from social engagement and activities they enjoy." Sarah believes it "diffuses the power differential. I am a guest in your home. I can pet your cat, see pictures of your family. I feel like it creates a richer relationship (when) I share in your world and see things through your eyes. This is a huge benefit of PEARLS."
Missy agrees. "There is a lot you can learn that is unspoken."
But does it work? For many people, the answer is "Absolutely." Because the program is evidence based, there are data to support that answer. PEARLS uses the PHQ-9 Depression Scale – "nine questions that mirror the clinical definition of depression, so people have an easy way to report their feelings, every meeting, from screening to graduation," Sarah explains. "It's easy to administer, but over time it gives us an in-depth look at each individual's symptoms."
"It is part of empowering the client," Doug adds. "They are involved in their own success, and this gives them data to support it."
Missy says it is effective. "Look, I say 'this is how you scored the first time. You've done all this work and look where you are now.' Yesterday I did it with somebody, and she was glowing."
The JFCS counselors leave each client with a list of resources tailored to their wants and needs, whether they relate to transportation, health care, food security or any of a number of challenges. For some people, this and the strategies they learn with PEARLS are enough. For others, PEARLS opens their eyes to the potential improvements that could come from counseling, and they continue to get help, either through JFCS or another resource.
What's next for PEARLS at JFCS? Reaching out to more people, according to Doug.
"A lot of it is word of mouth – family members and neighbors tell each other about us," says Doug. "To share with professionals, we do presentations to hospitals and social workers, attend seminars, sit on panels. We network." To do more, he says, "We need more funding, so we are always looking for grants. We want to connect with more communities."
He says some communities are sort of "siloed," and it is hard to get a foot in the door.
They now have that foot firmly in the door at Cedar Sinai Park. Missy Fry had joined RSM half time as their on-site social worker in July 2016 as part of the growing coordination of JFCS and CSP services. This July the PEARLS team at JFCS hired her for the other half of her time, and PEARLS came to the Rose Schnitzer Manor.
Polina says having Missy on board is of huge value to the residents, families and staff at RSM. When Polina meets with a new RSM resident who is struggling, she can say, "We can help you. We have a social worker on staff." Some residents see Missy for traditional counseling, but now Missy can see some residents as participants in PEARLS. Polina believes people are grateful for the help. "I think it makes people feel better when they can go to a 'professional.' It says to the resident, 'These people really care about me.' "
Often someone will ask Polina, "How long will it take for my parents to get adjusted?" Everyone is different, Polina will answer. "I've had adult children say, once their parents have finally adjusted, 'I wish they had started to enjoy their life here sooner.' "
Now it sometimes doesn't take as long.
"I can use my common sense," Polina explains. "But the PEARLS program has helped make the transition faster and smoother for new residents so they can thrive sooner."
Missy, for her part, loves her work.
"It's such an honor to get to be with people during sensitive times, to be with them through this," she says. "We don't always have all the answers, but we can help them feel supported and know they are not alone."
Liz Rabiner Lippoff is a marketing consultant, freelance writer and community volunteer. LizInk.biz
RESOURCES
Program to Encourage Active and Rewarding Lives for Seniors:
pearlsprogram.org
Douglass Ruth, LCSW, Clinical Director
douglassruth@jfcs-portland.org
503-226-7079, ext. 124
Sarah Hollingsworth, LMH,
PEARLS Program Manager
sarahhollingsworth@jfcs-portland.org
Missy Frye, MSW, CSWA,
Behavioral Health Social Worker and Clinical Case Manager at Rose Schnitzer Manor
Missy.Fry@cedarsinaipark.org
503-535-4012