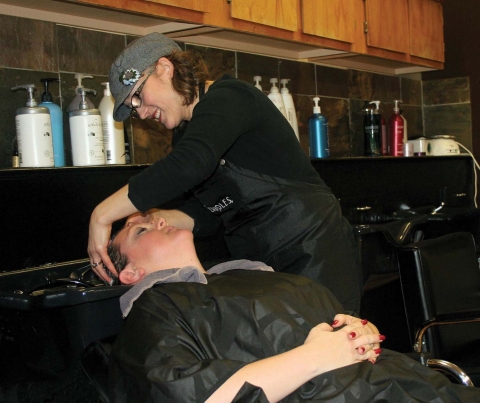 Have you ever walked, run or petitioned for a good cause? This time, you're in for a treat. The second annual Pamper for a Purpose lets you help Darfur and Congolese refugees by basking in the ultimate spa. Join hair stylists, hypnotists, massage therapists and more at Lake Oswego's Millennium Park Plaza on July 1 from 3 to 6 pm. Brighten your day with a $20 donation for each service while you help relieve tragedy 8,000 miles away.
"It started with my daughter's bat mitzvah project," Denise Wetherell explained. Wanting to help genocide victims, 12-year-old Anna Wetherell made hair accessories to sell. A hairdresser at Shear Creations in Lake Oswego, Wetherell jumped in and organized an event with her skills and friends. "It was moving," she said. "I saw people come together for a cause."
This year expect live bands, a raffle, an auction and speakers. Win prizes like a weekend on the coast and hear poetry by a Congolese girl. All proceeds go to Jewish World Watch, which will be there with an information table. So mark your calendars and get set for serious relaxation. Here's information on a few practitioners who will be at your beck and call. For more information, contact Wetherell at 503-720-3602.
John Arrowwood, John Arrowwood Hypnotherapy
503-863-4823
www.johnarrowwood.com
Certified by the National Guild of Hypnotists, Arrowwood became interested in the art of hypnotism as a child. Now he helps clients lose weight, stop smoking and break bad habits. He plans group sessions at Pamper for a Purpose like those he conducted at Portland's Body Mind Spirit Expo last year. "Anytime somebody wants to change an aspect of their life but can't make it happen, I can help," he said. "They learn what stands between them and a life of bliss."
Gannette Bell, Coca's Foot Fix
503-974-4689
http://cocasFootFix.com
Now a certified reflexologist, Bell first learned the technique from her Native American and Jamaican grandmothers. "Both traditions use the feet in curing," she said. Based on the principle that reflexes in the feet, hands, and face correspond with other parts of the body, a reflexology session consists of massaging specific points. Clients begin by relaxing in a zero-gravity chaise longue Bell nicknamed Greta. "I say sit back, relax, let Greta cradle you and go to La-La Land," she said. Bell comes to clients' homes or uses her Lake Oswego office.
Danny Green, Paradigm Salon
503-675-0353
www.paradigm-salon.com
Trained as a stylist and color expert at Jon Peters in Beverly Hills, Green exchanged Los Angeles for Lake Oswego when he and his wife had children. "I'll be cutting, styling and consulting on products at the event," he said. "I'll bring my color swatch book."
Bernadette McKee, Divine Essence Therapeutic Massage
503-522-8316
When Bernadette McKee suffered muscular and structural injuries in a car accident 12 years ago, she knew everything had changed. Following the path of practitioners who had helped her, she became a licensed massage therapist. Specializing in Swedish massage, deep tissue, myofascial and craniosacral therapy, she enjoys working with oils and flower essences. "It helped me on so many levels, and I knew it was something I wanted to do," she said. "I've been called to work with people on their healing journeys."
Jessica Malabanan, Tao of Touch
503-488-0761
taooftouch.com
Malabanan describes her practice as therapeutic massage. "I can do everything from light relaxation to deep tissue," she said. "The muscles let me know what they want. My favorite thing is seeing how much it helps with stress, chronic pain and emotional blockage. I love that blissful look they have on their face after their session."
Jason Schlenker, Schlenker Chiropractic & Associates
503-908-0582
schlenkerchiropractic.com
Among only 160 chiropractic sports physicians in the country, Dr. Schlenker will provide mini-exams and advise at this year's event. In practice since 2006, the former baseball player enjoys helping athletes and non-athletes of all ages and levels.
Sandra Swayze, Blessing of Spirit
503-998-5832
Blessingsofspirit.com
Swayze believes she helps women channel fifth-dimensional energy. "Sometimes they'll taste or see in the third eye," she said. "I've had people smell scents of departed loved ones. I tell them, 'that's because they're still around.'"
_____________________________________________
Pastry chef cooks up solutions for world's ills too
In 2008, several Portland synagogues joined forces to try to put a stop to the genocide in Darfur. Social action committees at Kol Shalom, Neveh Shalom and P'nai Or began to build momentum. Lauren Fortgang represented Neveh Shalom in the growing group, which is now called the Never Again Coalition.
Seeking ideas to influence public officials and leaders to end the war, Kol Shalom came up with the idea of the Postcard Brigade. This initiative enables volunteers to speak out against genocide and human rights abuses. Every month, the Never Again Coalition sends stamped, pre-addressed postcards to volunteers, who then sign and send them to elected officials and media outlets.
Although most members of the Never Again Coalition are Jewish, the coalition now works with some churches and public schools. The focus of the organization has also evolved. "We started out being about Darfur, but now we also work on issues in the Congo," says Fortgang.
The organization also sets up educational exhibits in schools. Fortgang explains: "We went to one school and set up mock refugee camps. Students would enter as if they were refugees." Other projects include a Facebook page and a website, www.neveragaincoalition.org.
The Never Again Coalition also holds an exciting annual event: Pamper for a Purpose to benefit social programs in the Congo. This year, Pamper for a Purpose will take place at Lake Oswego's Millennium Park Plaza on July 1 at 3 pm. (See story on page 34).
"We will definitely contribute restaurant gift certificates," Fortgang promises. "We are talking about getting a table with Fancy Pants chocolates. We use fair-trade chocolate from Theo in Seattle, and they've started working with farms in the Congo, so we are trying to see if we can tie everything together."