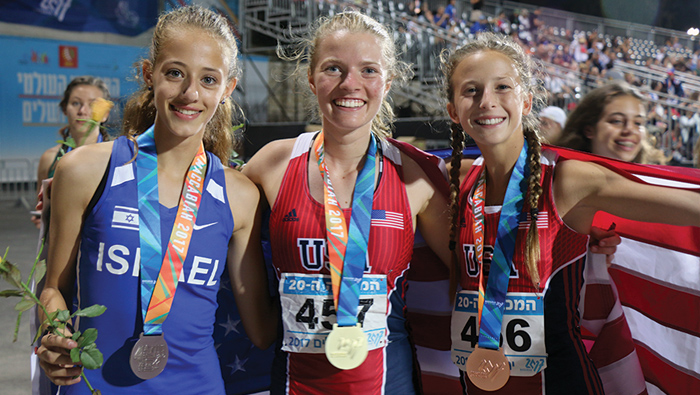 At least four Oregon teens picked up gold medals at the 20th Maccabiah Games held in Israel this July. Portland teen Maya Rayle won a gold medal and two silver medals as a member of the U.S. Junior Track Team. Portlanders Claire Rosenfeld and Kaisa Autumn competed as members of the U.S. Junior Lacrosse Team that won gold. Beaverton High School player Isaac Rosenthal was on the gold-medal-winning U.S. Boys Basketball Team.
Billed as the third largest sporting event in the world, the Maccabiah Games take place in Israel every four years. The United States took more than 1,100 athletes to Israel to be part of an event in which 10,000 Jewish athletes from 80 countries participate in 43 different sports.
Within the Maccabiah Games, there are four separate competitions: Open, Juniors, Masters and Paralympics. Juniors games are open to qualifying athletes ages 15-18.
Maya, a 17-year-old senior at Catlin Gabel, is the daughter of Ruth Berkowitz and Tim Rayle. Maya's uncles, Ethan and
Zach Berkowitz, won a bronze medal in sailing at the 1981 Maccabiah Games.
"They made good contacts and encouraged me to go," says Maya. "It was cool to meet people from 80 countries. It blew my mind – so many Jewish people from nearly every country."
Maya has competed in track and cross country in high school. Last year, she won 3A state titles in 800 meters and 3 kilometers, "but I've never been in a meet like this before," she says.
Claire is the daughter of Eric and Tiffany Rosenfeld, both native Portlanders who grew up attending Congregation Beth Israel, where Claire recently completed 16 years of Jewish education. During all four years of high school, she was a member of the Oregon Jewish Community Youth Foundation, and she played lacrosse for Lincoln High School.
"With just graduating high school, playing in the Maccabiah Games seemed like a unique way to travel to Israel and spend my last summer before college doing something meaningful and exciting," says Claire, a Portland native who graduated from Catlin Gabel. "I had never seen so many Jewish people in one place! The way the games were organized and structured was flawless, and I commend Maccabi USA and the larger Maccabiah organization for doing such a seamless job of planning the athlete experience."
Kaisa will be a senior at Wilson High School this fall.
The U.S. Junior Lacrosse Team won going away, beating Great Britain 19 to 2. Both U.S. boys basketball teams won gold. The team in the 15-16 age group beat Argentina 53 to 33. The 17-18 team beat Israel 92 to 80.
The track competition took place in the early evening to avoid the desert heat. On July 13, on the third day of racing, Maya dominated the 800-meter race, winning a gold medal with a time of 2.19.28 (2 minutes and 19.28 seconds).
The previous evening Maya snagged a silver medal, running her personal best in the 1500-meter race, clocking in at 4.39.04, finishing second to another American, Abigail Goldstein from Pennsylvania (4.34.88). The American junior team swept the podium in the 3000-meter race. Abigail won the gold in 10.09.26, Maya the silver and Rylee Pustilnik from Florida the bronze.
The July 6 Opening Ceremonies celebrated with a parade of nations similar to the Olympics. It featured athletes from 80 countries, including Macedonia, Kazakhstan and Gibraltar, entering Jerusalem's Teddy Stadium.
Open to Jewish athletes from around the world, the Maccabiah Games also allow all Israeli athletes, including Arab-Israelis, to compete. The games began in 1932, when many Jewish athletes were prohibited from competing in international sporting events. The Maccabiah Games are intended not only to encourage athletic excellence, but also to foster a sense of Jewish belonging and pride among the participants.
Ruth says the games enhanced her daughter's sense of connection to Judaism. "Maya has had limited Jewish experience. But she felt incredibly moved and connected when her grandmother took her on a tour of Belgium, including a small synagogue near Breda where my great-grandfather was a rabbi and refused to leave his congregation. Tragically, the Nazis got him and many other relatives."
Maya agrees being in Israel for three weeks with her parents and participating in the games has made her feel more connected. She says she was surprised that so much of the country shuts down on Saturdays for Shabbat. She was also surprised by the status of women in Israel: "Being at the Western Wall and seeing so clearly the divide within the Jewish community. … I talked to a woman there who said things are so equal in the Israeli Army, but in so many other parts of society, women can't do as much."
Claire says the highlight of the experience for her was the training camp.
"For the first week of our Maccabiah trip, we stayed in Ramat Gan, training in the mornings and touring in the afternoons," she says. "The days were long – we'd wake up at 6 am and get back from touring after 10 pm – but exciting. I loved the lifestyle of waking up with the team early to train, then quickly changing gears, hopping on a tour bus, and visiting a local historic site or landmark.
"Traveling to Israel with the Maccabiah games was the first time I had ever been to Israel. I couldn't have asked for a better first experience."