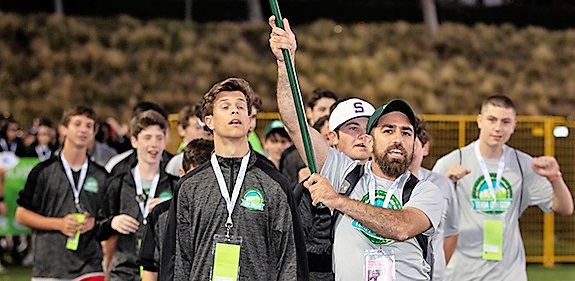 PHOTO: Delegation head Lenny Steinberg leads Team Oregon into the opening ceremonies of the 2018 JCC Maccabi Games and ArtsFest held in California.
Over the last few years, the Mittleman Jewish Community Center has taken about 60 teens to participate in the JCC Maccabi Experience. Team Oregon has had tremendous success in both the JCC Maccabi Games and ArtsFest.
The events are sponsored by the Jewish Community Center Association of North America. This year's games and ArtsFest will be in Detroit Aug. 4-9, 2019.
"This is a wonderful opportunity for our area youth to travel, compete and meet new Jewish friends from around the world," says Lenny Steinberg, delegation head and MJCC program director.
Available sports include (ages 12-16): baseball, basketball, competitive dance, golf, ice hockey, lacrosse, soccer, softball, swimming, table tennis, tennis and volleyball.
Available arts include (ages 12-17): acting/improv, dance, musical theater, rock band, social media squad, visual arts and vocal performance/glee.
The JCC Maccabi Games are an Olympic-style sporting competition held each summer in North America. It is the second largest organized sports program for Jewish teenagers in the world. The first North American JCC Maccabi Games were held in 1982 with 300 athletes. Today, more than 3,000 teens participate in the games each summer.
JCC Maccabi ArtsFest is a weeklong summer arts experience for creative Jewish teens featuring workshops in a variety of specialties with some of the leading artists in each field. The fest also incorporates community service, social activities and themes of Jewish heritage, community and Israel. The JCC Maccabi ArtsFest combined with the JCC Maccabi Games create one joint JCC Maccabi Experience, which gives participants the opportunity to be a part of a larger Jewish teen community.
For information on joining Oregon's delegation, contact Lenny Steinberg at lsteinberg@oregonjcc.org or 503-535-3555.
Sign up at: https://www.oregonjcc.org/sports/maccabi-games