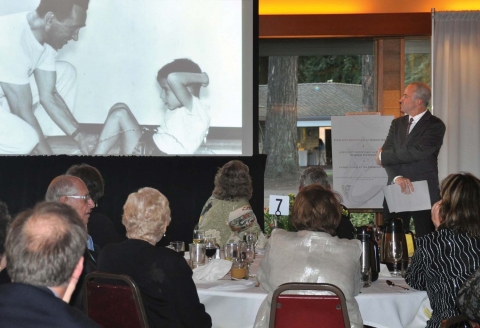 In the Game is a multimedia exhibit curated by the Oregon Jewish Museum that draws upon the Museum's vast historical archives and network of support within the community. Presented on behalf of sports enthusiasts throughout Oregon, In the Game examines the intersection between sports and community life. The exhibit traces the origins of athletic pursuit within Oregon Jewish life and emphasizes the impact of sports upon our everyday lives. It gives context to the outstanding achievements of numerous superstars and it also features individuals who excelled in sports-related activities.
The exhibit traverses the rich history of Jewish sports throughout Oregon, a story that stretches from the era of exclusion to more fruitful times of inclusion that have made international sport the great cross-cultural collaboration we see today. This history has political significance on a national scale, and it reminds us that Jews have been tied to athletic achievement for centuries.
Oregon Jewish Sports Hall of Fame opens June 6
The first inductions into the Oregon Jewish Sports Hall of Fame will be held during the opening reception for OJM's new In the Game exhibit, 5:30-8:30 pm, June 6.
"Take me out to the Ball Game will feature kosher hot dogs and beer at the tailgater party in the museum's parking lot. Listen to DJ Drew Groove's mix of your favorite vintage records, and watch a how-to demonstration by Portland's Roller Derby skaters.
Inductees for the new hall of fame are:
Harry Glickman founded the Portland Trailblazers. A basketball player at Lincoln High School, he went on to serve as the Blazers general manager from 1970 until 1987 and remains the team's president emeritus.
Harry Policar inspired three generations of Jewish children in athletics at the Jewish Community Center. Harry majored in physical education. After he graduated with a PE degree from the University of Oregon, he taught physical education at Neighborhood House for many years of his life.
Millicent (Mickey) Hirschberg taught three generations of Portlanders to swim at the JCC. She also started and ran the hydrotherapy program at the JCC (Portland Polio Swim Club).
Harold Saltzman was a standout pitcher for Lincoln High School, where he was dubbed the "Young Prince Hal from Duniway Park." He became a Hall of Fame pitcher at the University of Oregon before beginning a successful professional baseball career.
Leonard "Ike" Donin was a three-sport star at Lincoln High School and was named to two all-Portland basketball teams. At the University of Oregon he lettered in basketball and baseball. Donin signed on with the Portland Beavers, but never played due to a knee injury.