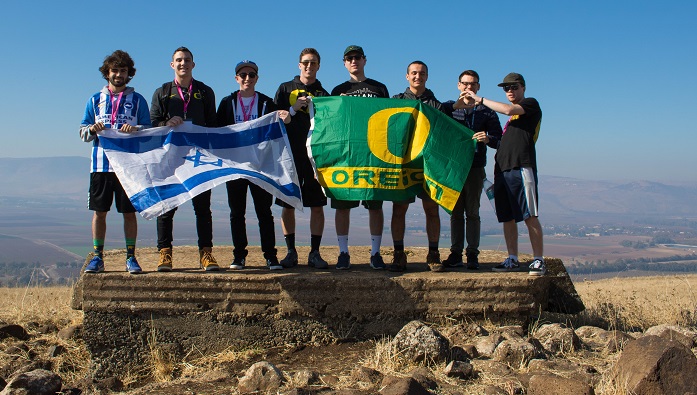 PHOTO: University of Oregon Ducks at the Golan Heights at the start of their Birthright experience with Oregon Hillel.
Over the holiday break Oregon Hillel sent 19 students from the University of Oregon and Oregon State University to travel through Israel on their free Winter Taglit: Birthright Trip. Joining Oregon's Ducks and Beavers were 14 other Jewish students from around the country, who bonded, explored and shared in this special once-in-a-lifetime experience.
Hillel's Birthright experience is designed to provide a deep and rich mifgash (encounter) between American Jewish young adults and the Israeli culture, community and people.
"As an American Jew who has had family live in Israel, Birthright has given me the chance to get a firsthand experience at the joys they saw in this country," says Sky Jackson, a member of the OSU class of 2020. "My first day has been a surreal experience, since Israel has never been a huge part of my life, and I got to experience it for myself and form my own opinions about it."
The trip included visits to Tel Aviv, Jerusalem (for Shabbat), Tzfat and Yaffo. Students saw a wide variety of historical sites such as the Kotel (Western Wall) and Yad Vashem (Holocaust Museum). They hiked Masada, visited Mount Herzl National Cemetery and, of course, floated in the Dead Sea. Hillel's Birthright trip included stays on a kibbutz on the Sea of Galilee, an exciting night out in Tel Aviv, an overnight stay in a Bedouin tent village in the Negev and three nights in Jerusalem.
This year's trip was truly special as students on Oregon Hillel's bus were able to spend New Year's Eve at the Machane Yehuda Market, a hotspot in the center of Jerusalem.
One of the peak moments of a Birthright trip is the chance for participants to have their B'nai Mitzvah in Jerusalem. This year, five students joined with their new mishpacha (family) to make an aliyah and commitment to Torah, Israel and the Jewish people.
"Hillel takes great pride in recognizing the importance of a well-rounded trip for the young adults experiencing Israel on Birthright by exploring fine wineries in the north of Israel, camel rides in the south and Jeep rides through the Golan Heights," says Oregon Hillel Israel Engagement Fellow Loren Murphy. "All of this, and most importantly new friendships with Israelis and fellow college students, happened in only a short 10 days!"