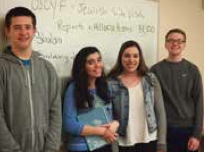 Over the years Oregon Jewish Community Youth Foundation has gone through a lot of changes. With more members than ever (53 Jewish high school students), we focused on group work and made other changes to accommodate all the budding philanthropists. For example, we created three groups based on experience in OJCYF: Lomdim (apprentices), Bonim (builders) and Manhigim (leaders).
Our Manhigim have been involved in leading a group. The eight Manhigim are high school seniors and juniors who have participated in OJCYF for at least three years. To live up to their name as leaders, each month the Manhigim create the agenda for the next group-wide monthly meetings. Additionally, each of the Manhigim selected a topic – such as Jewish education, emerging nonprofits and interfaith families – and were joined by other OJCYF members to create teams of five to six members.
The Manhigim organized site visits with various nonprofits and helped their peers develop thoughtful questions for the organizations. After the site visits, teams shared their findings with all OJCYF members. Sharing responsibilities and making team site visits added a new dimension to OJCYF. It allowed younger members to get a good feel for the interview and allocations processes. Working in small groups allowed everyone to have a hands-on approach, and judging from the conversations at the allocations meeting, everyone learned from it.
Our annual benefit dinner (see box) will focus on the different paths we took in learning about and allocating money in support of Jewish and general community needs. Our dinner will showcase our hard work throughout the year and give attendees an idea about where we are headed in the future. We will allocate the funds raised at the benefit dinner a few weeks later to our OJCYF grant applicants (the deadline to apply for a grant is April 18, application form is online at ojcf.org/ youth-foundation).
The money we allocate goes to both Jewish and secular nonprofit organizations. Our meetings can be challenging as we decide where to give our money, but everyone learns a lot. When Jewish high school students come together and allocate real money to organizations that greatly need and appreciate it, we learn skills such as researching, interviewing and getting the details about how a business runs. We learn how to deal with charitable giving and how much it impacts people's lives – both as donors and as recipients of services from nonprofits. The skills we learn through OJCYF will help us for years to come. I know I really appreciate what OJCYF has done for me over the four years I have been part of the group. I know my fellow Youth Foundation members feel the same way. I personally can't wait to show off what this experience means to me at the benefit dinner on May 1. Please join us there!