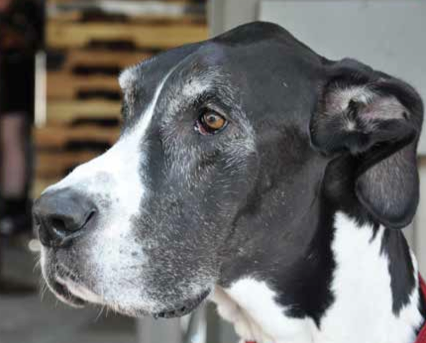 Even if no one asks, Larry Chusid has a knack for seeing a need and meeting it – whether it's funny greeting cards or pet food for hungry families struggling to feed the four-legged members of their families.
When Larry was 23, he dropped out of college to sell his Rabbi Rosenberg greeting cards, even though the store owners he approached told him no one was asking for Jewish cards. He told them his greeting cards were simply funny cards with a Rabbi on them. During the 1980s he sold about 50 million cards in thousands of stores in eight countries. Since then he has been involved in a variety of charitable endeavors.
After Larry's 18-year-old dog Pongo died in 2007, helping other dogs was on his mind. When he saw dogs sleeping under bridges with their owners, he decided to focus on helping the animals in the homeless community. As he talked to those devoted pet owners, he realized he'd found a two-pronged need. The owners were feeding their pets whatever food they had. Not only was the food an unhealthy diet for pets, but the owners were going without the food they needed. "I saw a recipe for disaster," he says.
So Larry started making rounds every morning and evening to give out Canidae Natural Pet Food, noting that for many of the homeless, their pet is their only family. By helping them feed their pet, he was also enabling them to keep their own food for themselves. He provides those pets a high-quality diet with no corn, soy or wheat because, "Pongo lived well. He got many years he might not have had otherwise because he had a great diet. I learned other animals didn't have that option."
Larry didn't know it at the time, but that early work would lead to him establishing the Pongo Fund Pet Food Bank, which is dedicated to feeding dogs and cats of families in need throughout Oregon and Southwest Washington.
Larry soon learned that pets weren't the only hungry family member in the mornings – most meal programs for the homeless are lunch or dinner. So he started getting up at 4 am to make egg sandwiches and almond butter sandwiches to take on his rounds, which ultimately grew from 20th Avenue on the east side to Lincoln High School on the west side. Initially he and two friends funded the effort.
"It got bigger," he says, adding it was a very satisfying experience. In addition to pet food, he began to provide organic oatmeal and Starbucks coffee, along with assorted dairy and sweetener options. "We all want choices," says Larry. He believes that letting people choose cream or low-fat milk for their coffee provides added dignity. Soon he was feeding as many as 50 people, as well as their pets, all from the back of his car.
While on his rounds in January 2009, a social worker saw him and stopped to ask what he was doing. He recalls he said "feeding pets and people," to which she replied, "that's not what you're doing. You are feeding the soul of the family." She told him she was on her way to visit a family that was falling apart. A month earlier, the parents had asked her to help explain to their children that there wasn't enough food, and they were going to give their beloved dog to someone who could afford to feed him. Now that food was again in short supply, the young children were acting out in fear they would be given away too.
"I knew I had to get beyond what I was doing," says Larry. "She made me realize there was a whole community of people suffering. … Most are struggling privately, and they were taking their animals to shelters. I contacted the Humane Society of the United States and asked them to tell me about animal surrender. The number one reason people surrender a pet is because of the cost of care, and the number one cost is food."
So he started to look for ways to keep pets out of shelters, give people hope and keep families, including their four-legged members, together.
While attending a pet food show in Seattle, he stopped by the Canidae booth. He started chatting with the man at the booth, who asked about his project and what he needed. Larry told "Scott" he needed a large donation of quality pet food to get started and then the ability to buy more at substantial discounts. Scott told him he thought he could do that. Larry was dubious until the Canidae rep he knew returned to the booth and told him he was talking to Scott Whipple, co-founder of Canidae Natural Pet Food Co.
With the donation of $125,000 in pet food, Larry needed a warehouse. The city of Portland "had some empty space and decided to take a chance … because sometimes things just make sense."
From November 2009 to September 2012, the Pongo Fund Pet Food Bank used the city warehouse across from the Convention Center, right on the Max line, making it easy for those needing food to get to the warehouse the second and fourth Sunday of every month to pick up their food. Since October of last year, the Pongo Fund has rented warehouse space on Southeast 20th near Powell, just a couple miles from the site of Ankeny Hardware, his late father's store. Larry says he learned a lot at that store, especially the importance of treating people well and the old-fashioned way of doing business where your word is as good as a contract.
The Pongo Fund Pet Food Bank has already provided nearly 5 million high-quality meals to pets of hungry families in 28 counties in Oregon and Southwest Washington. While Larry knows he can't solve world hunger, he thinks he has a good chance of figuring out how to feed at least this region's hungry dogs and cats. "This is my tikkun olam, this is my way of healing the world," says Larry, with an almost ever-present smile on his face.
He believes treating those who come to the Pongo Fund Pet Food Bank with dignity and respect is one of the reasons people keep coming back. Not only do clients return regularly, the volunteers who help them are equally devoted. Many of the 30-some regulars have volunteered two Sundays a month since the warehouse opened 45 months ago. Volunteers greet clients, help them fill out pet profiles if it is their first visit, talk to them about spay/neuter options and emergency vet care, calculate how much and what kind of food they need and distribute the food – while also checking in with the clients to see how they are doing. "It doesn't matter what side of the table you are on – giving or receiving. We are all connected and share in the celebration.
We do it the old-fashioned way. We touch, we put arms on shoulders, we carry food to the car, we sit down and talk to them. … We are a place that gives a chance to animals that might not otherwise have a chance and gives hope to people who might have little else to be hopeful for."
"For me this is like a giant minyan … people are sharing personal details with a person who understands," says Larry, who attended minyan at Congregation Shaarie Torah with his dad, Monte, after his mother, Bea, died in 1996. "If I could, I'd go to minyan every day. Minyan is always part of me. People are there for the same reason … they aren't talking about the stock market or unnecessary details of life, they are talking about being human."
Before his father died in 2002, Monte asked Larry to be sure his friends weren
't forgotten and to attend their funerals and help ensure there was a minyan. Larry says he has attended a lot of funerals since then, and even used to fill in when someone needed a 10th person to say kaddish at the morning minyan at Congregation Neveh Shalom, where he became a bar mitzvah, as well as other congregations around town. Larry saw another need – the importance of meaningful mitzvah projects for bar and bat mitzvah students. When young people call wanting to help animals as part of their mitzvah projects, Larry ensures they have a meaningful experience.
Bar/bat mitzvah students who have volunteered and donated to the Pongo Fund include Logan Sennet, Darcie Semler and Lindsey Sarah Stern. Taylor Goodman helped out too while on the Oregon Jewish Community Youth Foundation. "We always want to make room and provide meaningful roles," says Larry. "It's an incredible compliment that people who volunteer are so deeply committed, and I get to be part of that."
Now 14, Darcie has continued to volunteer every two weeks at the warehouse during distribution. "She's one of the lead volunteers at distribution," says Larry. "She rocks the show." Darcie says the experience means a lot to her. "It's a direct way for me to help with something that I think needs help in our society," she says. "When I'm there I really get the feel for how important their pets are to people. Being able to keep them together is amazing."
She is also impressed with Larry's dedication: "He is a really amazing guy. When he thinks something should be changed, he really goes for it and helps." Darcie adds that at the beginning of every distribution day, Larry emphasizes the importance of treating everyone with respect, and he tells an inspirational success story. Lindsey, who became a bat mitzvah at Neveh Shalom May 5, 2012, volunteered time at Pongo from February through the summer of 2012, and asked for donations to The Pongo Fund and Sunshine Pantry (a human food bank) in lieu of gifts. "Larry runs a really tight ship," says Lindsey. "Each vol- unteer has a specific job to make the distribution process run smoothly."
Lindsey says volunteering at The Pongo Fund was extremely meaningful to her. "It was very difficult to see how hard life is for some people in this world. I saw homeless people stand in line to receive food for their pets week after week because they love their animals so much. I just knew that if they were not able to receive pet food at no cost, they would be giving their pets the food they would need to feed themselves."
Lindsey says, "You could tell some of these folks were really down and out. Larry made sure each and every person was treated with dignity and respect." Lindsey's father, Tom Stern, adds: "Larry Chusid is a wonderful man. His unselfish and passionate commitment to making things easier for those in need is so admirable. When people go to Pongo, they leave with not only food, but also dignity and hope, which Larry also provides. I encourage our community to support Larry's efforts."
The concept of nurturing the pets of hungry families seems to make sense to many. Now a 501(c)3 charitable organization, the Pongo Fund has received support from 17 foundations and more than 3,500 individuals. Last year Pongo Fund was the fourth-largest recipient on Willamette Week's Holiday Give!Guide that listed more than 100 charities.
Larry also wants to ensure he reaches the many families who can't get to the Pongo warehouse. To help them, the Pongo Fund provides pet food to dozens of food pantries including Oregon Food Bank agencies like the Neighborhood House in Southwest Portland. "Since day one, I knew we had to get food where it is needed. If they can't get to us, we will go to them."
"Now when someone gets a food box at Neighborhood House, if they have a pet, they also get great pet food. That makes the food box more valuable," he says, noting they don't then give up the tuna and other valuable protein for their pets. When Larry learned many children were giving up their own food to feed their pets, he offered to provide pet food to SUN (Schools Uniting Neighborhoods) Schools in disadvantaged neighborhoods. When he first approached the Shaver School food pantry, organizers told him no one was asking for pet food. But Larry believes in the Kevin Costner quote from Field of Dreams, "If you build it they will come." So he asked the school to ask their food bank recipients if they needed pet food. The answer came back a resounding "Yes."
"People don't want to ask for something they know isn't there," he says. "I said, 'talk to people,' and within days they had identified 20 families struggling to feed their pets." That harkens back to his days of trying to persuade store owners to carry his Rabbi Rosenberg cards in 1980. No one was asking, but once they were there, they sold like hotcakes.
Another need Larry jumped in to meet was feeding a herd of 22 starving horses that had been turned loose in central Oregon. Knowing that feeding the abandoned horses wasn't enough, he teamed up with others to recruit professional trainers to train the horses so they would be successful in their new homes. He also sent pet food to help pets after Hurricane Katrina and Hurricane Sandy. And volunteers staff an emergency kibble response team to deliver needed food when emergencies arise. Larry is proud that his lay organization gets referrals from local, state and even federal government agencies.
"As a volunteer-driven organization, we can't make something happen overnight," says Larry. "Sometimes it takes us two nights."
Pongo Fund Pet Food Bank: PO Box 8244, Portland, Or 97207 | info@thepongofund.org | thepongofund.org | 503-939-7555
$10,000 MATCHING DONATION – In recognition of this story, the Hedinger Family Foundation will match every dollar donated to the Pongo Fund during the month of August, up to $10,000. Since the Pongo Fund buys its food at tremendous discount, a financial donation will go the farthest to help those in need. Donations can be mailed to the Pongo Fund, PO Box 8244, Portland OrR, 97207. Or they can be made online at thepongofund.org/contact/donation-page