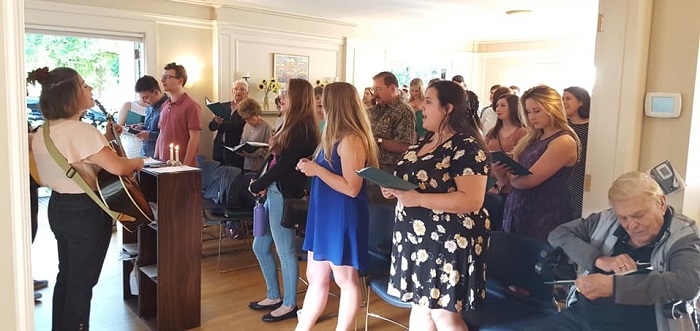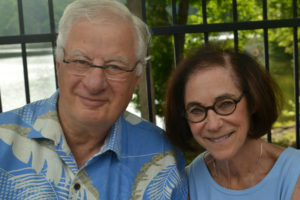 PHOTO: Above, the first Graduation Shabbat of the University of Oregon Hillel supported by a fund created by Millard and Wendy Lesch, at left.
A new endowment fund at the University of Oregon Hillel will support two special Shabbat celebrations each year.
"We are so very grateful to Millard and Wendy Lesch for establishing an endowment to fund the Millard and Wendy Lesch Winter Welcome Back and Senior/Graduation Shabbats," says Oregon Hillel Foundation Executive Director Andy Gitelson. The couple also funds a set of candlesticks for each senior so they may continue celebrating Shabbat in their own homes after graduation. "Through endowing these Hillel programs, Millard and Wendy are not only ensuring that future generations of Ducks will continue their Jewish journey during and beyond their college years, they are ensuring the long-term fiscal health of Oregon Hillel."
Though the couple lived in Seattle for 50 years and now live in Atlanta (where daughter Meredith Solomon lives with her husband and two children), Millard says he has always considered Portland home. Both sets of his grandparents arrived in Portland around 1900. Initially the family belonged to Congregation Shaarie Torah, but they joined Congregation Neveh Zedek (now Neveh Shalom) about the time Rabbi Joshua Stampfer arrived. Millard says he was one of four boys Rabbi Stampfer sent to an overnight Jewish camp; afterward the four spoke at events to raise funds to create Camp Solomon Schechter.
When Millard attended the University of Oregon, there were few Jewish students and no Hillel. He first encountered Hillel in law school at Indiana University, but he only attended a few holiday gatherings. His daughter, Andrea Weiss, who lives in Chicago with her husband and three children, was very involved in Hillel at Loyola University.
Her experience inspired the couple to donate to the University of Washington Hillel and Oregon Hillel. UO is Millard's alma mater, so he was especially gratified to see the growth of support for Jewish students there.
"Over the years, I saw the chapter grow and the wonderful work being done," says Millard. "I told Andy I wanted to create a fund that would sponsor something every year. He suggested Shabbat dinners. "Shabbat dinner is one of the better places for students to connect and to form relationships," says Millard. "Shabbat dinners are a great way for meeting people, and it is something very Jewish. Shabbat dinners were very appealing to me. … We chose (to do) two."
The Winter Welcome Back Shabbat brings students together to celebrate the first Shabbat of winter term. Senior Shabbat is a special sendoff that includes seniors and their families who are in town for graduation. Millard says he hopes the couple's donation will inspire others to donate funds to further enrich Jewish experiences at Oregon Hillel.
"I am envious," says Millard. "I wish that had existed when I went to college."