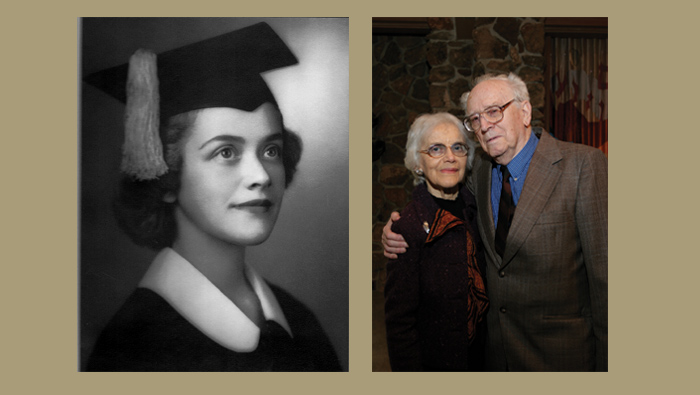 University of Oregon alumna Helen Sherman Cohen has made a donation to Oregon Hillel in the form of a new fund that will allow Hillel to continue its long tradition of serving UO's Jewish students.
The Aaron and Helen Sherman Cohen Fund was established at the Oregon Jewish Community Foundation and will support Oregon Hillel's annual Welcome Shabbat at UO. Each year more than 100 students attend the Welcome Shabbat at Oregon Hillel on the Friday prior to classes as a way to reconnect with old friends, connect with the Jewish student community and celebrate Shabbat for the first time in the academic year.
Oregon Hillel Executive Director Andy Gitelson says that endowments such as this help to ensure that Hillel will have the resources that are so critical to providing programs and services to future generations of students. He cites Welcome Shabbat as a key opportunity for students to reconnect with their community after summer break. For new students, it is often the place where they meet friends that they will have throughout their college years and beyond.
Helen graduated from the UO School of Journalism in 1950. She had discovered an affinity for newspaper work while writing for her high school paper. She attended the school with her brother, Sidney Sherman, who completed his B.S. and M.S. at UO. At the time, Jewish campus life was limited, maintained mainly by monthly visits from a congregational rabbi from Portland. Following graduation, Helen wrote a society column for Portland's Oregon Journal. Her sights were set higher, though, and she eventually transitioned to freelance writing for several small newspapers in Oregon and covered the 1952 Democratic and Republican presidential primary conventions in Chicago.
In 1953, Helen married Aaron Cohen, z"l (of blessed memory). They had three children, after which Helen began teaching high school English and journalism, as well as serving as faculty advisor of the school newspaper. Helen and Aaron were members of Congregation Neveh Shalom in Portland from its founding in 1961. She returned to the University of Oregon in the 1970s to get her master's in English. In 2010, Helen and Aaron made aliyah, moving to Israel to be closer to one of their sons and his family. Helen has lived there ever since; Aaron passed away in 2013.
Helen will celebrate her 90th birthday in June. She wanted to mark the occasion by giving back to both the Jewish  and  UO communities. Helen's son, Daniel, is a proud UO alumnus. Daniel's daughter and Helen's granddaughter, Mira Cohen, currently attends the school and is active in the Hillel community.
Oregon Hillel provides UO students with opportunities to get involved with the campus' tight-knit Jewish community by offering free Shabbat dinners every Friday night, meaningful programs, opportunities for education and activism, and a free matzah ball soup delivery service. Oregon Hillel relies on grants and private support from parents and alumni for roughly 90% of its funding. For more information about establishing an endowment to support a Hillel program or service, contact Andy Gitelson (andy@oregonhillel.org or 541-343-8920 ext. 101) or visit Oregon.hillel.org/invest-in-hillel.
Andrew Goldberg, a journalism student at the University of Oregon, is working as a communications intern with UO Hillel this school year.