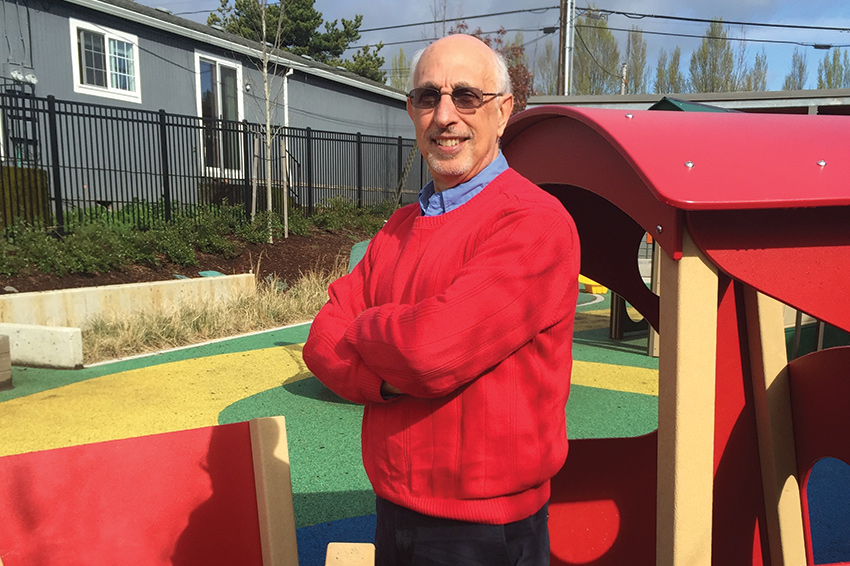 Rick Nitti prides himself on helping improve the lives of children and their families during his 16 years as executive director of Neighborhood House.
Founded in 1905 by the National Council of Jewish Women, Portland Section, Neighborhood House has grown from its roots aiding immigrants in South Portland to become a leading Portland nonprofit social service provider, serving about 18,000 low-income children, families and seniors each year across the greater Portland area. I interviewed Rick recently to learn more about him and Neighborhood House. His remarks have been lightly edited for brevity and clarity.
What was your childhood like in Chicago?
I had a little bit of a rough childhood. My mother, who was Jewish, was rejected by her family for marrying my Italian dad. I spent most of my childhood in the northern suburb of Chicago, Skokie, a very Jewish neighborhood.
My mother's parents and my great-grandmother lived in Rock Island on the border of Illinois and Iowa, on the Mississippi River. I remember going there once or twice a year and sitting in the car while my mother went in to visit her family. My great-grandmother was never told my mom married outside the faith, or that I was born.
After a time my mother's parents accepted the marriage, but they never told my great-grandmother that we were her grandchildren.
I was the oldest of four siblings. I think it hit me more. There was a sense of rejection growing up and it impacted me.
Where did you go to college?
I went to the University of Illinois in Chicago; I then went on and got my master's degree at Loyola University, also in Chicago.
Tell me about your family.
My wife grew up in Portland and is from an old Portland family. Her first ancestor got to Oregon in 1844. We met after college in Chicago where she was getting her Ph.D. from Northwestern. We came out here to visit her family. We always loved it here, and it took 15 years to make the move, but we always intended to come out here.
I am married 36 years and have two daughters, Melissa and Laura. My wife, Jan Jewett, is a Unitarian Universalist religious educator.
Melissa lives in Washington, D.C., and works for Google in its Government Affairs Office. She had been deputy director for messaging and media for the Obama campaign. Laura works for Catholic Charities. She works for a culturally specific Latina Domestic Violence Program.
What did you do in Chicago before moving to Portland?
I worked for two organizations – Christopher House and Hull House, which is sort of the grandmother of all settlement houses. Jane Addams, who won a Nobel Peace Prize, founded it.
Have you have always worked in servicing the underprivileged?
Yes, except when I opened up the Mail Boxes Etc., which is now a UPS store in Hillsdale. When the Neighborhood House job came up, it was perfect in a lot of ways. First, it was in my community. Second, my work in Chicago had all been in the settlement house field. I love history and I love the history of Neighborhood House. I love the history of my wife's family here. In its early years Neighborhood House served the Italian community and the Jewish community here, so it brought my personal history together.
Tell me about Neighborhood House.
We have an annual budget of a little over $5 million. We have around 140 people working for us. About 75 are full time, the rest are part time. We operate out of 16 locations.
What about the new center across from the MJCC?
We built our Children's Center across the street from the Mittleman Jewish Community Center as part of Stevens Creek Crossing, which is a new low-income public housing project. We have been very fortunate, because this is one of the few buildings built specifically for preschool children in the region.
It took about three years to get the Children's Center built. Before Stevens Creek Crossing was built, a rundown public housing development called Hillsdale Terrace was here. The Housing Authority in Portland, Home Forward, knew that it had to be knocked down. We worked with them from the beginning to apply for a federal grant that was designed for properties that were not working. A big part of the grant was to build an early childhood center. Seventy five percent of the money came from the grant and through Home Forward. We had to raise the balance, which was a little over a million dollars.
How did you do it?
We did it two ways, major gifts and foundation grants. The room we are in is named the Harold Schnitzer classroom. Arlene Schnitzer gave us a sizable donation, and she wanted to do that because Harold (z'l) had fond memories of Neighborhood House growing up as a kid. Our largest grant was from The Weinberg Foundation from Baltimore, MD.
It sounds like your money came from Jewish funders.
Well it did. We were very fortunate that the Weinberg foundation is very interested in the combination of housing and services. This was a perfect opportunity for them.
Sounds like nonprofits are working hand-in-hand to improve the community around us.
I think we do. We compete with each other in a lot of ways, but we collaborate with one another as well.
We wanted to build a facility that would be a showcase for early childhood. When we had our ribbon-cutting event, State Treasurer Ted Wheeler was there. We want people to use this building. We want to get the message out of how important early childhood education is, particularly for low-income kids, and the kind of impact it can have.
How many kids do you serve?
The new child center serves 96 children from ages 3 to 5.
How many cultures are involved?
In our whole Headstart program, which involves 150 children served by Neighborhood House, more than 70 different languages are spoken. Neighborhood House was developed 110 years ago by the National Council of Jewish Women to welcome immigrants into the community. Back then they were Eastern European Jews and Italians. Now they are Hispanic, Russian, African or Middle Eastern, and our role is to continue help them and welcome them in. We help them to develop their own lives, whether they are children or adults, to be able to move to the point where they can be successful in this country.
Maybe this comes from my mixed background. I believe very strongly in ecumenicalism and in working together to find peace and harmony. Since September 11 Neighborhood House has been in a unique position, because we have relationships with all the faith communities. We served a significant part of the Muslim population. We reached out to try to create interfaith dinners. We did it for three years.
Our goal was to bring people together. I have done a lot of work with leaders from the Muslim community. I love the people.
Do you partner with MJCC or Portland Jewish Academy?
We do both in different ways. Kids from PJA come over and volunteer and do food drives and a number of different things. It is a good relationship.
Speaking of community, do you cross the street to the MJCC?
As a member of the JCC I am over there all the time. I do weight training three days a week and I play racquetball. I am there almost every day! I love the J. I have developed a strong social network with people there.
Gloria Hammer divides her time between Portland and Hood River. Her interviews with interesting people including entrepreneurs, a school principal and former Portland Mayor Vera Katz appear periodically in Oregon Jewish Life.