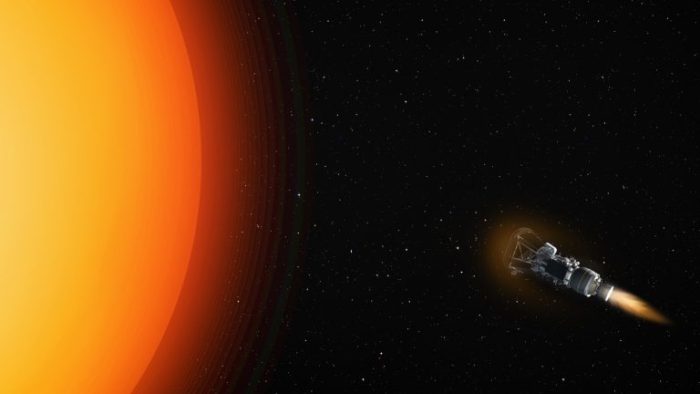 IMAGE: Parker Solar Probe approaching the sun. Image via Shutterstock with elements furnished by NASA; from Israel21c
Israel 21c
Onboard NASA's breakthrough Parker Solar Probe mission is a high-performance CMOS (complementary metal-oxide semiconductor) imager made by Israel-headquartered TowerJazz in collaboration with nonprofit research center SRI International of California for the US Naval Research Laboratory.
Parker Solar Probe launched from Cape Canaveral Air Force Station in Florida three months ago on a mission to better understand how the sun affects our solar system. It will swoop to within four million miles of the Sun's surface, facing heat and radiation like no spacecraft before it.
The radiation-resistant CMOS imager, manufactured in TowerJazz's fabrication plant in California, is included among four instrument suites integral to this mission.
CMOS sensors can capture high-resolution images of the sun's atmosphere (corona), including coronal mass ejections (CMEs) and solar wind. The images, expected in December, may help forecast space weather events that can affect communications, power and other essential technologies on Earth.
"TowerJazz has been working with SRI for several years to develop custom technology to support US government imaging applications," said Mike Scott, Director, TowerJazz USA Aerospace & Defense.  "We value our collaboration with SRI to deliver this highly advanced CMOS imaging technology to NRL and we look forward to more joint success in the future."
TowerJazz manufactures next-generation integrated circuits in growing markets such as consumer, industrial, automotive, medical and aerospace and defense. Its world headquarters is in Migdal HaEmek, northern Israel. TowerJazz operates two manufacturing facilities in Israel, two in the United States and three in Japan.
Courtesy of www.israel21c.org.