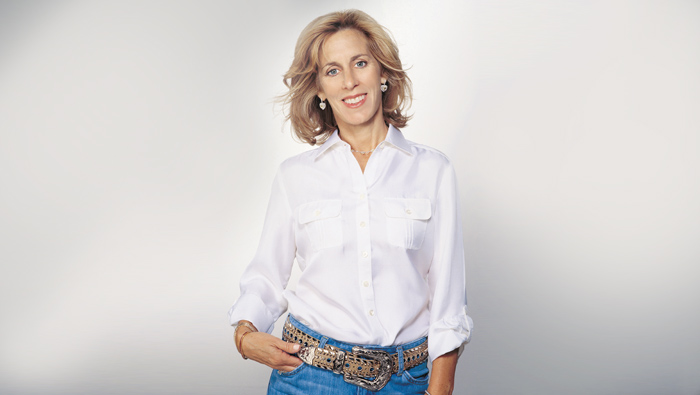 Award-winning film producer and philanthropist Nancy Spielberg will share her belief in the power of women when she visits Portland this month.
Spielberg is the guest speaker at this year's Women's Philanthropy event Impact (see box). She will speak about her passion for community, Israel and women's ability to impact the world. As the sister of Steven Spielberg, Nancy says she hesitated to begin her own film career. Now 61 years old, she produced her first documentary "Above and Beyond" seven years ago. In anticipation of Spielberg's talk, the Jewish Federation of Greater Portland held two events in September to show that film, which is about American pilots who helped Israel create its air force in 1948.
In a wide-ranging phone interview, Nancy chats warmly about family, films, tzedakah, Israel and her first visit to Portland in 1978. During that visit, she couldn't find kosher food, so she brought a salami and kept it in a sink full of ice in her hotel room.
Raised in 1960s Arizona when the Jewish community was small, her Jewish involvement was limited. But when her stepfather helped start Phoenix Hebrew Academy in an old house, she and her sister, Sue, attended fifth and sixth grade there. That early exposure inspired them to seek out the Jewish community when they headed to college in California. After an inspirational Yom Ha'atzmaut outdoor BBQ, Nancy and Sue decided to skip a year of college and go to Israel. In 1973, the summer Steven's film "Jaws" made Spielberg a household name, the two sisters went to work on a kibbutz, becoming fluent in Hebrew.
Nancy, her husband, Shimon Katz, and daughters, Jessica and Melissa Katz, have spent a lot of time in the Jewish homeland. For the past five years, Jessica has lived in Tel Aviv, where she sings, performs and does voice-overs.
"It's amazing what a little Jewish education can do," says Nancy of her two years at Jewish day school. "It can change your life."
Nancy "blames" Steven for introducing Melissa to her equestrian addiction by putting her on one of his horses when she was 3 or 4. Now living in LA, Melissa juggles studying graphic design, working in her mom's production company and bartending – along with her early morning trips to the stable to ride. "It is her 'drug.' The horse is a stabilizing thing," says Nancy, pun intended.
During the interview, Nancy was in LA to ensure her late mother's kosher restaurant, the Milky Way, stays open. Her mom, Leah Adler, passed away early this year, but the year before Nancy accepted her Lion of Judah pin in honor of her mother.
"She was not your typical Jewish mom," says Nancy. "She was a pioneer. Mom loved camping and fly-fishing. She was different and we were brought up to celebrate our differences."
Now a noted filmmaker in her own right, Nancy tours the country sharing her films and their inspirational stories. She especially likes stories that bring Israelis and Americans closer.
"Above and Beyond" features American World War II pilots who went to Israel to help the nascent nation create an air force.
"It made a huge impression for a little film," says Nancy. "It has a message for hope and is very inspiring, and it has heart and a bit of comedy … (and) so many messages about being a Yankee and a Jew and being proud of both and being good at both."
Her film "On the Map," now at film festivals, shares similar themes. "A group of American basketball players went to Israel and helped Israel to become champions and defeat Russia, which refused to recognize Israel in 1977 (when the film is set)."
While pilots and basketball sound more like "boys' topics," Nancy says "the stories are so compelling that they became my obsession."
That obsession with meaningful stories is exactly why federation invited Nancy to speak at Impact.
Impact organizers are focused on creating an inclusive and welcoming event – one that will reach beyond that night and form an integrated part of the relaunch and vision that is forming as the 'new' vision for women's philanthropy, according to JFGP Women's Philanthropy Director Wendy Kahn.
"Nancy has proven that well-told stories can help us to learn about other people's life experiences, ideas and ways of thinking," says Kim Rosenberg, who is co-chairing Impact with Rochelle Schwartz. "Her acclaimed documentary, 'Above and Beyond' provides a glimpse on how past generations responded to insurmountable challenges. Through this story and Nancy's words, we might have the priceless opportunity to collaborate together to find impact and meaning to seize the brand new challenges we face today."
Her co-chair hopes to attract the younger generation to hear those stories, too. Before moving in April, Rochelle spent three years as a resident of Portland's Moishe House, hosting events and building community for other young adults.
"My hope is to bring the women-identified of Portland together for an evening of connection, enjoyment and learning – about themselves, each other and Nancy," says Rochelle. "I'm hopeful that it will be a 'friend-raiser,' and that I personally will get to connect with women of all generations."
For her part, Nancy says she enjoys connecting with Jewish communities around the country. "It makes me feel safer, like we are all taking care of each other. I like to know we can thrive in all kinds of places."
"I'm glad I'm coming back to Portland and not bringing salami," she quips.
WOMEN'S PHILANTHROPY: IMPACT 2017
FEATURING: Nancy Spielberg, producer of "Above and Beyond"
CHAIRS: Kim Rosenberg and Rochelle Schwartz
WHEN: 7 pm, Oct. 26
WHERE: Mittleman Jewish Community Center
WHY: Kicks off the relaunch of the Women's Philanthropy division of the Jewish Federation of Greater Portland. Impact was last held in 2014.
TICKETS: $36 before Oct. 2/$45 after; $25 to first 30 young women to register
RSVP: by Oct. 9
INFO: Wendy Kahn, 503-892-3015 or wendy@jewishportland.org