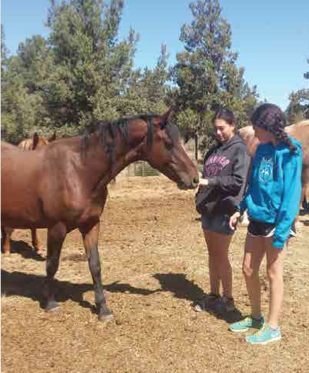 "Horses have a huge impact on my life, so I thought it would be cool to have an impact on theirs," says Audrey Minch of the trio of projects she and her twin, Abigail, undertook for their b'nai mitzvah.
The twins first heard about the plight of the mustangs when they were in fourth grade. A speaker told their Girl Scout troop that though wild horses are protected by federal law, recent roundups have put more wild horses in federal holding facilities than are living in free herds. Many are sold for slaughter.
When Audrey and Abigail started to learn to ride four years ago, they took lessons on Alice, a mustang adopted and trained by their riding instructor. Though the girls now each have a horse through a half-lease, their attraction to mustangs has stayed strong.
So when they chose a mitzvah project before their Aug. 9 b'nai mitzvah at Congregation Beit Haverim, helping horses and mustangs was at the top of their list.Two of their projects are very hands-on. The girls volunteer at Once Upon a Rescue, a Wilsonville barn that cares for abused and neglected horses. They also make and sell polo wraps (leg wraps) for horses to raise funds for horse rescue. They continue to sell the wraps on Facebook at Polished Ponies by Abigail and Audrey and at Bit by Bit, a consignment shop above the Gallops Saddlery in Tigard.
"We are trying to raise money to sponsor a horse (at a wild horse sanctuary)," says Audrey.
But the bulk of their effort has been advocacy on behalf of the mustangs.
"In Judaism we learned about animal rights – they are living too," says Abigail. "We heard a lot about the mustangs being herded up and decided it wasn't OK. We wanted to get the word out about mustangs being herded up."
So the twins focused the final prong of their mitzvah project on raising awareness about the mustangs' plight. The girls became the Portland Ambassadors of "American Mustang." They promoted the movie on Facebook and other social media and organized speaking engagements, where they were joined by the two movie producers.
Producer Henry Ansbacker says the movie was screened in Portland in April "In large part … because of the twins' dedication to the horses and the energy they have invested in their community raising awareness about the current and future well-being of a true American icon. They are an inspiration."
Producer Ellie Phipps Price adds, "Thanks to Audrey and Abigail, Henry and I got to visit their schools, and speak to large groups of children we never would have been able to find from our offices in Colorado and California. American Mustang was a huge success in Portland with people of
all ages showing up to learn about the need for reform of the current government management of America's wild horses. … Change happens when people care, and shine a light on something that they care about. Audrey and Abigail know where the light switch is!"
When the opening weekend of "American Mustang" sold out, the Regal Fox Tower 10 ex- tended the run for an additional two weeks.
The twins awareness-raising efforts also include a postcard brigade and an online petition to encour- age the Bureau of Land Management to change its policies to adhere to the Wild and Free-Roaming Horses and Burros Act of 1971. At their b'nai mitzvah, the twins displayed a poster about the mustangs and had postcards for people to sign and send to U.S. Secretary of the Interior Sally Jewell. Supporters can sign the online petition at: causes. com/campaigns/82652-stop-the-round-up.
Audrey says her favorite part of their mitzvah project "is knowing you are working to help save the mustangs."
The twins' efforts attracted the attention of author Terri Farley, whose book Wild at Heart: Mustangs and the Young People Fighting to Save Them is slated for release in fall of 2015. From the hundreds of young people she has talked to, Farley chose Abigail and Audrey to be among the dozen she features in the book. National Geographic photographer Melissa Farlow is photographing the youth Farley is profiling and has already been to Portland to photograph the twins.
"Never underestimate quiet determination," says Farley. "Abigail and Audrey know what they want to do and they are doing it.
"I think they've been empowered. They are being listened to in the fight to protect the weaker. They may not be advocates for mustangs all their lives, but I think the roots of caring for the unprotected will always be there for them."
Farley, who has previously written 36 books including The Phantom Stallion series for young readers, says her current nonfiction book is designed to empower youth and give them the facts they need to help the mustangs.
"I want to show kids that they have power and give them the facts to bolster it," says Farley of her book. "That's why I start at the dawn of horses. … I introduce them to kids like themselves … role models who are having a great time accomplishing great things."
Their b'nai mitzvah celebration is over, but Audrey's and Abigail's projects continue.
"We hope to keep telling people about the wild mustangs and continue selling polo wraps on Facebook," says Abigail.
Mustang Facts
At their b'nai mitzvah party, Abigail and Audrey Minch set out cards with about a dozen mustang facts including:
• Mustangs were declared as the "living symbols of the historic and pioneer spirit of the west"
by the U.S. Congress in 1971.
• Approximately 100 years ago, about 2 million mustangs roamed the North American terrain. Today we only have 25,000.
Petition: causes.com/campaigns/82652-stop-the-round-up