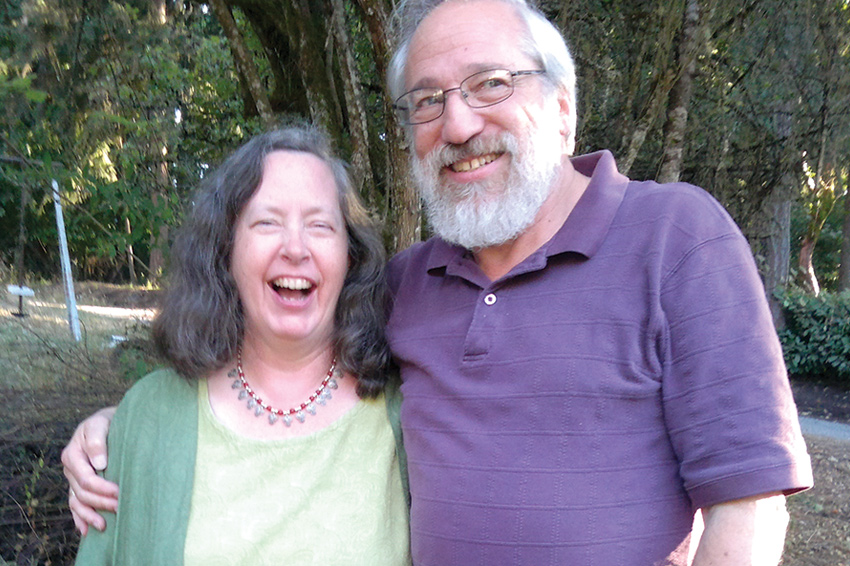 While Rabbi Yitzhak Husbands-Hankin's Jewish journey might seem exotically diverse to the casual observer, he describes each step as a natural progression. He says his upcoming "redeployment" from senior rabbi to rabbi emeritus at Temple Beth Israel in Eugene will be just as organic.
"I loved music as a child and I loved spirituality," says Rabbi Yitz, now 68. Those passions have remained with him throughout his journey.
As a child he sang in the boys choir at his family's Orthodox shul; he studied with and was inspired by Rabbi Shlomo Carlebach, z'l, (known as the father of Jewish soul music) and Rabbi Zalman Schachter-Shalomi, z'l, (the father of Jewish Renewal). He and his wife, Shonna, founded a moshav in Oregon – before he slid down "the slippery slope of increasing responsibility" to become the rabbi of a mainstream synagogue in Eugene. He leaves that post after 40 years of serving TBI in a variety of capacities, but he doesn't consider this latest shift retiring. He plans to remain active in both the Eugene and world Jewish and interfaith communities.
Though he plans to step back as rabbi emeritus to allow TBI's new rabbi (see page 55) to establish herself, he will maintain a presence at the Reconstructionist congregation. He will also remain involved with Eugene's interfaith community, including an upcoming Habitat for Humanity project that TBI is participating in. He is a member of Rabbis for Human Rights-North America, an associate of CLAL-National Jewish Center for Learning and Leadership, and a member of the rabbinic cabinet of J-Street. He was recently asked, and he "absolutely accepted," the opportunity to become a founder of Rabbis for Religious Freedom in Israel.
He considers the greatest challenge for Judaism to be "for the Jewish people to realize the richness and resources we have to benefit not only ourselves but the world; and to realize how much potential there is for goodness to come from our peoplehood. In Israel the challenge is to show respect for different strands of thinking, so we can accomplish our common goals. … (the) Orthodox rabbinate's entanglement in the politics of Israel is damaging to the well-being of expressions of Judaism," he says.
A first-generation American son of Russian and Polish Jewish immigrants, Yitz Hankin was born in Pittsburgh in 1947. The hazzan at the Orthodox shul he attended with his parents and grandparents "saw how I loved the music." From the Chabad teachers at the shul he also fell in love with the spirituality of Judaism.
Wanting to travel and experience life in a different context, he moved to Oregon in 1971 to study music and cello at the University of Oregon. He began davening at TBI, which was then affiliated with the Conservative movement. He was ordained as Baal Tefillah (prayer leader) by Rabbi Carlebach, whom he credits with influencing his interest in Jewish music, just as Rabbi Zalman "spoke to the universal truth of Judaism and the global unity we are seeking."
Yitz and Aryeh Hirschfield, z'l, studied with Reb Zalman and served on his student cabinet even before that rabbi founded the Renewal Movement; they were later ordained by Rabbi Zalman. Yitz and Aryeh remained close friends and became a musical duo, which involved performing and recording together. The two were ask to step in and lead TBI for High Holiday services after the unexpected death of Rabbi Louis Neimand in 1976.
"Rabbi Aryeh was very influential in my journey," says Rabbi Yitz, noting that this year he will lead High Holiday services at Rabbi Aryeh's former congregation, P'nai Or of Portland. "We stayed close until he died. We had a concert planned together (for) just two months after his death."
While serving TBI part time as a cantor and religious school teacher, he also began his career as an activist and professional in the disability rights field. Concurrent with his TBI part-time job, he served half time as director of an independent living program in Eugene.
Yitz met Oregon native and Judaic artist Shonna Husbands and the two married in 1977, joining both their lives and their names. Rabbi Yitz calls Shonna his "invisible partner" and notes many of the ideas credited to him have arisen through their collaborative conversations.
Seeking life in an "intentional community," in 1983 Yitz and Shonna Husbands-Hankin founded Shivtei Shalom, where Shonna served as executive director. For two years, Yitz commuted from Dorena Lake to Eugene to serve as part-time cantor at TBI. The family, including daughters Talya and Shira, moved back to Eugene when Yitz became the full-time cantor during Rabbi Myron Kinberg's sabbatical year. He received his cantorial commission from the Cantors' Assembly of the United Synagogue of America in 1986.
Following his rabbinic ordination in 1987, he became TBI's assistant rabbi. When Rabbi Kinberg, z'l, left in 1995, he became the congregation's rabbi. Rabbi Yitz notes that the congregation had already begun to move toward more liberal Judaism under Rabbi Kinberg, and the membership voted to affiliate with the Reconstructionist movement in 1996. He likes the Reconstructionist focus on "the many expressions of Judaism within evolving civilization."
"For me, the big shift was the utilization of musical instruments," says Rabbi Yitz.
"Music has been a very significant part of the spiritual life of our congregation."
His interest in disability rights played a role when TBI built its new home in 2008. In addition to following LEED standards to create an environmentally friendly building, the new synagogue has many accessibility features including ramps on both sides of the bimah. Rabbi Yitz considers the mitzvah to support people with "altered abilities" an important part of his work.
"I would love this to continue to be a place welcoming to everyone," Rabbi Yitz says. Of the legacy he hopes to leave, he adds, "I sought kavod between people – the fundamental approach of honoring one another in the image of God and to help each other to draw out the best."
Temple Beth Israel: 1175 E 29th Ave., Eugene | 541-485-7218 | www.tbieugene.org