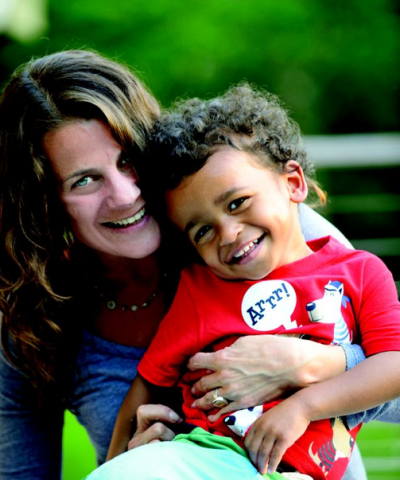 As education director of Havurah Shalom, Deborah Eisenbach-Budner knows about developing strong Jewish identity. When it comes to internationally adopted children, she also knows "what's in a name." Parents' hopes for their child's faith and sense of belonging, she says, are often revealed by the names they choose. RozaBess Aizhan, 4, the daughter she adopted from Kazakhstan, has Kazakh, family and Hebrew names.
While a host of factors influence many Jews' sense of self, adopting children can bring identity issues to a conscious level. With adoptees rarely born to Jewish mothers, parents must decide how or if they will balance the child's birth heritage with a Jewish upbringing and community. The child's preference, community acceptance and opportunities for cross-cultural experiences come into play. The Portlanders we interviewed explained each family is different.
"Steven and I are committed to honoring and including our child's birth culture," said Eisenbach-Budner. Her family, including the two older children, spent three months in Kazakhstan during the adoption. "We wanted our kids to be part of the process and have a sense of the country. We bought clothes, toys, a rug and wall hangings. We have every book about Kazakhstan written in English for youth and some for grown- ups. The more you can let a child know about their past the better. You have to figure out what you can provide." Providing regular exposure to their child's birth culture is easier for some parents than others. Few ready-made Kazakh activities exist in Portland. Those who adopt from China, like Susan and David Greenberg, will find 600 similar local families plus a thriving Chinese community with festivals, traditional dance and other cultural opportunities.
"We had Seth and wanted a second child," Susan Greenberg said, referring to her 15-year-old son. "We talked about adoption, and China had the best reputation at that time. This was 2002. There was less trauma for us because birth parents domestically sometimes change their mind, and we heard horror stories. We went through a great agency, Journeys of the Heart (journeysoftheheart.net) in Hillsboro. They arranged a guide when we got to China. It was a wonderful experience." Their daughter, Zoe, whose complete name is Zoe Dong Aiya Menachma, hopes to follow in her brother's footsteps and learn Mandarin in middle school. Right now, she is busy with Hebrew at Congregation Neveh Shalom. Going into fourth grade, she enjoys lacrosse, soccer and piano, and looks forward to a family trip to China.
"We always read Zoe books about her culture," Greenberg said. "And, we host Chinese students every summer. We've given Zoe Jewish and Chinese roots." While international adoptions may require proactive ways to include the child's birth heritage, today's domestic open adop- tion policy often removes the choice. With open adoption, birth parents forfeit parental rights but choose the adoptive parents and arrange future visitations. Dori Rosenblum and Aliza Kaplan (pronounced Aleeza) adopted children domestically. "We've had a steady relationship," said Rosenblum about her daughter Anna's gentile birth mother. Anna is now 13 and about to become bat mitzvah. "Her birth mother was young, 15, so her whole family came to our house. When Anna was younger she would say, 'I'm Christian and Jewish.'
"Right when we got Anna, the birth great-grandmother wanted to make a baby dress for the christening," Rosenblum continued. "I told her that's so sweet, but we're not going to have that. We are going to have a naming ceremony, and we'd love to have a dress for that. She made these beautiful dresses, and the whole birth family came to the ceremony. It was an advertisement for open adoption." Kaplan's mixed-race African American son, Ezra, turns 3 in September. The family relocated from New York City about one year ago and joined Havurah Shalom. "Some families did not select us in the adoption process because they wanted the child brought up Christian," she said. "Ezra's birth mother is a religious person and wanted Ezra raised with faith, strong values and diversity." "Ezra will have information about his birth family and our family." Kaplan said, "We have a lot of diversity in our relationships, and it's important that he does, too. Families come in all shapes, forms and sizes. Love rules, and that's the world I want to live in."
Judaic artist and single parent Karrie Perl Fox adopted Sam, 15, from Russia and Mimi, 8, from Bulgaria. "I always wanted to adopt children," she said, adding she has a 23-year-old biological son. "International adoption interested me because the disconnect that happened to Jewish families comes full circle when you adopt children who have lost their family of origin. Adoption is a way to respond to the historic tragedies in Eastern Europe. Each thing you do to connect your children to their native heritage connects you with your own heritage, so it's a double blessing."
Like many worthwhile things in life, the adoptions involved a long, difficult process. Adopting Sam took more than four years. "I was heartbroken," Fox said. "After every door closed I gave up and had a conversation with God. I said, 'You let me know when the right time comes.' Within a week, I was dabbling on an international adoption site and up popped this cherubic picture of Sam. He had multiple hands and feet deformities and congenital heart disease, but he looked so healthy it didn't make sense. I was the first to contact them, but I found out that within two days 15 families had called."
Three weeks later, Fox arrived at the orphanage in Smolensk, Russia. "They brought me upstairs, and Sam was so gorgeous, I almost fainted," she said. Since arriving in America, Sam has had six surgeries on his hands and feet. The boy they feared might never walk now excels at soccer. Fox adopted daughter Mimi from a Bulgarian orphanage 10 days before her fifth birthday. The little girl weighed 29 pounds, which, according to weight charts, is normal for a 2-year-old. "I learned Bulgarian before I adopted Mimi, and she didn't want anything to do with it," Fox said. "She wanted to speak English and belong to this culture."The family attends Congregation Neveh Shalom, where Sam became bar mitzvah in 2010. In addition, Fox is determined to keep Mimi and Sam's birth heritage alive. "This is our second year going to Heritage Camp," Fox said, referring to a summer program operated by Families for Russian and Ukrainian Adoption (www.frua.org). "It includes the whole family. They have Eastern European food, folk dancing and a parade with costumes. The kids have arts and crafts related to the countries." Sam and Fox have visited Russia together, and the whole family plans a future "heritage tour." They belong to a local Bulgarian group and enjoy holidays like Baba Marta, which Sam calls "Mother's Day for grandmas." Each year Sam attends Holt International Camp in Corbett. "You get to see friends, and everyone's adopted," he said. "That's important. We have something in common; our parents aren't our blood parents. We talk about issues like racism."
Rabbi Daniel Isaak of Congregation Neveh Shalom sees many families with mixed identities. "Judaism is racially blind, and that is what's important," he said. "Have you been to the Diaspora Museum in Tel Aviv? They have flashing photos of Jewish faces; there is no such thing as a Jewish look. When I speak with Christian groups, I point to Ethiopian and Asian Jews and also explain that because Judaism accepts converts, one cannot define a Jewish race. I love looking at religious school and seeing the diversity. It's the future of what Judaism is and what Judaism looks like."
For more information on Jewish diversity, visit jewishmultiracialnetwork.org, kulanu.org and bechollashon.org.
Polina Olsen is a freelance writer and author living in Portland.