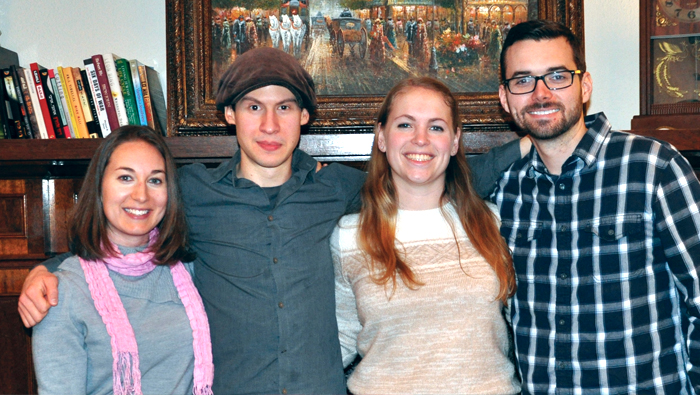 A shifting band of young adults who have been not-so-quietly building grassroots Jewish life for themselves and their peers for nearly a decade will have space for a new face come May.
Portland Moishe House opened Jan. 1, 2008, joining 13 U.S. and eight international houses designed to help young, innovative Jews create their vision of an ideal Jewish communal space. Now 86 Moishe Houses in 21 countries are giving young adults a place to explore Jewish life with their peers. House residents receive subsidized rent and a monthly programming budget to host events for other young adults. Since its creation, the Portland house has signed up for the top tier of activity, putting on seven or more events each month.
When three-year resident Eli Gregory moves on to new adventures after Pesach, Kenneth Gordon, 28; Aaron Kaufman, 29; Rochelle Schwartz, 28; and Sarah Philips, 25; want another 22- to 29-year-old to share the five-bedroom, three-bath house in Southeast Portland.
The new housemate must "be willing to commit to at least one year with a weekly average commitment of eight hours, an interest in offering their passions and interests to the community, and be able to organize, attend and clean up events," explains Rochelle.
Sarah adds, "We want a community builder who will take whatever they're passionate about to share and enrich" Jewish life for young adults in Portland.
Sarah, an environmental educator at the Oregon Zoo and a preschool teacher at Congregation Beth Israel, shares her passion for the outdoors, as well as the challah she bakes for Moishe House Shabbat dinners. An apprentice with the Jewish Theatre Collaborative for two years, Kenneth brings artists and arts events to his peers. Aaron, a grad student at Portland State University in public administration, has hosted a series of gatherings to watch the presidential debates. Rochelle, a mental health therapist and Oregon native, shares compassionate listening as well as hiking, camping and kayaking in the outdoor beauty of her native state. All four enjoy cooking and gardening, but admit they are enthusiastic though not especially skilled at the latter.
Housemates must be willing to live in a "mostly kosher" home (they have two sets of dishes for dairy and meat and serve only kosher foods at all events). Observing kashrut at events was instituted by Portland Moishe House founder Jodi Berris, who wanted to be sure events were open to everyone in the community, whether they keep kosher or not.
"In our community, the vast majority don't keep kosher, but for those who do, it is important," says Rochelle. "We never know who will arrive, and we want them to feel welcome if they keep kosher."
In addition to a new housemate, the foursome also wants to meet more young adults interested in helping create or experience events. Most events are free, though if Moishe House organizes a group to attend a performance or sporting event, every person pays their own admission. Regular events include at least one Shabbat dinner a month, game nights, meditation events, homesteading workshops and parties for all the holidays.
This month, residents will once again cook and lead a Passover seder, but it won't be at the house. Last year the 82 attendees took up every available sitting surface, so this year's event will be offsite. "It will still be home cooked and brought to you by Moishe House," says Sarah.
Rochelle notes they are very grateful to the funders who make Moishe House possible. Funding for each Moishe House is 70% local funding and 30% national funding. The Schusterman, Jim Joseph and Leichtag foundations are major national donors. Local support for each house comes from individuals, foundations and federations. Portland house donations can be made through the Jewish Federation of Greater Portland (jewishportland.org) or through moishehouse.org/donate  (select the Portland house).
While residents must be in their 20s, some people in their early 30s still fit the target audience of post-college, pre-kids. The grassroots community the housemates have built connects people with Jewish experiences, friends and even partners. Several people who have met at Moishe House have formed groups for other activities. And at least two couples became engaged after meeting at Purim parties in the past three years.
"I wouldn't have been involved with the Jewish community without Moishe House," says Kenneth, a three-year resident. "So call us."