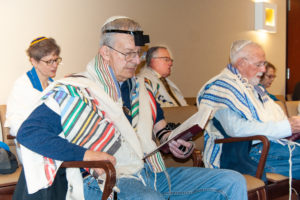 PHOTO: Above, Neveh Shalom "Minyonnaires" gather to bid Shalom L'Hitraot to Howard and Petra Shapiro (holding hands). The couple sold their Portland home and moved to Oceanside, and Howard, a minyon regular for many years, will be sorely missed. At right, Minyan regulars: (front) Lee Cordova and Tony Kostiner;  (back)  Merrill Hendin, Sam Gottlieb and Dale Oller. All five come to services at least one or more times a week.  Photos by Nan Lipton
For Priscilla Kostiner, going to minyan nearly every day is "a great way to start the day with purpose and a place to be as part of a group that is going to help someone say Kaddish."
During Mental Health Month in May, we explored the mental and emotional benefits people reap from participating in a daily minyan. The Oregon Board of Rabbis provided a local minyan list (see below) so community members can find a minyan when they need to say the mourner's Kaddish or to enjoy the long-term benefits of participation.
A 1997 study printed in The Psychoanalytic Review explores "the minyan as a psychological support system … (that provide) a sense of continuity and meaning in life." Study author S. Scheidlinger adds that "this group experience helps its members maintain an intergenerational sense of personal identity and self-esteem."
Priscilla has seen all of those benefits first-hand in the decades she has been involved in Neveh Shalom's daily minyan. Like many people, she began attending the minyan regularly to say Kaddish after her father's death in 1993. She continued going in part to honor her father's memory, who had attended minyan in Virginia regularly beginning in 1955 when the family lived near the synagogue. As a high school student, Priscilla worked part-time for the synagogue and maintained the minyan list to help ensure 10 men (women were not then counted as part of the minyan) were present every day. Now at Neveh Shalom, she "basically runs the minyan" either leading the short morning service or ensuring someone is there to do so.
She especially enjoys the intergenerational connections. Many members attend into their 80s and 90s, and one woman still came at age 100. For a time religious school students were required to attend minyan one day a week for the year before their b'nai mitzah.
"We get kids up there, so they are not intimidated by being in front of people," says Priscilla.
"These will always be our kids," says Priscilla, of the young people who often continue to come regularly into adulthood. "It's like a family."
Newcomers are always greeted and asked if they need to say Kaddish, or need an Aliyah or want help with the prayers.
"We celebrate with them, and we mourn with them," says Priscilla. "For mental and emotional health, we are there for each other."
BOX: MINYAN TIMES
(Times may vary on holidays; usually 15 minutes earlier on Rosh Hodesh; call or check websites to confirm)
PORTLAND
Neveh Shalom, 2900 SW Peaceful Lane, Portland; 503-246-8831; Fri. 6:15 pm (4th Fri. 8 pm); Sat./Sun. 9 am; Mon.-Fri. 7:15 am
Kesser Israel, 6698 SW Capitol Hwy.; kesserisrael.org/home; daily approx. 5 pm; Sat. 9 am; Sun. 8 am; Mon.-Fri. 6:45 am
Beis Menachem (Chabad): 2317 SW Vermont 503-977-9947; Fri., 7 pm (Apr-Aug); 10 min. after candle lighting (Sept-Mar); Sat. 10 am; Sun. 8:30 am; Mon.-Fri. 8:25 am; Mon 8 pm
Ahavath Achim: 6688 SW Capitol Hwy.; 503-318-3732; Fri. 6:30 pm Apr-Aug., 10 minutes after candle lighting Sept.-Mar.); Sat. 9 am
Beth Israel: 1972 NW Flanders St.; 503-222-1069; Fri. 6 pm; Sat. 10:30 am
Havurah Shalom: 825 NW 18th Ave.; 503-248-4662; Sat. 10 am; Wed. 8:30 am
Shaarie Torah: 920 NW 25th Ave.; 503-226-6131; Sat. 9:15 am; Sun. 8:30 am; Mon. & Thurs. 7:30 am
Shir Tikvah: 7550 NE Irving St.; 503-473-8227; Fri. 6.30 pm (varies); Sat. 10:30 am
Portland's UnShul: location varies, email RabbiDebra@AstheSpiritMovesUs.com; 2nd and 3rd Sat. 10 am; 4th Fri. 7 pm
EUGENE 
Temple Beth Israel – Center for Jewish Life: 1175 E 29th Ave.; tbieugene.org; Fri. 7:30 pm 2nd Fri. 6 pm; Sat. 10 am; Sun. 8:30 am; Mon. & Thurs. 7:30 am; Wed. 5:30 pm