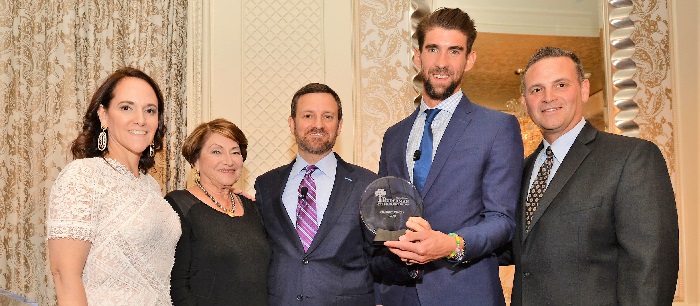 PHOTO: The Ruderman family presenting Michael Phelps with the Morton E. Ruderman Award in Inclusion; L-R: Sharon Shapiro, Marcia Ruderman, Jay Ruderman, Michael Phelps, Todd Ruderman. Photo by  Cindy Loo 
The Ruderman Family Foundation, an international leader in disability inclusion, presented its Morton E. Ruderman Award in Inclusion to Michael Phelps at a ceremony on May 21 at the Four Seasons in Boston. Phelps, the most decorated Olympian of all time, was honored with the award in recognition of his advocacy for people living with disabilities and for sharing his own journey with mental health.
In sharing his mental health journey with the world, Phelps has demonstrated the importance of taking care of oneself and accessing help when needed; he openly credits the therapy he received with saving his life and encourages others to reach out for the help they need. In a world in which shame and stigma are pervasive, Phelps's leadership in raising awareness and destigmatizing mental health is critical.
"Michael Phelps is a unique leader who has used his fame and status as the greatest swimmer of all time to challenge our society to remove stigma surrounding mental health. Phelps's leadership is positively impacting the lives of millions of people with mental illness around the world," says Jay Ruderman, president of the Ruderman Family Foundation.
Michael Phelps captured a total of 28 medals, including a record-setting 23 gold medals, over the course of his Olympic career. Since his retirement from swimming, Phelps has dedicated his time and energy to promoting water safety and normalizing the conversation surrounding mental health through the Michael Phelps Foundation. A Global Ambassador for Special Olympics International, Phelps was the Honorary Chairperson of the Substance Abuse and Mental Health Services Administration's ("SAMHSA") National Mental Health Awareness Day 2017 and recipient of the organization's Special Recognition Award for his mental health advocacy. In addition, Phelps is an Ambassador for the Child Mind Institute's #MyYoungerSelf social media campaign in an effort to help end the stigmas associated with mental health and learning disabilities.
Jay Ruderman, Foundation Director Shira Ruderman and Phelps engaged in a 20-minute Q & A as part of the event program, which included 200 notable Bostonians and leaders in medicine, academia, media, mental health and special needs advocates about the importance of sharing his story and the work needed to destigmatize mental health.
"For me being able to save one, five, 10 … a million lives is hands down better than ever winning a gold medal. My medals don't define me, and the mission that we have right now will."
Phelps talked about the experience of being an Olympic athlete and an upcoming documentary he is working on:
"When we were traveling on international teams, we had doctors that would help our physical wellbeing, but they didn't care about our mental wellbeing. … I couldn't stand up and talk about it because it showed that I was weak, until I got to that point where I didn't want to be alive anymore. I realized something had to be done, and I had to take that step to get the help that I needed to get better."
Phelps went on to say, "I am honored to receive the Morton E. Ruderman Award, thank you to the Ruderman Family Foundation for this tremendous recognition and applaud its continued efforts to help eliminate the shame and stigma that surround mental illness and to encourage those in need to seek help. Together, we can normalize the mental health conversation and recognize the potential and value in person, to contribute to our world in their own unique way."
The Award, now in its fifth year, was named after Morton E. Ruderman, the founder of the Ruderman Family Foundation. A successful entrepreneur, mentor and proud family man, he saw his success as the result of help he received from others and was passionate about providing opportunities for others, with a keen focus on those living with physical, cognitive or mental health challenges. Prior awardees include advocates from various sectors, including Academy Award winning actress Marlee Matlin, former United States Senator and driving force behind the Americans with Disabilities Act Senator Tom Harkin, disability self-advocate Ari Ne'eman and Harvard Law Professor Dr. Michael Stein.
The Ruderman Family Foundation was founded by Morton E. Ruderman, who had long been giving back to the Jewish community in Boston. In the early 2000s, Mort decided to make a major gift to local Jewish day schools. When they learned about the absence of children with disabilities in their classrooms, the family felt this systematic exclusion was an affront to their Jewish values. They agreed to focus on correcting this injustice.
Mort tapped his oldest son, Attorney Jay Ruderman, to lead the Foundation. Jay's experience with civil rights issues enabled him immediately to understand the disability community as a socially, economically and politically excluded and segregated class. This is the assumption from which he leads the Foundation and the fundamental perspective: disability rights are civil rights.