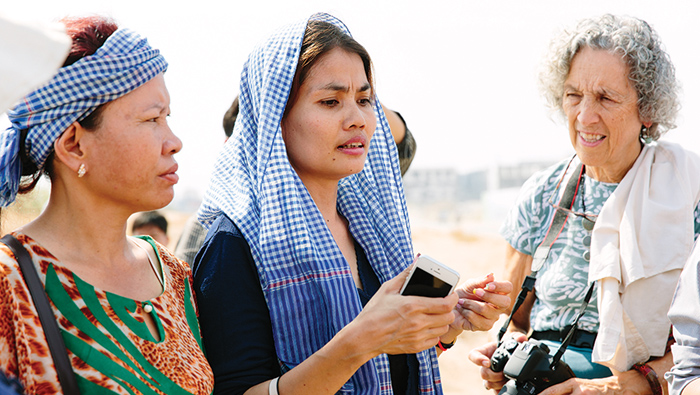 A lifelong social-justice advocate and activist, Ruth Messinger 20 years ago rose above a defeat to effect great social change. Ever since, she's helped women all over the globe do the same.
Hoping to become the first female mayor of New York City, Messinger ran in 1997 for the post against Rudy Giuliani. She lost that bid. Just one year later, she became president of American Jewish World Service, a position she held until 2016.
The nonprofit's mission includes fulfilling Judaism's imperative to pursue justice by helping to alleviate poverty and realize human rights in the developing world. Under her watch, AJWS helped grant nearly $270 million to support grassroots social change organizations, launched campaigns to end the Darfur genocide, fought the epidemics of violence against women and LGBTQ people, and much more.
Messinger's AJWS work has earned her numerous accolades, including being named one of the world's 10 most inspiring women religious leaders, by The Huffington Post; appearing sixth on a list of most influential Jews in the world, by The Jerusalem Post; and remaining for nearly a decade on The Forward newspaper's Forward 50 list.
And last year, she became AJWS' inaugural global ambassador.
In that role, Messinger, 76, engages rabbis and interfaith leaders worldwide to speak out and work for the oppressed and persecuted and promote human rights around the world, including here at home.
In May, she came to Portland for a whirlwind 36 hours to speak at Portland State University and at Congregation Neveh Shalom. At the latter, the week before Mother's Day, she discussed the foreword she wrote for the then-newly released book, Pirkei Imahot: The Wisdom of Mothers, The Voices of Women, and her work primarily with and for women on their journey to find their own voices.
She sat for an interview in her hotel's lobby between speaking engagements, responding to questions while occasionally interrupted by cell phone calls from family. She has three children, eight grandchildren and two great-grandchildren.
Messinger wears gray curls reaching just beneath her chin, reading glasses when necessary, and, on that day in May, a silver hamza pendant and a rubber bracelet that implores, "Stop Genocide."
Women, Messinger says, consistently demonstrate they're more inclusive, flexible and effective organizers for social change than men.
She believes these characteristics are inherent to women and result from women's overly long track record of being marginalized and oppressed by men, victims of violence at men's hands and even consistently paid less than men for equal work.
"Why would I not say, 'Let's take a risk for change, to make our lives – everyone's life – better?' " she asks rhetorically.
Messinger tells the story of Leymah Gbowee, Liberian peace activist and 2011 Nobel Peace Prize winner.
Having lived through her country's back-to-back civil wars, Gbowee (pronounced BO-wee) helped put an end to the violence in 2003. As leader of the Women of Liberia Mass Action for Peace, she organized thousands of Muslim and Christian women to engage in sit-ins, peaceful protests and even a sex strike. It worked, Messinger says, eyebrows raised.
Today, Gbowee is head of the Liberia Reconciliation Initiative, co-founder and executive director of Women Peace and Security Network Africa, and founder and president of the Gbowee Peace Foundation Africa – which AJWS currently funds.
"I see this all over," Messinger says of women taking the lead and getting results, often against all odds. "Women often are victims of oppression, and they are gutsy as hell and feel they have nothing to lose."
She continues, "Women leaders are not as celebrated as they should be." For example, she says, "school kids can name more male than female astronauts."
Messinger says just as women at the helm often go unknown, women in Jewish texts are equally anonymous.
Take "Pirke Avot," the 2nd century C.E. compilation of what Messinger calls "nuggets of Jewish wisdom." She's been a student of the work, often translated as Ethics of the Fathers, and a self-described "fan." Yet, the text was written entirely by men. "Women had been shut out," she says.
So when co-author Lois Sussman Shenker approached Messinger to write the foreword to her and Rabbi Eve Posen's then-forthcoming book, Messinger got on board.
She contends Portlanders Shenker and Posen created an unusual work with universal appeal: "They invited women in," she explains of the structure and content of Pirkei Imahot. "Your own (women's) wisdom is at least as important as everything in 'Pirke Avot.' "
The evening of the book launch, Messinger spoke to a packed crowd at Neveh Shalom about her work at AJWS and why she agreed to write the book's foreword.
"Pirkei Imahot brought women's teachings quite literally from the margins," she said, calling the book "a true living text; it is its own Torah."