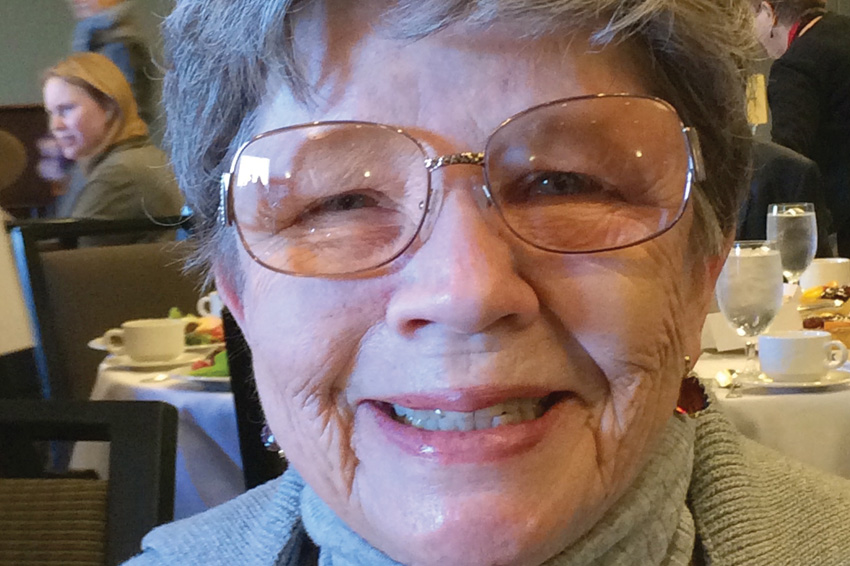 Alice Meyer has a resume that would get her an interview for just about any project management job you could think of. She was the board president who guided the Friends of the Multnomah County Library in its transition from a private to a county institution. She was a tireless force in the team of dedicated people who worked with Rabbi Joshua Stampfer to create, from scratch, the Oregon Jewish Museum, now the Oregon Jewish Museum and Center for Holocaust Education. She initiated a recent series of programs at Congregation Beth Israel called The Longevity Generation, which advocated taking control of one's senior years through thoughtful, thorough advance planning. And she is, according to Rabbi Stampfer, "largely responsible" for the fact that a comprehensive history of the Jews of Oregon from 1950 to 2010 will be completed this summer.
This is just a partial list. And all of it is volunteer work.
Alice was a Depression baby, raised in northeast Portland. "We didn't have stocks or anything. When I got married and had kids, my dad said, 'They are the dividends!' " The family was quite "political." Her mother, an active volunteer, sewed for Russian Relief, which Alice says was pretty controversial at the time. Although she says she dislikes labels like "left wing" and "right wing," she acknowledges that they were all "to the left … and I'm to the left of all of them!"
In fact, Alice embraces her liberal views as an integral part of her Jewish identity. She and six longtime Jewish friends had a conversation recently about the preponderance of Jews among the volunteers who went into the South to register voters during the tumultuous, often violent, civil rights years. "This led to a broader discussion about the liberal causes and social actions that Jews, except for fundamentalist Orthodox, so often support," she says. "And even when they are Republicans, they are usually still good on social issues. Our group was united in its belief that it IS our Jewishness, whether we recognize it or not."
So what does a wife of 58 years, mother of three, grandmother of two, social activist and community volunteer do now that she is 85?
Well, for one thing, she works out. "It helps you stay healthy and feel better." Alice goes to a trainer twice a week, and she and longtime friend, Eve Rosenfeld, walk 4 to 5 miles together once a week.
She also enjoys "the passion of a new idea" and goes out of her way to learn new things. She has become actively involved with Compassion & Choices, a national nonprofit that offers consultation and resources for people who want to take control of their end-of-life plans, including availing themselves of Oregon's Death with Dignity Act. The Longevity Revolution at Beth Israel evolved from that interest. Another example: she used to play bridge but took up mah jongg three years ago because "they say you can't learn it after 65, and I wanted to prove them wrong. I'm 'medium' at it: some days are very, very good and some days are horrid."
Alice intentionally spends time with people of all ages. She is in two, count 'em, two book clubs, one with her contemporaries and one whose members are all younger than she. The second group is currently reading books from the '50s, and Alice put James Baldwin's Go Tell it on the Mountain on the list. Some of them were reading it for the first time, and the discussion, she says, was lively. "I love their generosity of spirit, their warmth and their openness to new ideas."
And she still volunteers. One consistent commitment is a weekly stint, again with Eve Rosenfeld, in the archives of the Oregon Jewish Museum, located in the permanent home she once pounded the pavement to help find. They have just archived some of Rabbi Emanuel Rose's papers and look forward to their next project. "Twenty five years ago, Alice served as the first president of the museum," says Judy Margles, the museum's director. "We know how lucky we are that Alice still volunteers for us."
She has, however, slowed down. "When I turned 80, I wasn't feeling very well and went to see a doctor who'd known me for 10 years. He said, 'Tell me what you've been doing the past week or two.' So I told him, day by day. He said, 'There's nothing wrong with you except that you're 80 and you're not acknowledging it. You need to slow down.' "
So she has, but in typical Alice Meyer style. "Now, if I have three things to do, I try to just do two of them."
Liz Rabiner Lippoff is a marketing consultant, freelance writer and community volunteer. LizRL@rabiner.com