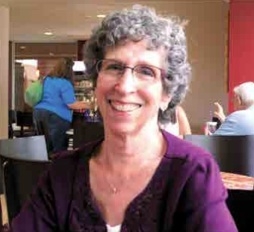 It was Marge's idea. She had always enjoyed the huge Jewish Book Month in Florida, where she'd previously lived, but didn't see anything like it in
Portland. We needed one, too, she decided and got going turn- ing Jewish Book Month's One Book, One Community into an annual event. This November is its fourth year (see schedule below).
Of course, Marge Congress, a relative newcomer to Portland, would be a tour de force in any community. The retired librarian and former rebbetzin divides her time among chairing Jewish Book Month, handling book donations for the Tualatin Library, ushering at Portland Center Stage, attending the front desk at Legacy Meridian Park hospital, sing- ing in Congregation Beth Israel's choir and volunteering at her granddaughter's school library. She also brings her latest craft project to the Mittleman Jewish Community Center knitting group she founded. (It meets at 1 pm Tuesdays near the café. All are invited.)
Marge comes from a family of innovators. Her great-grandfather, Simon Blattner, served as shamash for Isaac Meyer Wise, the founder of North American Reform Judaism. Originally from Lima, OH, Marge has been active in the Jewish community since childhood. Nobody was surprised when she married a rabbi and Talmudic scholar. She spent most of her adult life in California, briefly lived in Florida and joined her daughter in Portland eight years ago.
The book club committee she pulled together includes representatives from area synagogues and Jewish organizations. "We meet seven months a year," Marge says. "We start in February with seven or eight titles and get down to three or four, which everyone reads." After settling on a book, committee members organize and publicize separate or joint events. They end up with about 10 programs over a three- week-period each November.
The first year's selection was By Water, By Fire by Mitchell James Kaplan, a novel about conversos during the Spanish Inquisition. Programs for the second year's choice, My Father's Paradise: A Son's Search for His Family's Past by Ariel Sabar, included Skyping in the author at Congregation Beth Israel and hosting a discussion with the author's father at Congregation Neveh Shalom. The 2013 selection, Nemesis by Philip Roth, caused some controversy because of the author's reputa- tion. Events around this novel about the 1940s' polio epidemic included a presentation by a Roth scholar at the PSU's Department of Jewish Studies, a discussion on the meaning of suffering hosted by the Florence Melton School of Adult Jewish Learning and a performance around A Pigeon and a Boy by Meir Shalev at the Jewish Theater Collaborative.
This year the committee chose In the Courtyard of the Kabbalist by Ruchama King Feuerman, a novel about the unlikely friendship between a New York Jewish intellectual and a working-class Jerusalem Arab. "The exciting part is we're having the author come and speak thanks to a grant from the Jewish Federation of Greater Portland," Marge says. Among the many citywide events, Congregation Kesser Israel will host a tea and discussion on women's roles in Judaism, and Congregations Beit Haverim and Shir Tikvah have teamed up to present a talk on the Kabbalah by Rabbi Ariel Stone, followed by a book discussion.
"Annie Bloom's bookstore is working with us to be sure In the Courtyard of the Kabbalist is on the shelf," Marge says. "We'll have it for sale at every event. I want this to be a citywide program that everyone recognizes. The goal is for people to read these books."
Portland's Jewish Book Month Schedule
One Book, One Community returns for Portland's fourth annual Jewish Book Month with programs at venues throughout the community Nov. 2-23. This year's selection is Ruchama King Feuerman's In the Courtyard of the Kabbalist.
All events are open to the community and are free unless otherwise noted.
Book discussions:
9 am, Nov. 2 at Congregation Beth Israel
10:45 am, Nov. 2 at Congregation Neveh Shalom
6:30 pm, Nov. 11 at Hillsdale Library
7 pm, Nov. 20 at Havurah Shalom
I Dig Archeology: 7 pm, Nov. 6 at the MJCC.
The Perception of Rabbis as Saints: Prof. Oren Kosansky at 7 pm, Nov. 12 at the Oregon Jewish Museum and Center for Holocaust Education; co-sponsored by the Institute for Jewish Studies ($8 members, $10 nonmembers, $5 students).
Women's Role in Judaism: 11 am, Nov. 16 at Congregation Kesser Israel.
Introduction to Kabbalah: Presented by Congregations Beit Haverim and Shir Tikvah at 2 pm, Nov. 16 at the MJCC.
Author Talk: Ruchama King Feuerman at 10 am, Nov. 23 at Congregation Beth Israel; co-sponsored by Jewish Federation of Greater Portland.
The Jewish Genealogical Society presents David Laskin, author of The Family, at 1 pm, Nov. 9 at the MJCC, as part of Jewish Book Month.
oregonjcc.org/jbm/