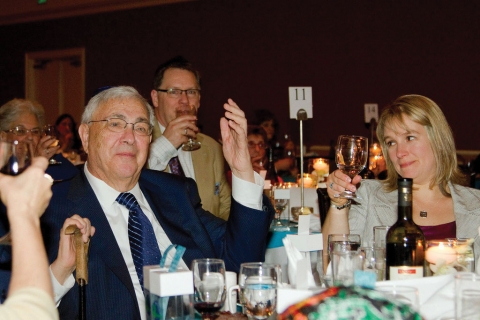 Maimonides Jewish Day School raised $90,000 as it honored Gersham Goldstein before 180 attendees at their annual dinner March 14 in the Benson Hotel's Mayfair Ballroom. Tribute was paid to Goldstein by his children, Deborah and Marcus Goldstein, by Rabbi Moshe Wilhelm, director of Chabad of Oregon; and by Federation's past Executive Vice President Charles Schiffman. Goldstein was recognized for his professional status as one of the country's leading tax law experts, and particularly for his activism on behalf of institutions within the Jewish community, including MJDS and Chabad-Lubavitch of Oregon, and the larger Portland community, including serving as chairman of the Harold Schnitzer Diabetes Center at OHSU. Goldstein is past president of the Jewish Federation of Greater Portland. All speakers, and in particular Devora Wilhelm, also lauded the honoree's wife, Pauline Goldstein.
Mrs. Wilhelm received a standing ovation for her dedicated work as head of the school for more than a quarter-century.
MJDS alumna Masha Angert, who came to Portland at an early age with her parents from the former Soviet Union, delivered an eloquent appeal for support of the school. Rabbi Arthur Zuckerman and Kim Rosenberg led the Mitzvah Moment. The raffle drawing was done by the honoree's grandson, Logan Goldstein, as Logan's brother Jakob looked on.
The evening's fundraising will benefit students who need scholarship assistance to attend the school. Rabbi Moshe Wilhelm also unveiled plans for expansion of the Maimonides School's facilities, to be accomplished by literally raising the ground floor of an existing building to create a new 1,000-square-feet lower level with classrooms and offices. Capital fundraising has begun for this project.
Chairperson for the evening was Melissa Bloom, and Master of Ceremonies was Rabbi Motti Wilhelm, spiritual leader of Congregation Bais Menachem/Chabad. Music was provided by Eli Marcus and Mendel Simon.