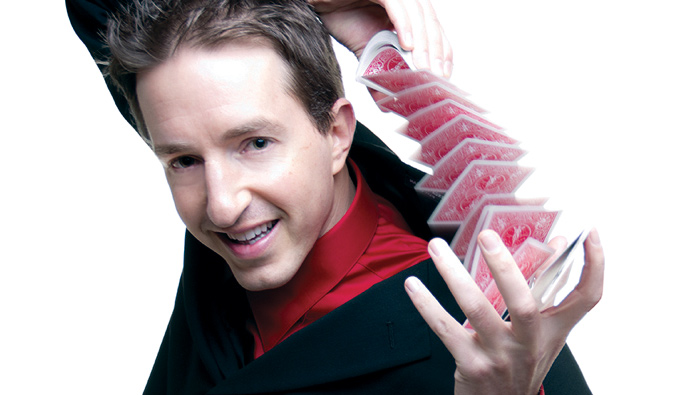 This year's Cedar Sinai Park gala benefiting the residents of the Robison Jewish Health Center on April 2 promises to be especially magical.
There's always a magical feeling in the air when CSP brings the community together to ensure the elderly can, as the website says, "live in comfort, independence and dignity in a manner and in an environment based on Jewish values." This year that magic will be enhanced as entertainer Hart Keene brings his blend of magic, mentalism and comedy to the annual gala. Add the sounds of local jazz fusion musician Tom Grant wafting through the air – all pulled together by mother-daughter co-chairs Bev Eastern and Michelle Gradow – and the whole evening will be extraordinary.
Based in Eugene, Hart was featured on NBC's "America's Got Talent" in 2010.
"I've done my share of fundraisers," he says, noting all have been for very worthy causes and he believes seniors are as worthy as any. "We need to support and care for the elderly. That is a huge issue we are dealing with as people live longer – which is a good thing. (President) Roosevelt, who created Social Security, died at 63. Our system wasn't designed for people to live this long."
Hart is also well known in Jewish entertainment circles. "My mentor, Kip Pascal, who got me into magic, is Jewish. A lot of Jewish mothers contact me for bar and bat mitzvahs. I do about five a year."
At the CSP gala, Hart plans to begin the evening wandering among the cocktail hour crowd performing sleight of hand and intimate magic for small groups. Later in the evening he will perform his stage show.
"Hart Keene and Tom Grant will make for an evening that will be exciting and entertaining," says Bev. "We have so many generous sponsors and supporters, and with their help we will continue our mission to honor our fathers and mothers."
Both co-chairs have a long history with Robison Home, as Robison Jewish Health Center is fondly known, and with chairing the annual gala.
"When they asked my mom and me to do it together, it really made it special for me," says Michelle, who has co-chaired the event several times in the past eight years. Michelle is now president of the Friends of Robison (formerly Sisterhood) and has served on the CSP board for many years.
Starting in the 1970s, Bev and her husband, Stan, chaired the annual gala for at least 15 years.  Stan and Bev also both served as presidents of the Robison board.
"The Robison Home has been part of our family for many, many years," says Bev. "I had a mother and an aunt residing at the home, and working for Robison has given all of us self-satisfaction in knowing that we have helped in some small way to improve the quality of care for our elderly."
Now Bev and Michelle are inviting the community to enjoy that same sense of satisfaction while also enjoying a great evening.
"Our committee has planned a really fun and festive event," says Michelle. "Dinner will be delicious with cocktails and appetizers included. We will have a fabulous show with magician/illusionist Hart Keene, who was a contestant on America's Got Talent, and we will have Tom Grant join us, who is a Portland treasure. We will end the evening with sweets in the Crystal Ballroom. This is all a recipe for success."