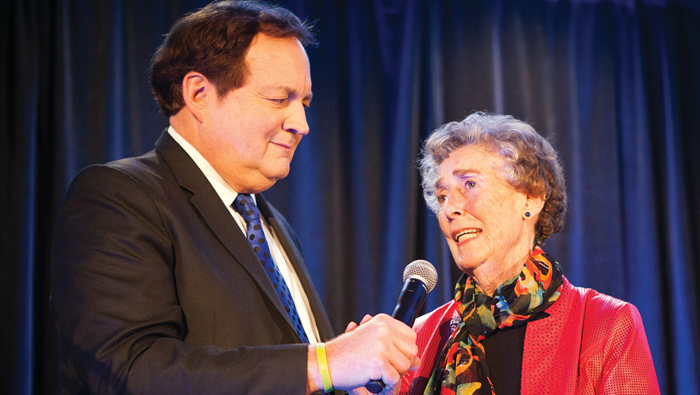 Synchronized swimmer Jeanne Newmark won the Joe Loprinzi Inspirational Athlete of the Year during Multnomah Athletic Club's annual Banquet of Champions Jan. 21.
There are many elite and inspiring athletes at Multnomah Athletic Club. But each year a few stand out, says MAC Communications Manager Tony Roberts. They win world championships, compete on national teams and overcome unique challenges. Every January, MAC recognizes these special athletes at its Banquet of Champions.
Jeanne has spent the past 30 years competing with MAC's masters synchronized swimming team, which has earned 14 consecutive national championships and become one of the first teams to swim in the 80-89 age group at U.S. Synchro Masters Nationals.
"It was a lovely honor to be nominated, but I didn't expect to win," says Jeanne.
Also recognized was swimmer Van Mathias, who won the Mel Fox Amateur Athlete of the Year Award. Mel swam the fourth-fastest 100-meter butterfly in the history of USA Swimming in his age group while also setting MAC records in several different strokes and distances, making him "one of the most versatile swimmers our program has ever had," according to head coach Alex Nikitin.
Jeanne says she first learned to swim about age 6 in Mickey Hirschberg's classes at the Jewish Community Center and went on to swim on the Lincoln High School swim team. "Mickey would have been really proud of me," she says.
Jeanne is still a member of the Mittleman Jewish Community Center (named for her family) as well as Temple Beth Israel and Congregation Neveh Shalom. She was on the board of the Portland Section of the National Council of Jewish Women for many years.
In 2014 Jeanne and her daughter, Phyllis Newmark, were named MJCC athletes of year after they won a bronze medal swimming as a duet in the World Synchronized Swimming Competition.
When her children were young, Jeanne wanted them to grow up at "The Center." But after the kids were grown, she says her husband put their names in for membership at the MAC. When they became members, Jeanne says she initially was reluctant to venture into the club.
"I used to ski every week, and there were several of the women I skied with who were on the synchro team," says Jeanne. "We became very close friends. They asked me to come out for synchro … of course once I was in the water, I was there forever."
"It was an incredible group. We shared good stories and bad stories together. There are only a few left from that original team," she says, noting that when she started, she was the youngest at 57. She turns 86 on April 10.
"It's just hard to explain how close that synchro team was. Our team was a very special team. The first time we won a gold as a team, it was such an amazing thing. A male judge came over to us and said, 'I've done something I've never done before, I applauded.' Another judge came over to us and said, 'I had tears in my eyes. I couldn't believe what you did.' The headlines in the synchro papers said, 'Gold Goes West,' because Oregon and Washington had never gotten a gold medal for a team in our age group.
"I stuck with it because I just couldn't give it up, it was just too much a part of me," she says. "It was just so wonderful. I can't really think of myself as being what the girls say is inspirational. All I've done is just hung in there for these years."