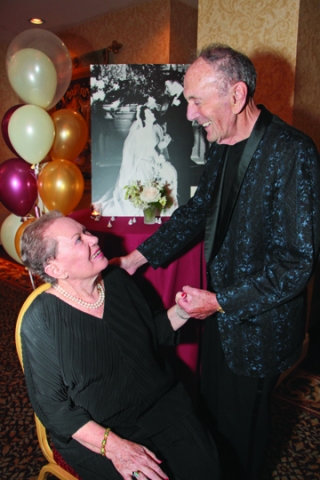 Family and Friends Honor Couple
by Eden Rose Brown
It was a touching reunion of old friends and a memorable celebration of Old South Portland Jewish history.
Selma Nepom and Bernard Brown recently commemorated their 65th wedding anniversary with a grand celebration of this memorable event hosted by their three children.
With over 100 family and friends in attendance, the celebration took place in Portland's historic Multnomah Hotel (now the Embassy Suites), in the same ballroom in which they were married on Feb. 9, 1946.
Members of the original bridal party, including Sol Menashe and Charlotte Rosenstein Amiton, attended, and the program included a film of the original wedding ceremony, an heirloom video of their lives before and after their wedding, and a spiritual blessing by Rabbi Arthur Zuckerman under a chuppah held by the couple's children and grandchildren.
"As a rabbi this was my first opportunity to officiate at a ceremony for a couple married 65 years. What an experience! To stand under the chuppah, being held by children and surrounded by grandchildren puts life in perspective," Zuckerman said.
Childhood friend Jerry Stern regaled the crowd with tales of growing up near Portland's Neighborhood House where Jerry and Bob attended Hebrew school together. First cousin Frieda Cohen provided a rich history of Bob and Selma's families and childhoods. Salem resident and close friend Lynn Coleman spoke about the early days Bob and Selma spent together in Salem, and good friends Les and Lila Kerr from Canada spun some recent stories of the couple's adventures.
Selma Nepom, daughter of Manual and Tillie Nepom, and Bernard Brown, son of Harry and Rose Brown, grew up in the same neighborhood in South Portland and their families were close. Selma attended Shaarie Torah synagogue and Bob attended Neveh Zedek synagogue. Although acquaintances, it took World War II for them to fall in love. Bernard, a graduate of Salem High School ('43) began writing to Selma during Army infantry training and their friendly correspondence evolved into love letters over the course of the war, where Bernard was fighting in the European front.
Selma and Bob, as he was often called, married shortly after Bernard's discharge from active duty, and the newlyweds settled first in Salem where they both attended Willamette University, the first married couple to attend the college together. They subsequently moved to Forest Grove, where Bob attended Pacific University College of Optometry.
After graduation they returned to Salem, where Selma devoted time to raising their children as well as serving the community. Bernard joined his father's optometry practice, then located on Court and Liberty Streets downtown, and was connected to Brown's Jewelers, the family's jewelry store.
Bernard's optometric practice grew into its current building and became Salem Eye Clinic. Their son Jordan joined the practice in 1981. For more than 55 years, Bernard served the eye care needs of the local community, until his retirement in 2005.
Selma and Bernard are blessed with their devoted children, Shelley Brown, of Tiburon, CA; Jordan and Stacey Brown, and Eden Rose Brown, of Salem; and five grandchildren, Shayna, Ariana, Janaya, Tyler and Natalie.
"Memories from Old South Portland"
by Jerry Stern
What a wonderful experience it was for me to be able to relate many of my experiences with Bernie (Bob) and Selma Brown at their 65th Wedding Anniversary.
We grew up together in "Old South Portland."
Before the Brown family moved to Salem, I went to Hebrew School with Bob at the Neighborhood House, and I went to Shattuck School, with Selma who was the brightest student in our class for eight years.
My brain is filled with all kinds of memories of both of them. Those were truly fun years.
Then the Brown family moved to Salem, and because I had two aunts, two uncles and four cousins in Salem we went there every other weekend to be with our family and yes, the Browns were like part of our family too.
Now we are in our mid 80s and we all live a bit in our past. So it was a true experience to be able to bring back all those wonderful memories so they won't be forgotten.
The Nepom and Brown families were a major part of Old South Portland's history and it's wonderful to keep them in our history books.
What Brought Us Together
by Selma Nepom Brown
This all started in 1944 when a young soldier who was sent to a college program in the Army in WWII sent me a letter asking if I would write to him while he was so far from home for the first time in his life. Our families had known each other for many years, so I agreed to write to this lonesome homesick soldier helping him through this ordeal.
As time went on and many letters were exchanged, I realized how warm and kind he was. I had known him for many years but at no time ever thought our love for each other would happen. However, his letters to me were so honest and thoughtful and they kept getting more romantic with each letter. I thought I would like to know him better as adults.
When he came home from the war on his first furlough, we dated for the first time ever and I knew I was falling in love with him. To this day, I have been blessed with a loving friend and partner for the past 65 years. I am so happy that he sent me that first letter in 1944.
What Brought Us Together
by Bernard David Brown
I feel that it was WWII that brought us together as husband and wife. When I was sent overseas in the war, I wanted to get letters from others than my family to help from becoming too homesick. I wrote to Selma as well as others and looked forward to their letters.
Selma's family and mine were friends ever since coming to Portland. I never spent any long periods of time with Selma, or her two sisters and brother but always felt comfortable in their company. As time went on and as I matured quickly due to war experiences, I realized that Selma and I had so much in common. I really looked forward to her letters much more than the others. I knew that if I survived this war, I wanted to get to know her more.
After the war ended and I was on my first furlough to come home, I made a point to call on her. In a very short time, I felt this is the person I would like to live with and hoped that she would feel the same. We dated and I really fell in love with her. I had a wonderful bonding relationship with her parents and family and knew this is what is meant for me and that I could make her happy.
Selma is a wonderful friend and partner as well as the person that has supported me in every phase of our life together. I feel extremely blessed to have Selma as my wife for so many wonderful years.