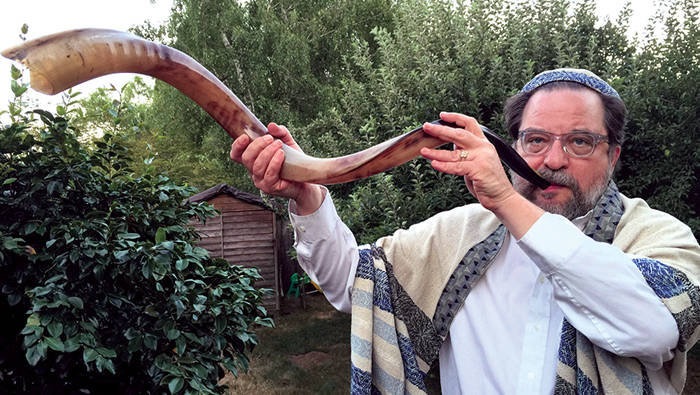 Whether it's the haunting tones of the shofar that stir Jews' souls or some other phenomenon, synagogues are traditionally flooded with worshippers during the Days of Awe. Rosh Hashanah and Yom Kippur services are so full that most congregations require tickets to ensure regular attendees can find a seat in the congregation they support all year long.
High Holidays has created a conundrum for many synagogues over the past century. If they limit attendance to members only, the pay-to-pray model turns people away just when they might be open to letting Judaism into their lives; yet if synagogues open their doors to all comers, members who support synagogue operations and programs throughout the year may find no room in the sanctuary. To lower the barriers that might keep people away, many synagogues offer free or low-cost admission to students and those on fixed incomes, but most require reservations ahead of time.
We have invited congregations to post their holiday services on the orjewishlife.com website. So if you are looking for somewhere to worship this year, please visit orjewishlife.com/calendar or visit your own congregation's website. We also asked congregations to share their High Holiday guest policy.
In the spirit of welcoming others, Havurah Shalom has opened its High Holiday services to the community for more than 30 years. The egalitarian, diverse and engaged Jewish community promotes spirituality, learning and acts of social responsibility. Since the sanctuary of the Reconstructionist synagogue accommodates only a few hundred, the congregation has for several years rented large spaces that can hold a thousand or more worshippers. Admission is free and no tickets are required. All Havurah's High Holiday services are held at the Tiffany Center at 1410 SW Morrison St., Portland, except for Selichot, which is held at Havurah Shalom, 825 NW 18th Ave., and Tashlich, which is held at Sellwood Riverfront Park.
Chabad centers across the state also traditionally have offered free services. Find a Chabad near you at chabadoregon.com or in the Oregon Jewish Life Annual Resource Guide (orjewishlife.com).
Congregation Beth Israel, the leading voice of Reform Judaism in Oregon, will welcome 5777 with traditional and multi-generational services, as well as opportunities to study, reflect and connect at our historic campus in NW Portland. At CBI we believe in welcoming everyone regardless of their resources. If you are interested in joining us for the High Holidays and are not a CBI member, please contact us at 503-222-1069 for more information. We especially encourage families and individuals new to the Portland area, college students and those who are not currently members of a synagogue to reach out to us.
Congregation Neveh Shalom is a vibrant, energetic, and egalitarian Conservative congregation.  We are a home for people of all backgrounds, orientations, genders and viewpoints.  During the High Holy Days, we offer free tickets for people who have moved to Portland over the last year and college students/grad students with valid ID. Neveh Shalom also offers reciprocity tickets for people who are members of synagogues elsewhere. Contact Wendy Kahn at cnsmembership@nevehshalom.org or 503-246-8831 ext. 114 for more information.
Congregation Shir Tikvah offers free services for Rosh Hashanah, Oct. 3, and Yom Kippur, Oct. 12. For more information, contact Amelia Schroth at office@shirtikvahpdx.org or 503-473-8227 or visit shirtikvahpdx.org.
Shalom Bayit, Jewish Community of Central Oregon (jccobend.com) has never had tickets.  Of course, donations are graciously accepted. Shalom Bayit is located at 21555 Modoc Lane, in Bend.
Temple Beth Israel in Eugene (tbieugene.org) does not use tickets for High Holiday services. All are welcome. To help defray costs, TBI asks nonmembers who are able to do so to contribute by making a donation. We do not want finances to be a barrier for anyone wishing to attend services or participate in the community. Full-time college students are free as are active military personnel.
High Holy Days
(Holidays begin at sunset the day before the first day)
Sept. 24 Selichot
Oct. 3-4 Rosh Hashanah
Oct. 8 Shabbat Shuva
Oct. 12 Yom Kippur
Oct. 17-24 Sukkot
Oct. 24-25 Shemini Atzeret/Simchat Torah