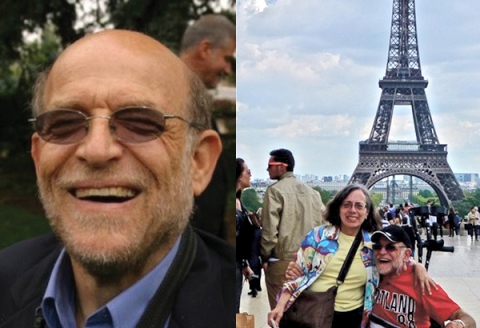 Peter Wigmore is your basic, normal Oregonian-by-choice, as so many of us are. We came here for a girl/job/vacation and we just stayed. But for Peter, "normal" is a complicated concept.
Peter's mother was an Auschwitz survivor who settled in Prague, met her husband and then emigrated to Australia. Peter was born there in 1950, but he was very sick. "My mother said the doctors were convinced I would die shortly after birth. When I stuck around for the first 24 hours, they realized that maybe I'd live." Six weeks later, he seemed healthy, and they sent him home.
At about six months, though, his parents grew alarmed. He wasn't sitting up; he wasn't turning over. He was finally diagnosed at 2 years old with cerebral palsy. Some cases are so mild as to go unnoticed, and others so severe that the patient can't function independently at all. Peter's CP falls somewhere in the middle of the spectrum. It affects all his voluntary muscles except his right arm, and it impairs his balance. He can't relax his muscles when he is nervous or stressed, exacerbating his symptoms. And his speech is slurred, and he is quite aware that it leads some people to assume that he is mentally as well as physically disabled. Nothing could be farther from the truth.
"I can still hear my eighth-grade English teacher telling me that you are judged by how you say something, not just what you say," Peter notes. He never forgets that.
When Peter was 7, the family moved to the United States for what they hoped would be better medical care for Peter. His new army of doctors suggested surgery and pushed for institutionalization. His parents, particularly his father, however, wanted Peter's life to be as normal as possible. They found extensive physical therapy for him but chose to keep him home and send him to a regular school. He landed at PS 85 in the Bronx in what he calls a "typical special ed class for its time." All the children had some sort of disability. It was also in the basement, next to the boiler room, far removed from, in his words, "the normal, healthy kids." Peter himself didn't realize at the time that he was disabled at all; he just didn't walk like everyone else. "I walked with my hands up in the air, on my tip toes and my backside would sway," he says with a laugh. "I looked like a ballerina doing the cha-cha."
Everything changed that hot, sticky NYC summer when Peter and his mother went down the block to Echo Park to cool off. He was seated, playing, when they all heard the music of the Good Humor truck approaching. Everybody, including Peter, got up and started running toward the truck. "It's funny now, but when you're 7 … pretty soon everyone in that playground stopped. Some pointed at me. I could hear the mothers hissing, 'Don't ask me now, I'll tell you later.' Even the men in the corner got up from their chess and checkers and stared at me. I guess they had never seen a ballerina cha-cha like mine. My mother grabbed me and whisked me away.
"A few days later, she and I were walking on the Grand Concourse and an elderly lady was walking toward us. Her eyes got bigger and bigger as she came closer. When we walked by each other, she even turned around and walked backward, gawking. My mother was in her 30s, still apprehensive about her English and very shy, but this time she turned on that woman. 'Why are you staring at my son? Don't you see he's a cripple?' " That's when it sank in that he was different, that kids were laughing at him, that he was not "normal" at all.
Eventually, his parents relented to the doctors' pressure and placed Peter in an institution. His parents dropped him off every Sunday and picked him up again on Friday afternoon. Roosevelt Island, called Welfare Island at the time, was two miles long with a hospital at both ends; between them were deserted buildings that the fire department would set ablaze for training. Peter was 11 years old and in the juvenile section, but he was active and mischievous, often sneaking away to explore the rest of the sprawling hospital.
One of the boys in his section, Maurice, was 19 years old, vivacious and outgoing, with a sparkle in his eye. Three months into Peter's stay there, however, Maurice "aged out" and was transferred to the adult section. The day he left, Maurice was in tears. Peter didn't understand why until a month afterward when, on one of his explorations, he saw Maurice. But the person in the wheelchair was not the Maurice he knew. This man sat, head bowed, lifeless, with a puddle of urine at his feet.
"Looking back, the place wasn't horrible for me. The treatments were effective, I improved a lot and I skipped a grade in school. I even first read about Oregon when I was there and knew that's where I wanted to go. But I had my family's support. Some parents never came to see their kids, ever. I realized then that this was a place where people were sent to be forgotten."
He was there for seven months.
When Peter was 12, the family resettled in San Francisco, where the doctors told Peter's father that a series of surgeries on Peter's legs might improve his walk, make him more mobile and enable him to appear more normal. His father relented, and the doctors were right. The tiptoe cha-cha was replaced with a real walk, still awkward but much more stable. His father might have been more careful, though, about what he wished for. When Peter's occupational therapist taught him how to use the public bus system and Peter rode the bus on his own, he was quite proud of himself. His father, however, was horrified. He grounded him on the spot, for two whole weeks.
"He was very European, very old world and he was worried about me, but by then I was an American. I argued back. 'You have wanted me to be normal for the last 14 years! I went through painful surgeries! I am now independent! And now you're grounding me! This is ridiculous!' " His father was angry, Peter acknowledges, because he was scared. "Now I no longer needed him. And he knew my personality and that, the moment I was out the door, I'd be hell on wheels."
He was right. Once in high school – and more mobile than he'd ever been – Peter, in his words, "went crazy." He had to "catch up," and did he ever. He went bowling. Horseback riding. Rock climbing. He dated and did teenage shenanigans that we'll save for another story. Both sides of his personality thrived, however, and he continued to do well academically.
It was in college in San Francisco that he found his calling. At the urging of friends, Peter started volunteering at a recreation center for the disabled. He went on to work at summer camps for disabled kids and eventually became a special education teacher. It was also with college friends that he fell in love with Oregon, backpacking and hitchhiking their way up the coast.
But it was in grad school at the University of Oregon that he met the real love of his life, Randy Katz. "We were in the same class, but I didn't notice her at first because I was chasing a California blonde at the time, and I was getting nowhere. Randy was from Michigan and had been told there weren't any Jews in Oregon, but when she spotted me sitting there with my mezuzah on a chain, she came over to me; I stood up and it blew her mind. I was Jewish AND I was disabled. You can't spot that when I'm seated." They married two years from that date and spent most of their careers working in the Lake Oswego schools. Now retired, the couple looks forward to living in downtown Portland to enjoy city life. They travel all they can. Peter is an accomplished photographer, at home and on their travel adventures. And they are involved in the community.
When Peter's family lived in Australia, his mother went to High Holy Days services at the nearby synagogue, but kept it from him; he didn't even know they were Jewish until they moved to the Bronx. "They never spoke of the Holocaust except when I refused to eat something. My mother would show me the number on her arm and say, 'They would throw potato peels over the fence and we would riot to get to them. And you're refusing to eat radishes?' "
Peter began to study the Holocaust in the '70s to learn more about his mother and his relatives. Now, in retirement, Peter relishes the time to do even more of the speaking he has done for years through the Oregon Jewish Museum and Center for Holocaust Education. Prejudice and its ramifications for both victim and perpetrator alike are of particular interest to him. Peter himself knows something about prejudice.
"I've been thinking a lot about what the Holocaust teaches us about all of humanity, not just Jews. We study that as a human being we are capable of great beauty. We must recognize that, as moral and as good as we are, we all also have a dark side. If we allow ourselves, we can go to that dark side. When we recognize that, we can prevent it."
"Jews, as a community, have become more confident, more outgoing," Peter says. "Anti-Semitism still exists, but people are more accepting of us; we are in the mainstream where we should be. We owe that to the steel constitution of the survivors."