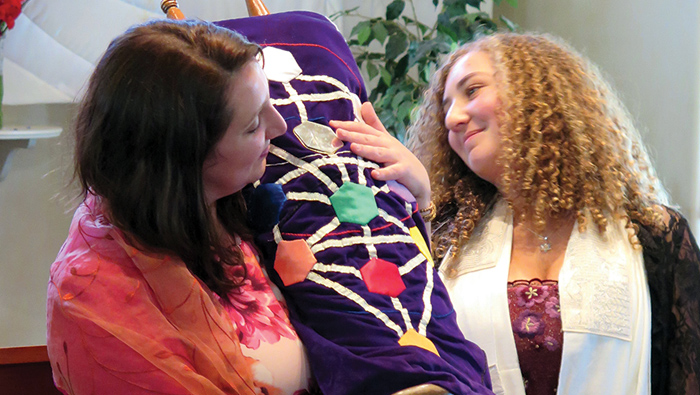 For many Jews, a bar or bat mitzvah is one of the most significant and fundamental ceremonies in the religion. The coming-of-age ceremony marks a time in youth when one accepts Judaism as their own and becomes recognized as an adult by the community.
In today's modern world, the ceremony has evolved and taken on new meaning. New practices, in various forms, have entered traditions and been adapted to personalize the experience for each b'nai mitzvah. One's learning and connection to Judaism no longer must follow a rigid path, and many rabbis welcome the idea of customizing the event so the b'nai mitzvah feels it's their own and is able to connect on a deeper level.
In communities around Oregon, these special ceremonies are cherished and embraced. The unique elements help mark the b'nai mitzvah's entrance into their communities as adults.
Adult bat mitzvah passes it on
Lesley Wojick Raphel's upcoming bat mitzvah, at the age of 34 and eight years after her conversion to Judaism, is especially meaningful to her at this time in her life. Lesley converted in 2008 before marrying her husband, David, in Baltimore, MD. The couple moved to Portland in 2010 and life for them has been nothing short of busy ever since – she has given birth to two sons, Jack and Charlie, who are 2½ and 1½ years old.
This, along with finishing her medical residency, has left little time for her to stay connected to the religion she chose to join, leaving a feeling of disconnect. She chose to reconnect to Judaism and establish herself in Portland's Congregation Shaarie Torah by becoming a bat mitzvah in October. "I really missed the continuing education," Lesley says. "With my bat mitzvah, I wanted to reaffirm my commitment and cement my learning."
The Parsha for her bat mitzvah is especially fitting – Beresheet, the first Parsha in the Torah. "It definitely seems appropriate for my bat mitzvah, as it is a new phase in life for me," she says.
Lesley plans to stay connected to Jewish learning after her bat mitzvah by tutoring b'nai mitzvah students ahead of their own ceremonies at the congregation. She says it's her way of giving back.
"As a mentor, I'll be able to continue my own learning. It will be mutually beneficial – I'll be able to keep up with my own learning and contribute to somebody else's learning as well."
Lesley also plans on contributing to developing a curriculum for other adults who want to study for a bar or bat mitzvah. "An adult b'nai mitzvah is a different way of approaching it," she says. She looks forward to drawing on her own experience to help others.
The mitzvah of challah
Rabbi Ruhi Sophia Motzkin Rubenstein, who joined Temple Beth Israel in Eugene last summer, says a b'nai mitzvah is seen as a time when a young person steps forward to take their place in the Jewish community. This can also be a stressful time in one's life, and she looks to make the experience a little easier. She invites the b'nai mitzvah and their family over to her home the Friday before the ceremony to bake challah together. Rabbi Ruhi Sophia says the tradition was started by her father, himself a rabbi, with members of his congregation in upstate New York.
"It's supposed to be a casual time-out for everyone, during a time of stress and chaos before the big day. It's a great opportunity to remind everyone what this is about," says Rabbi Ruhi Sophia.
Hannah Rosenfeld, who had a bat mitzvah at Temple Beth Israel last August, was one of the first to experience challah baking at Rabbi Ruhi Sophia's house the day before her ceremony.
Her mother, Karen, says the tradition brought the family together and made them feel especially comfortable with Rabbi Ruhi Sophia, who last summer was still new to the congregation.
"Having a brand new rabbi open her home to our family, the day before our daughter was to be a bat mitzvah, was wonderfully heartwarming and really solidified her importance in our Jewish community," Karen says.
The family gathered and baked the challah, blessing each strand as it was braided. Hannah's siblings and extended family attended and were able to take part. "The challah was touched and blessed by the most important people in our lives, (and) was then served to the entire community of people who attended Hannah's bat mitzvah, Jewish and otherwise," Karen says. "It was a symbolic way for Hannah to begin her transition into Jewish adulthood."
Immediate and extended family are always welcome to take part in the braiding and extend their blessings to the b'nai mitzvah. "It's a moment of mindfulness before the ceremony," says the rabbi.
Hannah says the opportunity to be blessed by family and eat the challah together the next day at her bat mitzvah Kiddush luncheon was especially meaningful. "It was a great experience. I'd never made challah that way before, not with rabbi and not with all the blessings," Hannah says.
Remember Us
For many families, the b'nai mitzvah also serves as a reminder to be thankful for religious freedom and to be living in a time and place when Jews are free to express their beliefs. For Coral Pagano, at Havurah Shir Hadash in Ashland, becoming a bat mitzvah was a time to reclaim her Jewish ancestry; shortly after Coral's birth, she and her mom converted back to her great-grandmother's religion.
Coral went through the Remember Us Foundation for her bat mitzvah project, an organization that gives b'nai mitzvah students an opportunity to remember a child who was lost in the Holocaust.
Coral became a bat mitzvah in June 2016 and dedicated her Torah reading to Henny, a 7-year-old girl who died in Auschwitz in 1943. She will continue to remember Henny every year by lighting a yahrzeit candle for her each year, saying Kaddish for her and doing mitzvot in her name.
Coral says she was touched by the idea of remembering a child who had no one else to remember her. "It made me sad to think about kids who had never been thought about and don't have anyone to remember them, and I thought it would be nice, the biggest mitzvah I could do, to make sure one of them is remembered," Coral says.
Coral's mother, Emily, says she thinks the idea of remembering a child lost in the Holocaust especially resonated with Coral because of her Jewish upbringing, in which she was immersed in Jewish learning and activities. The idea that Henny never had the opportunity to grow up in a Jewish community as Coral did made it especially important to her.
"Coral's connection to Judaism is from her childhood, and that there were so many children who were victimized really resonated with her because she sees Judaism within children as so normal, innocent and pure," Emily says.
Coral says the yahrzeit candle will be lit on the day of her bat mitzvah, because the exact date Henny died is unknown, as well as on Yom Kippur and Yom HaShoah. "It means the world to me to be able to light a yahrzeit candle for her every year," Coral says.