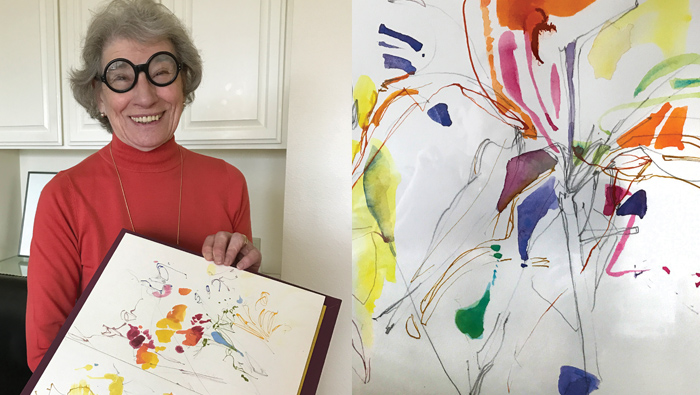 Frieda Golding's watercolor paintings are breathtaking, pen and ink lines and shapes that float and connect and release bursts of light and color. Often she is inspired by flowers and plants, and she remembers being moved by biblical verse: "The flowers are springing up, the season of singing birds has come, and the cooing of turtledoves fills the air." (Song of Solomon 2:12)
Frieda, though, isn't painting the flowers per se. Her paintings are abstract, and she will do draft after draft before she finally sees the essence that will become the final painting. And that essence is almost always movement. One might think that flowers are still, but Frieda would disagree.
"The movement can be tiny, like air movements, or the small movement of a plant in nature."
Not surprising for a woman who hasn't stood still for more than a few months at a time.
Frieda, 85, grew up in Scranton, PA, and she says she was always painting. After she attended Albright Arts School at the University of Buffalo, she got a job at 22 as the advertising designer at Antiques Magazine. It wasn't long, though, before she became restless for a job that would let her do more, so she moved again, this time to St. Louis. It was a big publishing hub at the time, plus her brother lived there. She soon landed a plum job at Webster Publishing, and she plied her craft working on children's books.
It wasn't all work, work, work, however. At her brother's urging, Frieda went to a dance at the JCC, and there she met a nice young man named Bob. The flowers Frieda now paints may move slowly, but that was not the case back then for Frieda and Bob. They married after only 3½ months. From then on, movement became a central theme for both of them.
Bob was a produce broker, and the two headed north when he was transferred to Chicago in 1961. There Frieda was able to go back to school to work on a fine arts degree and focus on her own art for the first time. But Chicago was hard for a lover of nature, and when the area was slammed with a record-breaking 23 inches of snow in the infamous Blizzard of '67, the two packed their bags and moved on. For nine months they travelled, all through the southwestern United States, all the way up to Alaska, searching for the type of life that would suit them.
They settled on Carmel, its dissimilarity to Chicago being one of its many draws to the young couple. Because of Bob's job as a produce broker, they got to spend November through March every year on the Mexican border.
"That is where the produce was. All the managers and sales staff went down then," she says, adding, with a sigh, "Now it's all done with computers."
They lived what she calls their "migrant worker" lifestyle, moving twice a year, north and south, until Bob retired in 1992.
The first line of business in retirement was to … well, move more. They did a lot of traveling, one month in the United States, one month at home, one month in Europe, one month at home. And all the while, Frieda was painting. She is a life member of the Carmel Art Association. She had shows in various venues and for a while was featured in a gallery in Santa Barbara. But the business of being an artist has never interested her; it was always about the process of creating art.
"I start with black and white line drawings, one after the other. All of a sudden, something comes to me, a way of working between the leaves, the stems. I pick up a color."
She can go through 20 pieces of scrap paper before she is ready to try with quality watercolor paper, and then she is finished in one sitting.
"I don't go back because I can never recapture the moment, the movement, the light, my feelings towards it."
She uses watercolor or colored chalk, and ink and pencil – nothing opaque.
"I want the transparency, and I want the paper to give it a glow. Watercolor is an immediate medium." And it's tricky, she explains. "If the paper is dry or damp, it affects the color. You colors can bleed and ruin the work."
Frieda and Bob moved to Oregon in 2004.
"We were traveling a lot, but we felt we were getting stale in Carmel. Time to move!"
They lived first in an apartment in Ashland to try out the area, and then they settled into an airy, light-filled apartment at Rogue Valley Manor in Medford. They absolutely fell in love with Oregon.
Bob and Frieda are members at Temple Emek Shalom, and Bob goes to Torah study at the Chabad and to Emek Shalom on Saturday mornings. The two of them have friends and activities both in Medford and from their three years in Ashland. They go to Newport every summer for a few days, as they are big fans of the jazz festival. Another favorite is Bandon, a quintessential Oregon beach towns ocean vistas, a historic lighthouse and a thriving art community.
Now in her 80s, Frieda's art has taken an interesting turn. Instead of the framed paintings she had produced her whole life, she is putting her new work into large, beautifully bound books. You open the cover and see first folded paper with dancing lines and flowing shapes and glowing colors. You unfold and it opens into a larger work, revealing new aspects of the nature that inspired her. Finally, it opens out, each panel a separate work and at the same time part of the whole.
"But," I protested, "you can't hang this on the wall!"
"No," she smiled. "But you can take it with you."
Liz Rabiner Lippoff is a marketing consultant, freelance writer and community volunteer. LizInk.biz