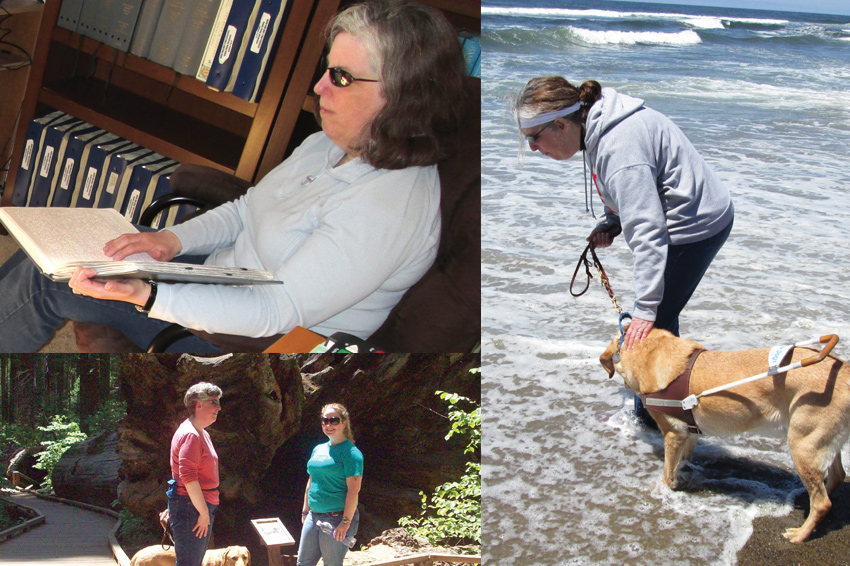 Five years ago, Joan Myles wanted to share her love of Jewish learning with others who were visually impaired. The result was Yismehu, a nonprofit devoted to enabling Jewish learning for visually impaired students of all ages. Since then more than 100 students around the world have enrolled in Yismehu's distance-learning programs.
Many of those students have learned to read Hebrew in braille, and a couple of them now chant Torah in their congregations.
"Enabling people to be more involved in their own congregation is gratifying," says Joan.
Now she wants to share her joy of nature. In 2017 she hopes to launch a weeklong summer camp. As a preview, this summer she has invited Yismehu students and board members, as well as all interested community members, to enjoy a day at Oral Hull Camp, a facility in Sandy created for the blind and low-vision community.
On May 31, Yismehu's "Experiencing Torah in Nature" will take advantage of the camp's beautiful nature setting on the Sandy River and resources for those with low vision. All interested community members are invited to come along for the magic of experiencing Torah in nature and how that magic can be shared with the blind.
"This is a preview – a tangible way for us to envision more clearly what a camp could look like," says Joan.
With Yismehu's students scattered across the country and even overseas, Joan says only one student has thus far committed to traveling to Oregon for the inaugural nature experience. But Joan plans to expand the experience for that student, and any others who decide to come, to a full weekend. She has planned a trip to the coast to enjoy the ocean in addition to the Camp Oral Hull event.
Joan says Camp Hull offers many resources for blind campers. "A path through the Gardens of Enchantment has a railing so someone with a cane or guide dog can move through easily," she says. The camp is also set up to stimulate all of the senses. "Tactile, aroma, taste – we will use all of that as part of our program. We want to let people experience Jewish camp by using all of their senses."
Yismehu will provide sleep shades for sighted individuals who want to experience the gardens through their other senses without the distraction of sight. The day will also include guided Jewish Yoga. Yismehu Vice President Rabbi Gary Ellison will lead a Torah study in the camp's large gazebo with a focus on ideas that bring Torah and nature together. A vegetarian meal and Jewish sing-along around a campfire will round out the day.
"Visually impaired people can participate in Jewish camp and all aspects of Jewish life," says Joan.