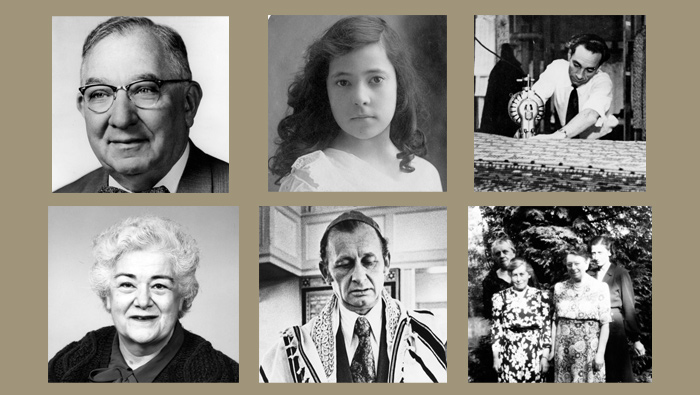 Photos courtesy of OJMHCHE
The Soda Pop King, the labor organizer and the high school teacher in Baker City all have something to say. And thanks to the Oregon Jewish Museum and Center for Holocaust Education, their stories – and their teachings – are just a couple of clicks away.
The stories of Lou Albert, Manly Labby and Elizabeth Hirsch Baer are part of the museum's extensive oral history collection, now in the process of being posted online at ojmche.org/educate/collections/oral-history.
To date, transcripts and audio files of about 65 of the museum's more than 600 interviews are online, with additional interviews posted on an ongoing basis. The project has been funded by a grant from the Oregon Heritage Commission.
Anne LeVant Prahl, the museum's curator of collections, notes that as many as 50 oral histories are added to the collection database each year, so that the collection continues to expand.
"This is a great resource for anyone who wants to learn more about Oregon Jewish history and Oregon Jewish life," she says.
For more information about the oral history collection or the interviewees, or to volunteer, contact Prahl at curator@ojmche.org or 503-226-3600.
LOUIS ALBERT, 1891-1976, was born in Kiev, where he father was a rabbi, and came to America in 1906. In 1911 he moved to Portland with $6.75 in his pocket, which he used to buy a horse and wagon to go door to door in the laundry and cleaning business. In 1929 he bought a soda plant and turned it into a million-dollar business, the Royal Flush Bottling Co.  OMJ 1449
ELIZABETH HIRSCH BAER, 1899-1977, was born in Baker City. After graduating from Wellesley College in Massachusetts, she returned to Baker City, where she taught mathematics and German at Baker High School until her retirement. She was one of only a handful of people who maintained their Jewish connections in this small town as others moved away to seek wider opportunities. Elizabeth     Hirsch Baer . OJM 718
MANLY LABBY, 1900 to 1983, was born in Golta, Russia, and came to the United States with his family in 1906. In 1910 he moved to Portland, where he worked as a newsboy and helped to organize a strike against the Oregonian and other city newspapers in 1914. In 1928 he started working in the garment industry and was heavily involved in unionization. He became a business agent for the International Ladies Garment Workers Union, and was one of Portland's few Jewish labor organizers. OJM 431
JOY LEVI ALKALAY, 1920-2014, was born in Vienna, Austria, the only child in a Sephardic family. The family was permitted to leave Austria after they recognized the German threat, because they were Yugoslav nationals. But Joy was later interned by the Italians on the island of Korcula. There, she met and married Joe Alkalay, and the couple eventually moved to Portland. In her interview, Alkalay discusses her work with the Joint Distribution Committee in Milan, Italy, after World War II, her work in Portland with the Anti-Defamation League, and from 1956 until her retirement with Congregation Beth Israel, where she eventually became director of administrative affairs. The couple had no children, and after Alkalay's death, she left a bequest of more than $1 million through the Oregon Jewish Community Foundation to support Beth Israel, the Jewish Federation of Greater Portland and the State of Israel through Jewish Federations of North America.   OJM 09426
GLADYS "LADDIE" LOEWENBERG TRACHTENBERG, 1910 -1993, was a granddaughter of pioneering merchant Julius Loewenberg and the niece of Ida Loewenberg, longtime director of Neighborhood House, and of Zerlina Loewenberg, who ran the South Portland Library. She graduated from Oregon State University and attended Western Reserve University in Cleveland before leaving school to return to Portland after the bombing of Pearl Harbor. She worked at the Neighborhood House for several years, and, after her children were in school, began working at Dammasch State Hospital, the state mental hospital in Wilsonville, for many years. Over the course of three interviews, Trachtenberg discusses the social and civic involvement of her family from the late 1800s through the mid-1900s. She begins with the emigration of her maternal grandparents from Germany, settlement in Portland, and the business ventures of her grandparents and parents. She also discusses her family's involvement with the Neighborhood House, the Willamette River floods, and anti-Semitism in Portland. In this photo, Trachtenberg, at right, poses with, from left: aunts Ida and Zerlina Loewenberg, and her mother, Rose Loewenberg Goodman. OJM 01580
BERNARD BROWN, 1918-2013 was a survivor of forced labor on the Russian front, Auschwitz, Mathausen, and other camps. He was born into a religious family in Romania and had studied at a yeshiva. After liberation by American forces in 1945, Brown searched unsuccessfully for others in his family. A year later, he married Lydia (Libby) Brown, another survivor, and the couple eventually came to Portland in 1951. A $250 loan from the Free Loan Society enabled him to buy a small pickup for his work as a peddler, and soon he was able to buy his first home in Portland. The Browns, who later moved to New York, were active in the Jewish community. Barry Brown served as president of Congregation Kesser Israel for 10 years, as treasurer of Hillel Academy, a Torah day school they helped establish (now incorporated into PJA), and the Portland Mikvah. As a young man, Brown remembers that he rebelled against Judaism, but after the war he committed himself to an observant Jewish life, Jewish causes and helping improve the lives of other Jews. OJM 01720