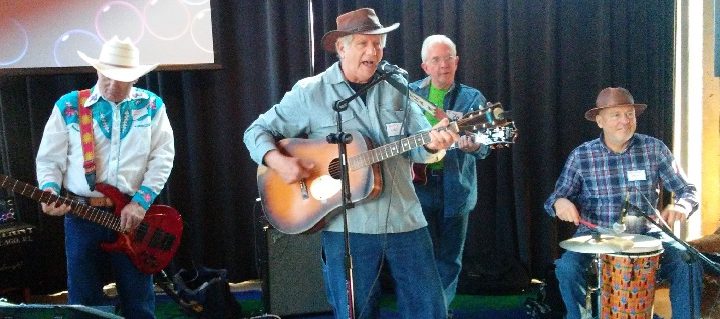 Kol Shalom-Community for Humanistic Judaism celebrated its 25th Anniversary on Oct. 21 at the Lagunita's Community Room in Portland.
The celebration for Humanistic Judaism in Oregon was planned by Sue  Greenspan, Karen Hyatt Sharon Lezin and DeBi Strode, and included music from the Dusty Boys  (with Jim Coon sitting in and our Kol Shalom's "Dusty" Walt Hellman as lead singer) and great food and drink. President Elly Adelman and one of Kol Shalom's founders, Irv Adler, presented a history of Kol Shalom (see highlights below).  Richard Lazere led the auction that sold artwork, theater tickets and a year's worth of home baked Jewish favorites to raise $430.
In their November newsletter, Kol Shalom thanked those who donated to the auction and  Lagunita's  and The Dusty Boys. Lagunita's provided the community room, staffing and free drinks  as part of its service to nonprofit programs.  The Dusty Boys also provided the music as a donation to Kol Shalom.
1992: Jane Goldhamer, Beaverton resident and at-large member of the Society for Humanistic Judaism (SHJ) attends a west coast conference of that organization and is encouraged to start a Portland affiliate of SHJ.
Spring 1992: Jane obtains a list of possibly interested people from SHJ, sends out letters, makes calls and an informal group is formed.
Fall 1992: First Rosh Hashanah service, at West Hills Universal Unitarian Fellowship, first Hanukkah party
Spring 1993, first seder
Fall 1993: Ten families send application to SHJ for official affiliation with SHJ as "Humanistic Jews of Greater Portland, with Jane and Mike Goldhamer as leaders, affiliation approved; Oct . 23, 1993, first bar mitzvah, Jeff Hellman.
1993: First annual meeting. By-laws adopted. Dues set at $15 for individual, $30 for family plus $50 national affiliation fee. Officers elected: Roberta and Walt Hellman, co-presidents; Elissa Burian, vice president; Larry Ruby, secretary; Jane Goldhamer, Treasurer/Coordinator.
9, 1993 "Humanistic Jews of Greater Portland" registered with state of Oregon as a non-profit religious membership organization. Activities continue at the Goldhamer residence on Walker Rd. in Beaverton including a visit by SHJ founder, Rabbi Sherwin Wine and joining the Community Relations Council of Portland's Jewish Federaion. Membership is 31.
1994: August: HJGP receives 501 (c)(3) status from IRS. Overnight retreat at Alton Collins Center is attended by 22. Social Action Committee formed with Myra Himmelfarb and Susan Wagor, co-chairs; paid Children's Education Coordinator initiated.
1995: Children's Education program starts and enrolls 12 students. Classes meet at the Goldhamers. Laura Greenberg and Kara Bowman are the volunteer teachers. Music Makers form. Muriel Adler, Walt Hellman and Diane Koosed are leaders. Walt Hellman and Al Tauber start the "hj" internet mail list.
1996: November-Rabbi Wine pays us 2nd visit. Kerry Kovac produces two videos of Walt Hellman interviewing Rabbi Wine. Seder draws 98 people at Valley Conference Center.
1997: Mike Goldhamer becomes certified to perform marriages. Member ship is 51 households.
1998: Children's Education adds Bar/Bat Mitzvah classes in a two year program, Walt Hellman teacher. Debra Meadow and Diane Koosed are program leaders. The Oregonian carries a major article on HJGP bringing many inquiries. We present at MJCC, one of seven programs on "Different Approaches to Judaism." Membership is 62 households.
1999: First Sunday Forum programs. Yiddish Group starts. Music Makers record "Songs of Humanistic Judaism" CD with 14 songs.
2000: Diane Koosed becomes Director of Children's Education. Pre-mitzvah classes move to twice a month from once. Enrollment in first year mitzvah class is 8. Membership is 63 households. The Goldhamers notify the organization that larger quarters are needed
2001: Dues increase to $210 per family, $115 per individual. With some very strong dissension, vote is approved to change name of organization to Kol Shalom, Community for Humanistic Judaism. Classes move to MJCC.
2005: January- Sign lease for KS Center 1509 SW Sunset Blvd. Operations move to "KS Center" with office and Community Room.
(Details of this history are in Jane Goldhamer's Early History of Kol Shalom, available on Kol Shalom website, www.kolshalom.org)