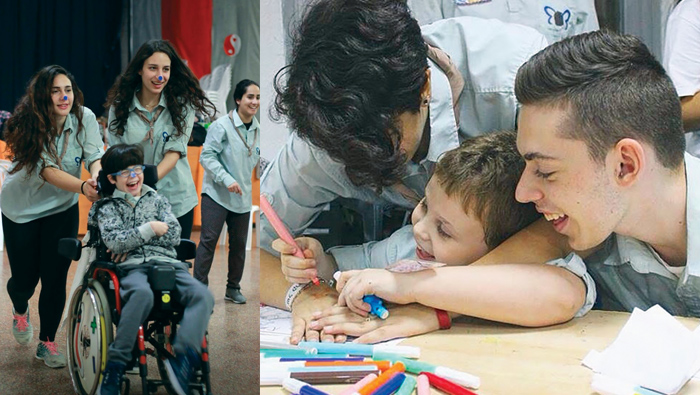 In a country where accessibility to buildings and youth groups is limited, children with mobility issues or special needs are learning to soar with Krembo Wings.
Founded in 2002, Krembo Wings is Israel's only youth movement for children with special needs. Children with severe psychological, motor and cognitive disabilities are able to participate in a structured social environment with their able-bodied peers. The youth movement is changing lives of those with special needs and changing societal and individual perceptions of disabilities one town at a time.
The Jewish Federation of Greater Portland has helped launch four branches of the group that brings together young people with and without disabilities aged 7-21 from all cultural, religious and socio-economic backgrounds. This summer Eliana Fenn, the International Outreach Coordinator for Krembo Wings, came to Portland to share the success of the branches Portland helped start in Carmiel, Lod and Tsfat as well as progress toward the establishment of a chapter in Kiryat Malachi later this year.
"Krembo Wings was founded by an able-bodied Israeli teenager who was inspired by her volunteer work with a disabled child and felt that handicapped youth deserved the same kind of programs that able-bodied teens have through their youth movements," says Lee Gordon, chair of JFGP's Overseas Special Projects Committee, which allocates funds for programs in Israel that help vulnerable populations. "Able-bodied teens volunteer with handicapped youth, thereby giving a wonderful and meaningful volunteer experience for the teens as well as the youngsters who receive the support."
Lee, who co-founded Israel's Hand in Hand schools that provides integrated, bilingual schools for Jewish and Arab students, sounds especially proud of the branch Portland helped create in Lod. "In Lod, which is a mixed city of Jews and Arabs, Krembo worked with both communities there and brought Jewish and Arab teens together."
Serving areas that have diverse populations is common for Krembo, which has branches in Druse, Bedouin and West Bank villages. The Portland-funded branch in Tsfat brings Haredi and secular youth together. The new branch in Kiryat Malachi will serve a development community with a large percentage of Ethiopian immigrants.
Each branch is created with the support of the municipality, which finds an accessible meeting space and provides funds, as well as funds from the Ministry of Welfare and donors such as federations or foundations.
JFGP Allocations Director Bob Horenstein said when he visited a Krembo Wings branch two years ago he was amazed by the powerful stories he heard from the teen counselors as well as the beneficiaries and their families.
During her Portland visit, Eliana shared some stories of participants.
She read a letter from Yosif, a participant with cerebral palsy in Lod, who describes how he went from being a difficult teenager who resented everyone to a fun-loving kid.
He says that when Krembo Wings' representatives came to his house, "It was the first time in my life that other kids asked me to join them in something. … Most of the kids I'd met until that night looked at me funny, made fun of me and had a hard time understanding me because I have cerebral palsy. The kids that came from Krembo Wings didn't even seem to notice my 'special needs.' They talked about the activities and the fun we'd have together."
Yosif's letter concludes, "No one talks about the obvious – my CP and my being an Arab. … It's not a place for confrontation and division. We are all just kids that take the time to know each other for who we are on the inside."
Afik, the group's first blind counselor, wrote, "Krembo Wings made me believe in myself and dare to be active in a youth movement just like everyone else."
Two teen counselors partner with each participant with disabilities for the year. Before the program begins, the counselors receive in-depth training. As they grow to know their partners, they go into local schools and other community venues to educate the public on what it's like to have a disability.
Bob shared the story a mother of a physically deformed daughter told him of the changes she saw. When she would push her daughter's wheelchair, she said children used to cross the street to avoid her. After her daughter joined Krembo Wings, Bob says, "kids became ambassadors and talked to other kids about how to respond. Now when she walks with her daughter by the school, kids run out to greet her."
Eliana added, "That and hundreds of other stories are due to you and federation. Thank you for your partnership. We couldn't do it without you."