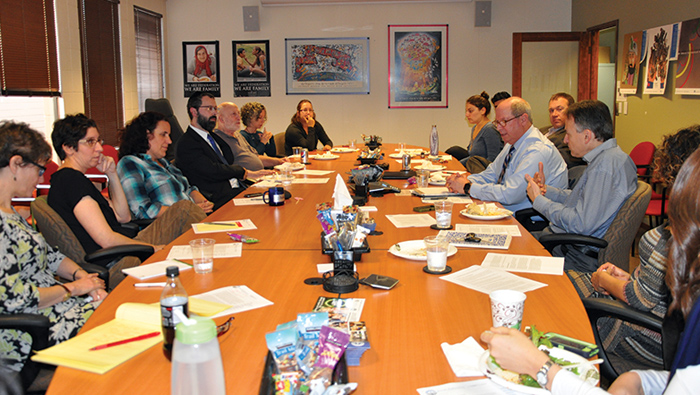 A Nov. 10 workshop on fostering a climate of civil discourse about Israel began by looking at the need for civility in the wake of Donald Trump's unexpected victory in the presidential election two days earlier.
Long before election night, the Jewish Community Relations Council had invited Rabbi Doug Kahn to lead an in-depth discussion and training on managing the divergent perspectives on Israel and fostering a climate of civil discourse. He presented sessions for three groups – JCRC, Oregon Board of Rabbis and Jewish professionals. While the bulk of the program did indeed focus on Israel dialogue, the divisive tenor of the presidential campaign and the victory celebrations of the far right fringe groups made the topic feel important in a broader context as well.
"This topic has huge impact … there has been a breakdown of civility in our country," said Rabbi Kahn, director emeritus of the San Francisco JCRC. "We also have a mirror reflection in our Jewish community in the breakdown of civility."
Noting that for several decades Israel served as a unifying force in America's Jewish community, Rabbi Kahn said, "Today it is a flashpoint of division."
He said the diverse perspectives on Israel began with the Second Intifada in 2000, were accelerated by the growth of BDS and have been complicated by the way in which social media creates an echo chamber in which people only listen to opinions they agree with.
"We can no longer talk across the table," he said. "It may get more complex in this uncertain time of American-Israel relations and the two-state-solution future."
The mandate of the JCRC is to be the voice of the organized Jewish community to the general community, he said, adding JCRCs should be an example of civil discourse in the community and be inclusive of a broad range of viewpoints. The division exacerbated by the BDS movement requires communities to develop tools to fulfill their main mission.
"It takes a lot of energy to say, 'Our community is divided on Israel,' " said Rabbi Kahn, adding it is important to not create a toxic environment with that recognition.
He explained that expanding the definition of what it means to be pro-Israel can reduce some tensions, though communities should still set boundaries and decide what is beyond the pale. Discussing and creating guidelines is easier before a crisis arises in a community.
In addition to setting boundaries, Rabbi Kahn said it is important to remember the twin values of supporting Israel and supporting lively, robust speech. Training people to talk civilly makes upholding both values possible. He suggests creating a campaign around a "Year of Civil Discourse."
"We need to help recover the lost art of how to talk to people with starkly different views," he said. "We are enriched by hearing other views."
He emphasized that "On most issues we can find some agreement."
Rabbi Kahn said to create guidelines, the key is to get people into a room who represent broad perspectives but who want to build consensus. To move forward, people need to consider what they can live without and what they feel must be included in a policy regarding sponsorship of events and partnering with other groups.
Following the day of workshops, Portland JCRC Director Bob Horenstein said the JCRC will consider future sessions for a broader audience.