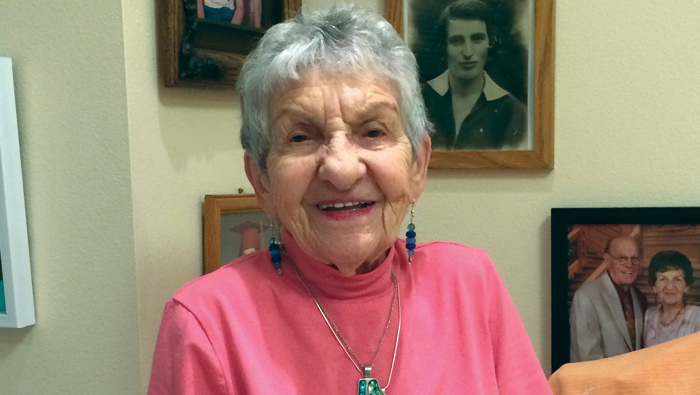 There is a Portland Jewish Family and Child Service program called Lifeline. According to the JFCS website, Lifeline offers "in-home support for seniors and people with disabilities to age safely and independently in their homes, and direct aid and guidance for individuals and families experiencing financial hardship to avoid crisis and make progress toward self-sufficiency."
Lifeline serves the community in general, but it also specifically targets a unique, deserving – and shrinking – demographic in our community. Lifeline has brought joy and community to these individuals along with providing survival essentials.
Lifeline serves our Holocaust survivors.
According to Program Manager Brian Fallon, the Portland metro area is home to approximately 150 survivors, about two-thirds of which interact with Lifeline programming to some extent. Most of our survivors come from the former Soviet Union, but other European countries are also represented. The lion's share of the program's funding comes from German government grants, primarily through The Claims Conference, the mission of which since its founding in 1951 has been "to secure what we consider a small measure of justice for Jewish victims of Nazi persecution" (claimscon.org). Another grant by the Successor Organization and administered by the Claims Conference focuses on reparations for property that was stolen by the Nazis. As is often the case, community financial support also plays a part.
"JFCS serves over 100 people through the Holocaust Services Program," Brian explains. "Of those, 45 receive in-home support via our homemakers, and three are referred out to Sinai In-Home Care for personal care services. All receive case management support from our team. An additional 18 people receive case management services alone."
Staff and volunteers work one-on-one with clients to try to get pensions and reparations that the clients sometimes don't even know they are eligible for. The contact list for the monthly social events called Café Europa includes118 survivors. The activities range from visiting an art exhibit to an outing at the zoo. The participants celebrated Hanukkah together with a party at Shaarie Torah. Recently they had a showing of "Woman in Gold" at the Oregon Jewish Museum and Center for Holocaust Education.
"We try to balance fun activities with some of substance," Brian says.
The scope of services expands beyond this, however. JFCS distributes about 145 Thanksgiving food boxes, and 70 of those go to survivors. Half of the households referred through Adopt-A-Family belong to survivors. Most of Congregation Kesser Israel's Passover food boxes are distributed by JFCS to survivors.  JFCS also drives 15 survivors to an annual seder sponsored by the Sisterhood at Beth Israel.
Brian believes the homemaker program is particularly valuable because "it allows people to stay in their homes and stay safe and well fed, to age in place and be comfortable." He adds that it means much more than that. It's about "the recognition, the companionship, the connection and the sense of belonging. For many of them, being Jewish (in their home country) limited them. Judaism was considered a different nationality, and they were subjected to prejudice, ridicule and judgment" even before the atrocities began. "When they came here, they could embrace their Jewish identity. (JFCS programs) help to solidify and identify them with the Jewish community, and it means a lot to them."
For Brian himself, the job has been a revelation. "When I took this job, I had no idea it would hit me like this. Seniors, kids, mental illness … I've bounced around all over the social service field and have seen so much. But coming here and meeting survivors, getting to know them, visiting their homes, hearing their stories … I can't even express it. It is something bigger than any one person's story. It's the importance of being a human being. Any kind of service or support that we can bring to these individuals, who bore the burden of genocide, to bring kindness and pleasure to someone who, on a metaphysical level even, suffered so much. It's about healing this huge wound in the human soul. It is about humanity."
Sonia Liberman, 82, is a Polish survivor who settled in Israel after the war. She first encountered Café Europa when she moved from Israel to California in 1960 to live near family. She says that there are a lot of survivors in southern California, and she attended their Café Europa weekly meetings. Sonia arrived with only a few words of English, but she went on to become a teacher for 50 years, first in public school and then at a Jewish day school. When she retired from teaching, her son, daughter-in-law and two grandsons convinced her she should retire near them in Portland and live at the Rose Schnitzer Manor.
The number of survivors is much smaller here, and Café Europa only meets monthly, but Sonia likes the staff and the programs, and she attends regularly. "I identify much better with survivors," Sonia says. "Other Americans don't have any idea what it means to be a survivor. They only know what they watched in a movie or read in a story, like Anne Frank. I don't usually share that I am a Holocaust survivor, but I am not hiding." The last 10 years in California, as a matter of fact, Sonia spoke about her experience at high schools and colleges.
"I don't consider myself a victim. I will never consider myself a victim; even though they wanted to destroy me, they didn't succeed. We cannot keep our stories secret. We should be sure everybody knows that they are not spared from what could happen. They should fight for justice and for peace."
Liz Rabiner Lippoff is a marketing consultant, freelance
writer and community volunteer. LizInk.biz