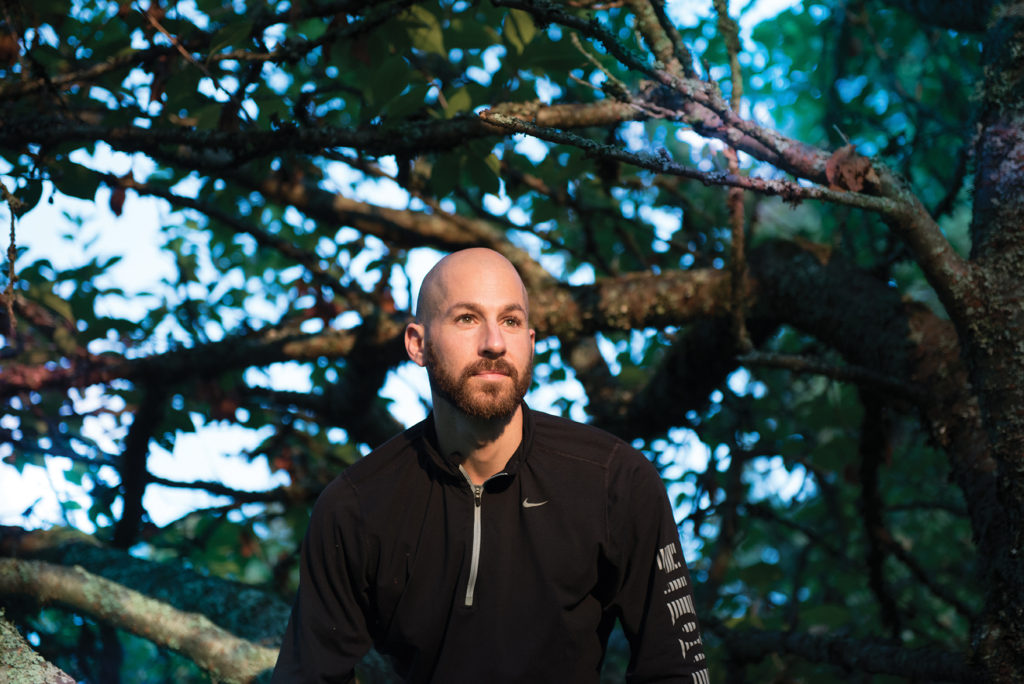 (Photo by Molly Stark/Starklight Photography)
Why is Lincoln High graduate Jared Blank, who was director of football operations for two Pac12 football teams, running marathon after marathon after marathon? The partial answer is because he has dyslexia.
The whole answer is so much more.
Jared might have seemed like your normal Portland kid if you saw him on the soccer field, but he knew he was different from the other kids. He couldn't see words clearly, he was getting headaches, and, he says, "Every project, even listening to directions, was hard. I retained maybe 25% of the information." His eye doctor figured out why when Jared was 5 years old. She ran a test and told Jared to fetch his mom.
She explained: Seeing the board at school isn't his issue; he can't recognize the letters. Jared is dyslexic.
His parents, Lynn and Owen Blank, jumped right on it. "They were relentless," Jared says. "Once they got the diagnosis, they said 'let's figure this out.' "
Subsequent testing added "sensory processing disorder" to Jared's plate. According to the Star Institute, occupational therapists in Colorado who specialize in SPD, "Sensory processing … refers to the way the nervous system receives messages from the senses and turns them into appropriate motor and behavioral responses. Whether you are biting into a sandwich, riding a bicycle or reading a book, your successful completion of the activity requires accurate processing of sensation. … SPD exists when sensory signals are either not detected or don't get organized into appropriate responses." It can mean that simple sequential tasks, such as putting on shoes, can seem impossibly complex.
For the Blanks, the twin diagnoses meant there'd be extra work every day. Tons of extra work. For all of them. "In second grade, for example, we'd get up in the morning and I'd practice spelling with my parents," Jared says. "If the word was PREPARE, I'd practice with my parents to put P-R-E on three fingers of my left hand and P-A-R-E on four fingers of my right hand. It worked except when it didn't, and I'd write PAREPRE." He would then go to school and take the spelling test. "Luckily I had an understanding second-grade teacher, who would give me credit for having the right letters if not the right order."
He'd then leave school mid-day for occupational therapy at Emmanuel Hospital to work on fine motor skills for an hour: hold a pencil, balance in a chair, tie a shoe. "Repetition is the coping skill for sensory processing disorder." Then back to finish the school day. Then soccer. Then home for tutoring. Jared was actually fine with all this.
"I was trying to get the other 75% I was missing." This went on every day, all through grade school. The school/tutoring/sports/study cycle went on every day all through high school. "I retain a lot more when I am listening to something, so in high school, I'd go to classes and then work one-on-one with a tutor."
But look, Jared points out, "In third grade they projected that I'd never get above a C average and probably would never graduate from high school." He was determined to prove them wrong. "I learned that I could study for long periods of time, three hours at first. So I thought: if I can study for three, I can study for six. I would break the day into chunks of study and sports. When that worked, I knew I could get through all my work."
The sports intervals between the extended study sessions started out to be soccer primarily. Then he took on running. "Early on I ran to deal with the frustrations of school and life. In high school, running became a tool I used to stay in shape for soccer."
Jared's combination of hard work, focused concentration and self-styled "sports therapy breaks" was hugely effective in other ways, too. When it was time to plan for his bar mitzvah, Cantor Judith Schiff at Congregation Beth Israel was willing to make accommodations and shorten his portion of the service, but Jared insisted on having the full service. "If I was going to have a bar mitzvah, I wanted to do what my brothers had done and my peers were doing. I learned it through rote memorization."
Later, Lincoln High School was willing to waive its foreign language requirement, but Jared took Spanish for three years anyway.
Freshman year he earned a 4.0 GPA and the school counselors started asking him where, not if, he wanted to go to college. He ended up studying communications at the University of Southern California, and it, too, meant long study hours, tutors and running, all four years. He interned with the football team his last two years, and when he graduated they hired him full time and he became the director of football operations. The job included evaluating student transcripts.
"I just stayed until I got it done, checking my work over and over again," he says.
At the same time, he earned a master's degree in communications management.
After four years, he moved to Seattle to do a similar job for the University of Washington, and again, at the same time, he got a master's degree, this time an MBA.
Jared has a message for parents or supporters of someone who is diagnosed with a learning difference. "Find out what their strengths and passions are – dance, art, music, sports – then build around that. What you want to do is preserve the confidence and self esteem of these children. If you put them in a classroom for eight hours a day and they do not understand stuff or they feel different from their peers, their confidence will suffer.
In addition to helping them learn to read and write, you'll have to rebuild their self-esteem. But if you build around their strengths, when they get something harder, it won't crush them; they can manage it and they can attack it with a level of confidence."
Jane Cooper, president of the Oregon Chapter of the International Dyslexia Association, says Jared's success story is motivational for so many struggling with learning differences. "In a world where literacy is taken for granted, to be dyslexic is a 24/7 challenge at school, in the work place, at home and in the community," she says. "When someone shows understanding and teaches them how to read and learn in a way that works for them … the emotional journey becomes one of success and rising to fill their potential."
After college, running became "something of a passion" for Jared. He trained for his first marathon in 2010 in Eugene, did well and was hooked. In typical Jared fashion, he then set his sights on the Boston Marathon. He ran three marathons before he achieved the time he needed to qualify, and he ran the Boston Marathon in 2016.
Jared's life changed when a man in a running store came up to him and said, "You're an ultra runner!" An "ultra" is anything over 26.2 miles, normally about 30 miles. And although Jared replied no, he was just training for a marathon, it got him thinking, "Why not?" So he trained for, and completed, the San Francisco Ultra in 2017, on his 35th birthday: 52.4 miles (twice the distance of a marathon). That would be like running from the I-5 bridge over the Columbia to the state capitol in Salem.
Today, Jared has left his university job to combine his love of running with a strong commitment to help others with dyslexia find their way. "I recognize how fortunate I was to have the family and support I needed to deal with the learning challenges.
For a long time, I hid my dyslexia from the world. Now I want to talk about it. I don't want others to feel like they're alone."
To take on this running/sharing project, Jared moved back to Portland, which he calls a "mecca for running." He also relished the chance to be near his family, so he moved into a tiny house his parents had built next to their home in Southwest Portland. "It is so simple and it is the perfect training headquarters," he says. "It is a space I can be productive in."
Jared shares his inspirational story with others, especially at schools, every chance he gets. He talks about his struggles with his disabilities and how he, together with his family, his tutors and his sports, created the framework to deal with it.
His mother Lynn has attended several of his presentations. She notes that families today have many more resources than when Jared was diagnosed. It took several years for them to get a diagnosis even after the Blanks noticed that Jared wasn't doing the same things his siblings had done, and Lynn herself was a certified teacher. They then did their own research and, when they found a set of books that were particularly helpful, they bought a second set for Jared's school so they, too, would have the latest information. She is proud that Jared is another resource for families today.
"Parents are frustrated," Lynn says. "They wonder if their kid will turn out OK, but then they hear Jared and they feel better."
This summer Jared researched organizations that help people with dyslexia and decided to work with the International Dyslexia Association.
"They provide resources for parents, teachers and students," Jared says, adding he wanted to be one of those resources. Jared says they also partner with marathons to get people to sponsor runners, support family members and raise money for the organization. This new program, called Team Quest: Run Until Everyone Can Read, turned out to be a perfect fit for Jared.
So Jared will run.
But is he running a marathon? An ultra marathon? No and no. To raise money and awareness, Jared is training for the January 2018 World Marathon Challenge. This is seven marathons in seven days on each of the seven continents. They start in Antarctica Jan. 30.
Jane Cooper of IDA says, "… Dyslexia students and their families are drawn to the concept of this endurance race because each can attest to the marathon challenge that is dyslexia. The fundraising Jared is embarking on to assist the IDA will change lives and will change the culture around dyslexia."
As you would imagine, training for this is practically a 24/7 full-time job. His mom reports that, after one of Jared's speeches, a parent asked how he could work that intensely, day after day. "He's always been overly conscientious," Lynn says. "His reply to her was, 'I've always done it … school, tutoring, homework, sports, study …'"
In his spare time, Jared ran the Hood to Coast with the Jewish Federation of Greater Portland's team last summer, and he sits on the National Board of Israel 21c. It is a not-for-profit whose goal is to tell stories of the beauties and wonders of Israel. He has been to Israel twice and would like to run a race there some day.
"They have a big ultra community," he says with a smile. "It would be fun to be a part of that."
RESOURCES
LEARN MORE ABOUT DYSLEXIA:
International Dyslexia Association: dyslexiaida.org
Decoding Dyslexia Oregon: decodingdyslexiaor.org
PDX Reading Specialists: pdxreadingspecialist.com
SCHOOLS:
Edison High School (9th-12th & 7th-8th in summer): edisonhs.org
Park Academy (3rd-8th & 9th-12th grades): parkacademy.org
LEARN MORE ABOUT SENSORY PROCESSING DISORDER:
webmd.com/children/sensory-processing-disorder#1
SPDStar.org
SUPPORT JARED'S RACE TO FUND DYSLEXIA RESOURCES:
inmotional.run/support-jared
Liz Rabiner Lippoff is a marketing consultant, freelance writer and community volunteer. LizInk.biz