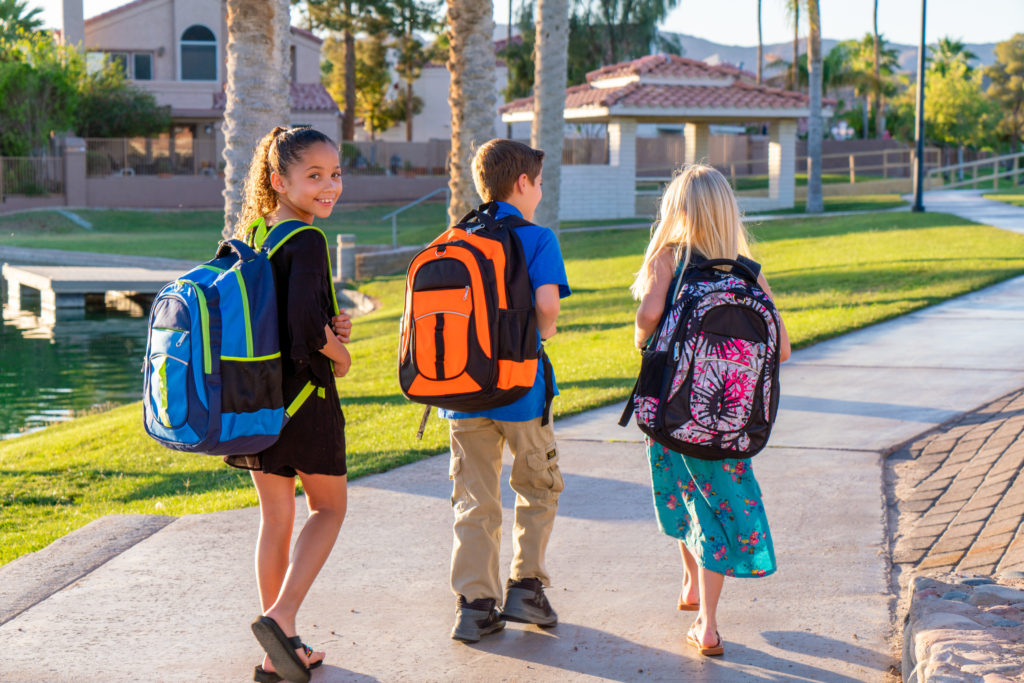 Photo: Fenrici Backpacks offer schoolchildren an ideal backpack for carrying all of their necessities
It's that time of yeart again! We've got the scoop on some new products that may make your back-to-school routine a little easier.
Articulate Gallery frames
Back to school means lots of artwork and creations made from your budding little Picasso.  Now you can proudly display 2-D and 3-D crafts and artwork in the coolest, smartest frames ever made by Articulate Gallery.  These frames don't even have to come off the wall for you to replace the artwork inside thanks to it's slot-sided feature that lets you easily slide in new art and remove old art without ever taking the frame off the wall. articulategallery.com/us
Q for Quinn socks
Tired of hunting for socks that match in the morning before school starts?  We feel your pain!  Q for Quinn solves that problem by creating a line of socks that are intentionally designed to be worn mismatched!  The best part of the company is that for every pair purchased, the company donates a meal to a child in need through the non-profit Mary's Meals. qforquinn.com
Fenrici Bento Boxes and Backpacks
New to the Fenrici Brands line-up are kid-friendly, leakproof and eco-friendly Bento Boxes!
Perfect for packing lunches and snacks, the bento boxes feature a snap-on clasp that makes it simple for little hands to open & close the box. Fenrici kids' bento box comes with 4 compact spill-proof compartments, perfect for sandwiches & wraps, fruits, veggies, dips, yogurt, and snacks without worrying about leaking into different compartments. fenrici.com and Amazon.com
Comfortable, roomy, and sturdy, Fenrici Backpacks offer schoolchildren an ideal backpack for carrying all of their necessities with ease… all while knowing that they have made a difference in another child's life! This season, Fenrici has expanded the line to include matching lunchboxes, pencil cases and stainless steel thermos containers, too! fenrici.com and amazon.com
Caterpy Custom Tension Shoelaces
When it's time to get out the door for school in the morning, functional footwear is a must. Don't let messing with shoelaces slow you or the kids down. Turn their existing tie shoes, and yours, into slip ons with Caterpy Laces!  Caterpy Laces feature elastic bump technology which allows you to customize tension at every eyelet row to match your foot shape. Just lace the shoes as you normally would, adjust the tension at each eyelet row and the bumps hold the laces in place with no need to tie a knot at the top.  The customized tension also allows for better blood circulation to the feet. Caterpy Laces can be found at caterpylaces.com and amazon.com
Me4kidz First-Aid Kit
Pack your kids' backpacks with all the essentials from me4kidz. Items like First Aid and wellness kits, antibacterial wipes, cold packs, bandages and more are all non-toxic, BPA-free, recyclable, earth-friendly, lead-free, latex-free and pediatrician-approved. me4kidz offers products for people of all ages from babies to adults. The kits all have more than 50 items included, and are perfect to keep in your purse, glove compartment, trunk, diaper bag and kids' backpacks. Available nationwide at Target, Walgreens, Buy Buy Baby, Bed, Bath & Beyond, Amazon and more. me4kidz.com
Mimish Designs
Mimish Designs' storage beanbags, ottomans, loungers and pillows are a hit with kids and parents, especially for kids looking for a comfy spot to read or do their homework. The beanbags, ottomans, loungers are so cozy and fun to sit, read, listen to music and play games. Parents love them because they hide away extra clutter that is easily accessible (like stuffed animals, legos, clothes, dolls, books, board games and more). The patented design has beans on top and storage on the bottom, so you will never feel what is inside while lounging. Mimish Designs' pillows have an outer pocket and vertical zipper pocket to store remote controls, electronics, small toys, journals and more. Choose from an assortment of fabric colors and prints in fun colors that can accompany you through every stage of life… from nurseries, to toddler rooms, tween, teen, college-aged and beyond! Available at Buy Buy Baby in stores, Macys.com, Amazon.com and mimishdesigns.com.
BunkTrunk
The BunkTrunk is a safe/locker, nightstand and work surface all in one, and it is perfect for kids heading off to college. It doesn't require mounting hardware or take up floor or desk space, and it easily fits above the top bunk in college dorm rooms or under the bed. The BunkTrunk has a digital combo, so you never have to worry about losing a key. It even has a power strip with USB ports to charge your gear when it's locked away. It's perfect to store textbooks, laptop, jewelry, money, medication and more! BunkTrunk solves a real problem that most college students may not even know they have, until they are in their dorm room, living with a stranger. bunktrunk.com