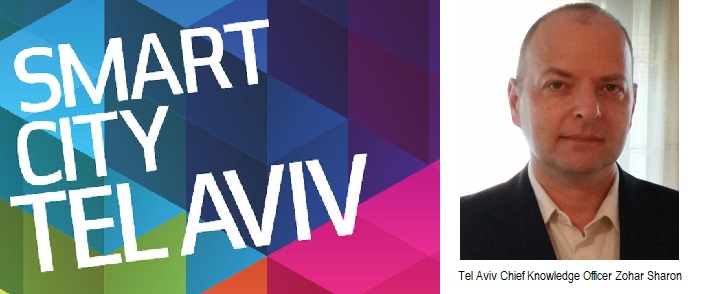 TechFest NW will feature Israeli speakers on the main stage for the first time when the eighth annual conference convenes at Portland State University April 4-5.
Founded by Willamette Week Publisher Mark Zusman, TechFestNW has the tagline "Where startups are celebrated, partnerships are ignited, innovation rules and business gets done."
"There are few countries in the world that have the spirit of entrepreneurship and the innovation that Israel is doing," says Mark. "To put on a technology/entrepreneurial event and not have Israel is a handicap."
So as a tech event organizer and a Jew, Mark says he is very pleased to have Israeli participation at this year's TechFest.
Israelis will present two of the keynote addresses on the TechFest main stage. Tel Aviv Chief Knowledge Officer Zohar Sharon will speak about smart cities, one of four conference themes this year. Gadi Singer, Intel artificial intelligence products vice president and a graduate of Technion in Israel, will speak on the theme "Future of Work."
Last year the Jewish Federation of Greater Portland sponsored the first Israeli involvement at TechFest. Twistlock, an Israeli-founded firm, presented a workshop on technology and cybersecurity. This year the federation is sponsoring Zohar's participation on the main stage.
Federation's involvement was driven by the Israel Advocacy Committee of federation's Jewish Community Relations Council. The IAC, chaired by Michelle Bombet Minch, recruited Israeli participation in TechFest as an opportunity to showcase Israel in a positive light. Michelle  reached out to Israeli companies and universities to recruit participation both on the main stage and in PitchFest, a competition for startups similar to the TV reality show Shark Tank.
"Oregon and Israel have a long standing alliance including trade missions to Israel, Israel tech companies bringing operations to Oregon and Oregon companies expanding operations in Israel," says Michelle.  "The main stage of TechFest is an ideal venue to highlight opportunities for technological exchange and to showcase the research and development achievements coming from Israel."
About three years ago, Skip Newberry, CEO of the Technology Association of Oregon, and Steve "Rosy" Rosenberg, founder of the Oregon Israel Business Alliance and a past president of JFGP, met Zohar while leading cybersecurity and biotech executives on a trade mission to Israel. Skip was also doing federal work on smart cities and was aware Tel Aviv had been named the world's smartest city in 2014, so he connected with Zohar.
Zohar founded DigiTel, which connects Tel Aviv residents with city information, cultural events and discounts. A key lesson from the Tel Aviv experience, says Skip, is the need to engage people before implementing technology.
After a study showed residents thought Tel Aviv was wonderful and the government terrible, the municipality set out to improve trust and make residents aware of what the government does.

"What Zohar and his team did is a great example," says Skip. "They asked people why and what they wanted of the city they live in."
"Through sharing information, people became more trusting of the government's ability to improve their lives," says Skip. When the city launched DigiTel, 60% of the residents opted in. "The government has an amazing database … and trust."
Skip says the cultural similarities between Tel Aviv and Portland make a similar grassroots approach applicable here.
Following Zohar's presentation, Skip will join him along with several other smart city experts for a panel discussion on the main stage.
In addition, OurCrowd Investor Relations Director Rafi Schraer will help judge PitchFest, a competition for startups to pitch to investors. Recently named Israel's leading venture capital firm, OurCrowd builds businesses, raises capital, and invests in Israeli and global startups.
"Known as the Start Up Nation, Israel was a natural fit to be part of PitchFest," says Michelle, noting that Israel is ranked fifth on the Bloomberg Innovation 2019 index.
Mark says PitchFest accepted 72 startups in the first round of applications. with two more rounds to come.
With last year's move to PSU and its large event center, Viking Pavilion, the festival has room to grow. Last year about 1,500 people attended the festival, and Mark expects more this year. In addition to main-stage presentations and three pitch rooms, the fest also includes "workshops, a huge networking area and lots of parties."