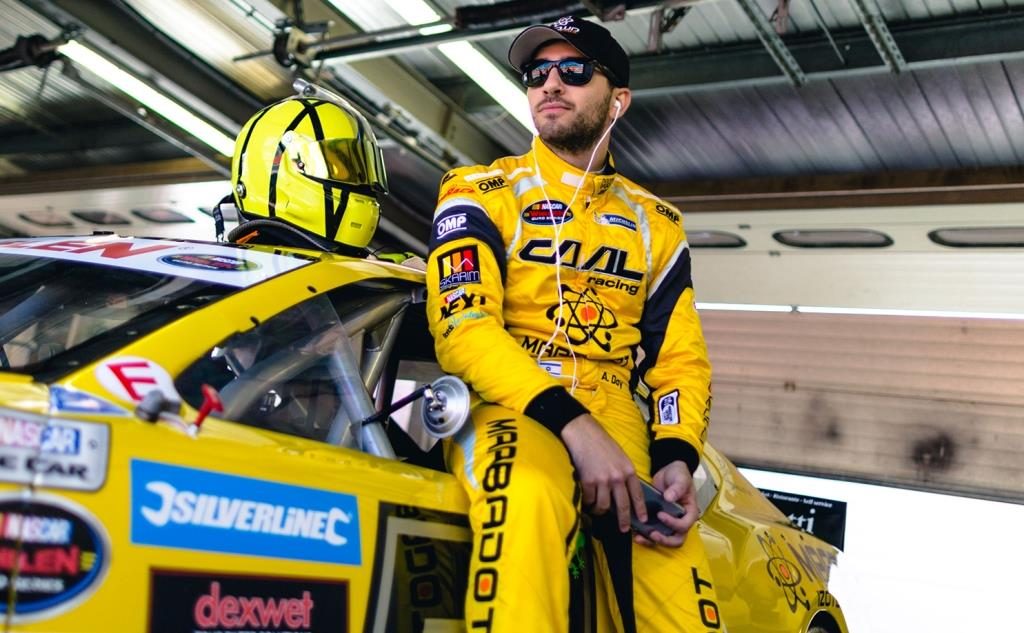 Long before auto racing was legal in Israel, Alon Day was winning races in Europe and Asia.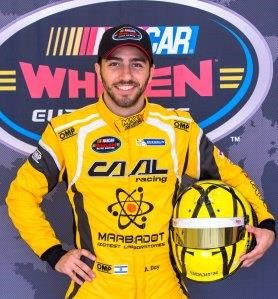 Now 27 years old, Israel's first NASCAR driver is now an ambassador for the sport in Israel and for Israel on race tracks in America.
"I am the ambassador of this track," says Alon of the racetrack that will open this summer or fall in Beer Sheva. "We need to build from zero. Until one year ago there was no race track in Israel."
The Knesset voted to legalize auto racing in 2005, but it took until 2011 to formalize the regulations that allowed racing to begin in Israel. In 2016 Alon was named Israel Athlete of the Year, drawing attention to the sport in his homeland. He says Israel has recently started  to televise NASCAR races.
Alon says every time he races in the United States he is surprised by how pro-Israel the fans are and how they support an Israeli driver. He notes the sport is especially popular in the South, where many of the churches are pro-Israel. "That's what I love about NASCAR, it can bring Israel and America together."
NASCAR is the third motorsport where Alon has found success. He began winning European go-cart races at 14. By 17 he was a Formula One Champion. In 2012 he began racing stock cars when NASCAR arrived in Europe. He was one of 11 drivers selected for the 2016 class of NASCAR Next, young drivers with proven success and the talent necessary to ascend to NASCAR's highest level. This year he already has four first-place finishes in Europe and hopes to return to U.S. racetracks later in the summer.
His international career had one roadblock drivers from other nations do not face. Mandatory military service at age 18 often limits or curtails Israeli athletes sporting careers.
Alon was the first motorsport athlete to obtain Outstanding Athlete status from the Israel Defense Forces. The status gives athletes time to train and compete. Alon says many Israeli athletes with the designation request duty assignments that will easily accommodate their sporting careers. But coming from a military family, Alon "did normal service in the Air Force. They just gave me permission to fly to races."
A self-proclaimed G-force junkie, Alon says he would have wanted to be a fighter pilot if he was not a race car driver.
Since he earned the designation, several other Israeli drivers have also been granted Outstanding Athlete status.
His name is on the NASCAR Hall of Fame Wall, and last year he competed in Sonoma, CA, becoming the first Israeli to race in the Monster Energy NASCAR Cup Series, the highest level of NASCAR competition. He hopes to become a full-time Cup Series driver, but that is an expensive proposition. NASCAR drivers pay $185,000 or more to their team for each race.
He is being aided in that effort by Jewish-American attorney David Levin.
"Without David, I wouldn't be sitting behind the steering wheel," says Alon. "He's had the desire to bring an Israeli athlete to NASCAR."
David had contacted NASCAR and asked if they knew any Israeli drivers who he could help reach the top. When Alon was named to the 2016-17 class of NASCAR Next, David brought Alon to Ohio to compete. He drove in two oval races in the Xfinity Series, NASCAR's second tier. In his first Xfinity Series race, at Mid-Ohio Sports-Car Course, he started 22nd in a 40-car field and finished 13th, considered a successful debut.
In addition to supporting Alon's efforts personally, David has created a website, RacingForIsrael.org, to raise the additional funds to help Alon "make history and honor Israel's 70th birthday by competing at NASCAR's highest level." The group is a Florida 501(c)3 nonprofit created "to promote amateur and professional motorsports in the State of Israel; to promote friendship and tourism between the United States and Israel; and to promote a better understanding of the people of Israel, its culture, and history; all through motorsport racing in the United States, social media, and this website."