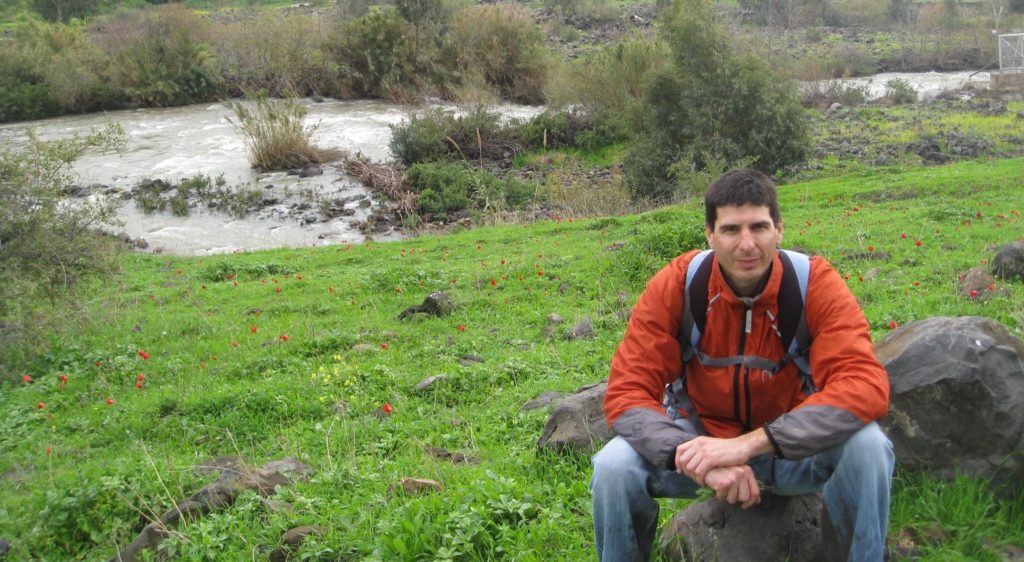 PHOTO: Erez Speiser  launched Israel By Foot to help visitors to Israel deeply experience the land's natural beauty through personal journeys. Photo courtesy of Erez Speiser
A new English-language hiking startup called Israel By Foot has proven so popular that it is expanding to provide inn-to-inn and group treks throughout Israel. The inn-to-inn hikes bring visitors on self-guided tours featuring a series of bed-and-breakfast inns and include a range of support services, while the group treks feature local hike experts in Israeli geography, history and more.
Israel By Foot is now offering three inn-to-inn self-guided hikes, including the "Trans-Galil Trek," a six-day crossing of the upper Galilee from the ancient mystical town of Safed to the Banyas River; the "Yam-to-Yam" (Sea-to-Sea) trek from the Mediterranean to the Sea of Galilee; and the epic 80-mile Golan Trail trek through the Golan Heights. All the trips are in English. Three more inn-to-inn treks will be launched this summer for the November 2019 to May 2020 hiking season. They will include itineraries in the Negev Desert, Judean Desert and in the Jerusalem area.
Each hike features nightly stays at a bed-and-breakfast and includes breakfast and lunch; paper maps, a GPS mobile phone app, an initial pre-trek briefing the evening before each trip, as well as 24/7 customer service support.
The Guided Group Hikes feature minibus transportation to and from each hike's trailhead, a local expert guide who will provide fascinating stories about the local geography, history, flora and fauna, and the opportunity to meet other hikers.
The inn-to-inn and guided group trips are only the latest services of Israel By Foot. Erez Speiser launched the company to help visitors to Israel deeply experience the land's natural beauty through personal journeys. Israel By Foot's website, "Hike-Israel," offers free hiking resources for all levels of hiking, from scenic road trips in the Negev Desert to hikes in Jordan River tributaries.
"There is no better way to connect with Israel or to strengthen a Diaspora Jew's bond with the Land of Israel than to experience the land on foot," Speiser says.
Speiser is a mechanical engineer who works in marketing for a carbide metal working tools company and is an avid hiker with a passion for the outdoors. He started Israel By Foot when he noticed a gap in English-language resources such as maps and online guides for tourists wishing to explore the country through walking, and encountered few English speakers on Israel's many trails.
Israel by Foot offers self-guided and guided hikes, from a half-day outing to full-day and overnight treks ranging from three to nine miles daily. Through the website, Israel By Foot offers high-quality hiking maps with colored, marked trails; close-up maps of challenging areas; GPS files for mobile apps; hike descriptions and Google maps with links to each trailhead; and videos. Trips range from free and self-guided to those with a fee featuring more extensive sources and a guide.
"Israel By Foot is designed for the independent, English-speaking traveler to Israel who wants to engage in one of the most intimate and personal ways you can experience this ancient and incredible country," he said.