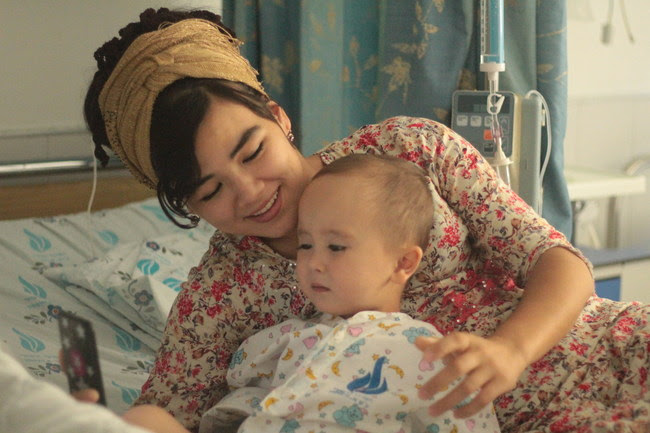 PHOTO: Husan and his mother. Photo courtesy of SACH
Save a Child's Heart  announced July 23 that 2-year-old Husan Anvarov from Uzbekistan underwent successful lifesaving heart surgery at Wolfson Medical Center. SACH brought the boy to Israel, and Uzbekistan became the 60th developing country served by Israel's largest international humanitarian organization.
Husan, his mother, father and twin brother live in Oq-Yor village in the province of Andijan. Diagnosed with heart disease at birth, he suffered from Tetralogy of Fallot, a type of congenital heart disease that includes a combination of four heart defects that commonly occur together. Due to the severity of Husan's case, his family was encouraged to seek care in Tajenkt, the capital of Uzbekistan. Husan's grandfather took Husan on a more than five-hour car ride to Tajenkt, where they were told that Husan needed urgent open-heart surgery to survive, but the surgery was not available in Uzbekistan.
Luckily, Uzbekistan's Ministry of health had already been working hand in hand with Israel's ambassador to Tajikistan and Uzbekistan, Ambassador Eduard Shapira. With the help of the Israeli Embassy in Tajenkt and the Uzbekistan Ministry of Health, preparations began for Husan and his mother's journey to Israel.
Husan underwent successful open-heart surgery on July 17, 2019 and he is currently recovering alongside children from Tanzania, Rwanda, Iraq, Ethiopia, Gaza and the Palestinian Authority, who were all brought to Israel by SACH.
"Husan was born with a congenital heart disease called Tetralogy of Fallot that causes low oxygen levels in the blood. He had to undergo open heart surgery to survive," said Dr Alona Raucher Sternfeld, Head of Pediatric Cardiology at Wolfson Medical Center. "His operation was successful; and he is now not only out of danger but also expected to have a normal life."
Husan's mother said after the surgery; "I am so grateful. I want to say thank you to the volunteer doctors of Save a Child's Heart for saving the life of my little boy and John Hagee Ministries for providing the funding. There are no words to express how I feel."
Little Husan will soon return to his family and to his twin brother in Uzbekistan.
About Save a Child's Heart 
Save a Child's Heart is an Israeli-based international nonprofit organization that has provided care to more than 5,000 children from 60 countries in Africa, the Middle East, Asia, Europe and South America and trained more than 120 medical professionals from these countries. SACH received the 2018 prestigious United Nations Population Award for its impact in transforming pediatric cardiac care in developing countries.
Save a Child's Heart was founded in 1995 at the Wolfson Medical center to improve the quality of pediatric cardiac care for children in developing countries and create centers of competence in these countries. Save a Child's Heart is committed to the health and welfare of all children, regardless of the child's nationality, religion, color, gender or financial situation.
Save a Child's Heart is currently building a new children's hospital at the Wolfson Medical Center that will house theMiddle East's first international pediatric cardiac care center. The center will enable SACH to save the lives of more children and train more children from developing countries.