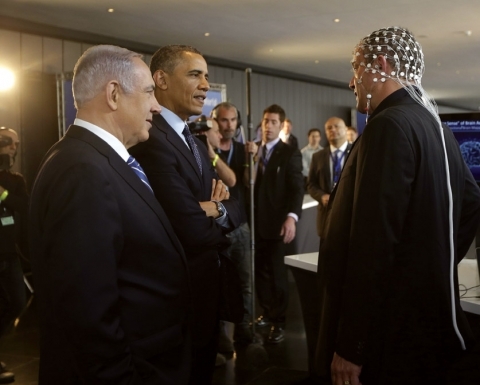 The statistics are staggering. Concussions affect as many as 4 million Americans annually. More than 45 million young people involved in sports in the United States incur the risk of a concussion. The cost burden from concussion-related injuries on the healthcare system is estimated at about $17 billion per year in the United States alone.
Because clear markers or tests for concussions have been hard to find, and because loss of consciousness occurs in less than 10 percent of concussions, athletes and others may not know the extent of their injuries, which may last a day, a week or a year. If people go back and play sports before they are fully healed, they can suffer irreversible damage.
Researchers from Ben-Gurion University of the Negev have come up with answers for that and other traumatic brain injuries. From the Zlotowski Center for Neuroscience and other departments at the Beersheva campus of the university, these researchers have developed partnerships with companies in Israel, the United States and elsewhere.
ElMindA, a BGU spinoff headquartered in Herzliya, Israel, has developed a 40-minute test based on brain mapping and imaging to detect and manage injuries from concussions and other brain-related disorders. The company's Brain Network Activation (BNA) system uses a hairnet-like cap with attached electrodes to do noninvasive recordings of multichannel electrocephalography event-related potentials. After acquiring the data, the system performs a comprehensive multidimensional analysis of the recordings.
"Traditional tests are inconclusive and no better than talking to a patient," explains Dalia Dickman, Ph.D., vice president of clinical and regulatory affairs at ElMindA. "This test is much like an X-ray of a broken bone to determine whether there is a concussion." She adds, "Pain measurement is subjective. Now we can score it, see what the baseline is and whether drug therapy or other treatment improves the patient's condition."
Founded in 2006 ElMindA was based on the research of Ben-Gurion University Professor Amir Geva. BNA is a noninvasive tool for the visualization and quantification of specific brain functionalities, according to Dickman. Its platform architecture is based on three elements: a data acquisition site, BNA analysis software and cloud-based, big-data management and reporting tools. Using signal processing, pattern recognition, clustering and machine-learning techniques, the technology maps neural pathways, showing data points in multiple dimensions such as time, location, amplitude and frequency.
Nearly 1,000 people have undergone the procedure on an experimental basis as ElMindA has developed partnerships with universities, hospitals and companies in the United States and Israel. BNA technology, which is currently being reviewed by the U.S. Food and Drug Administration, was demonstrated to 14,000 attendees at the recent AIPAC Policy Conference in Washington, D.C., in March.
A recent clinical research study involved 150 Minnesota hockey players with and without concussions who underwent BNA measurement during the season as compared to preseason baseline scores. The study also correlated the BNA test score over the course of the hockey season to the current standard of care measures.
In a collaboration of ElMindA and the University of Pittsburgh Medical Center Sports Medicine Concussion Program, researchers evaluated 112 children with and without concussions, looking at their brain activity at four post-injury time frames. The research confirmed that BNA differentiated between people with concussions and people in a control group, showed a recovery pattern over time and distinguished between types of concussions.
Meanwhile, another Israeli company founded in 2006 is helping patients with cerebral palsy, stroke and brain injury to relearn how to walk. Simona Bar-Haim, scientific director of the laboratory of rehabilitation and motor control and walking at the Zlotowski Center for Neuroscience, is responsible for the scientific basis of Step of Mind Ltd. activities. A physiotherapist with a Ph.D. in neurophysiology, Bar-Haim developed the idea of applying chaotic perturbations to facilitate motor learning. She and her colleagues at Ben-Gurion University conducted preliminary studies that suggest the effectiveness of the proposed approach in this patient population. "Walking is a function of rhythmical movement and an adaptation to overcome obstacles," Bar-Haim explains. "Brain damage is asymmetrical. Because the amount of damage is different in each hemisphere, the person's legs are functioning differently from one another."
Working with Merck, the pharmaceutical company, Bar-Haim and her colleagues are performing a study called Middle East Stepping Forward, in which children and teens with cerebral palsy walk on a split treadmill that operates at two different speeds. Because one belt moves at 2 kilometers per hour and the other at 4 kilometers per hour, the subject is walking at a different speed on each leg.
Based on the same principle that alters the angle of walking, Step of Mind produces high-technology shoes that physical therapists can use to train patients with brain damage to walk again. The special shoes are used in rehabilitation facilities at the Reuth Medical Center in Tel Aviv and at a clinic in Turkey. They are sold in both countries, and the company is negotiating with companies in France and the United States. Step of Mind was one of 16 Israeli companies chosen by the Merage Institute in Irvine, CA, to make a presentation to American investors.
Working with subjects throughout the Middle East was a revelation to Bar-Haim and her colleagues in several ways. For one thing, people with cerebral palsy and other brain disorders tend to move less and need to be encouraged to walk. As she says, "You have to change the lifestyle of patients. You can change the plasticity in their brains and make the body able to do something, but you also have to change their behavior. The kids in the study said they walked better, but they may not have been motivated to walk more. We have to focus on disability advocacy, so that parents learn that they are part of the decision making." Bar-Haim also learned that in some countries there is no acknowledgement of cerebral palsy. There are no assistive devices, not even wheelchairs, she says. In one country she and her team had to give up the study, because there were personal issues with the families who were being shunned by their neighbors for acknowledging that their children had cerebral palsy. She concludes, "This is not about brain science. It's about children."
Ilene Schneider owns Schneider the Writer, a PR firm, and is a longtime Jewish journalist. She was a participant in the Murray Fromson annual Media Mission to Israel sponsored by the American Associates, Ben-Gurion University of the Negev, Inc. ("AABUGU") for to visit and report on Ben-Gurion University of the Negev.