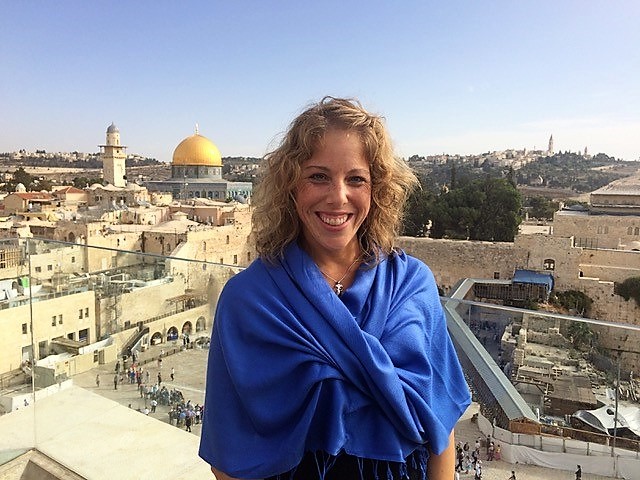 By Deborah Moon
During a women's trip to Israel two years ago, Shoshana Gordon was very impressed by the transformative care that children with disabilities receive from Shalva. In March she will return to Israel to run in the Jerusalem Half Marathon to raise funds for the group.
"This trip had such a profound effect on me and going to Shalva was a true highlight," says Shoshana of the October 2015 JWRP to Israel. "Shalva is an incredible place. It is open 24 hours a day, seven days a week and cares for children from birth through 21 years. The staff is so loving and kind to both the children and their families. Their new state-of-the-art Shalva National Center opened in 2016, and they help literally thousands of children per week. It is both nondenominational and free. As soon as I heard about running with Team Shalva, I knew I needed to be a part of it."
Shoshana grew up knowing children with special needs. Her mother started two programs for youth with special needs – Tikvah Program at Camp Ramah to enable youth of all abilities to attend a Jewish sleep-away camp and the Independence Center to teach young adults with special needs how to live on their own in a safe and educational environment.
"Because of my mom, I knew some kids were different than me/had special needs, but that didn't make them less than me,"
Shoshana says. "I was taught that we were all equal in G-d's eyes. That is what I felt at Shalva while our group listened to their band and danced with the kids."
Shoshana moved to Portland in 1991 to attend Lewis & Clark College and never left after she fell in love with the city. She has been involved with NCSY, serving on the youth group's annual fundraiser committee for the last nine years.
She attends events with Portland Kollel and the Shine women's group, which was started by women who have been on JWRP trips. She belongs to Congregation Shaarie Torah. Her oldest daughter is a graduate of Portland Jewish Academy, and she currently has a sixth-grader at PJA.
Yet on the JWRP trip, Shoshana says she found a connection to Judaism she hadn't had before.
"I want to give back to Israel," she says. "I want to give back to an organization that is helping children and their families."
She says she would also like to help the Jewish community of Portland be more welcoming and supportive of kids with special needs and looks forward to volunteering for that goal locally in the future.
Fundraisers for Shalva
All proceeds go directly to Shalva and are tax deductible
SPIN CLASS
Stephanie Auerbach and Shoshana Gordon will lead a spin class 4-5 pm, Jan. 21, at Vortex Cycle (4710 SW Scholls Ferry Road, Portland).
Cost: $20 in advance and $35 at door (if space is available).
Call 503-297-3479 to reserve a spot.
BUNCO PARTY FUNDRAISER
Open to all levels, including those who have never played before. Snacks and drinks provided. Prizes will be given out for most buncos, most wins and most losses. 7 pm, Saturday, Jan. 6, in Southwest Portland.
Cost: $25 in advance and $35 on the day. Location: TBD in SW Portland. Sign up and pay on run4shalva.org/my/ shoshanag and write "bunco party" in the comments.
DONATE FOR SHOSHANA'S RUN
Shoshana will join Team Shalva for the Jerusalem Half Marathon in March.
Donations: run4shalva.org/my/shoshanag ISRAEL