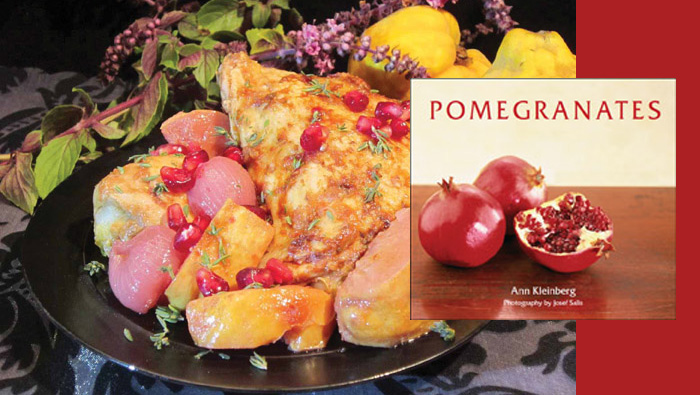 Pomegranates add a splash of color, texture and flavor to many dishes.
Photo by Anne Kleinberg
Now that you know why you want to wrestle with this amazing fruit, check out recipes to enjoy the hard-earned nuggets of flavor in Jewish Life columnist Anne Kleinberg's book Pomegranates: 70 Celebratory Recipes. Published by Ten Speed Press (Sept. 1, 2004), the book is available on amazon.com in paperback or kindle editions.
Whether an integral part of a dish's composition or adding a bit of color and surprise as a garnish, pomegranates bring beauty and stimulating flavor. Pomegranates offers the natural and cultural history of the pomegranate throughout the world; gives tips on how to buy, eat and use this delectable fruit; and then dishes up a comprehensive collection of 70 pomegranate recipes.
Anne Kleinberg, who is also the author of Menopause in Manhattan and several other cookbooks, left a cushy life in Manhattan to begin a new one in Israel. Now she's opened a boutique bed and breakfast in her home on the golf course in Caesarea (casacaesarea.com).